When we think of big trucks, we mostly think about their use, like long haul transport, or mining operations. Yet, it is the physical appearance of a trucking fleet that often makes a defining impression on potential customers. Keeping big trucks in pristine condition is not only a good marketing strategy; it also makes good financial sense.
Big trucks pick up all sorts of debris during normal operations; from bird droppings to insects, acids and various other contaminants. Allowing that grime to build up and infiltrate the mechanical parts of the truck and trailer is a recipe for increased maintenance. Exterior dirt also adds to the wind resistance of a big truck. Over time, this can make a significant impact on fuel consumption and therefore operating costs.
But washing big trucks isn't simple. There are strict regulations about truck washes that govern the discharge of wastewater.
Cleanawater offers expert products and services to help you install a compliant and effective truck wash bay system.
How to build a truck wash bay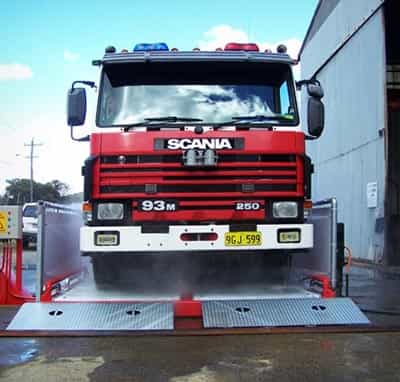 There are two options for truck wash bays. They can either be permanent or portable structures.
Permanent wash bays have a lower investment cost but require civil construction to install. They are suitable for established businesses that own their property and are likely to remain on the same site for an extended period.
Portable wash bays are slightly more expensive, but the advantage is that they can be relocated easily and do not require civil construction to install. They are suitable for growing companies that are leasing properties and will likely move to a more permanent venue in time.
Both permanent and portable wash bays can be custom built to size for the specific application. Large truck wash bays can be in the range of 15 metres long by 6 metres wide.
Key compliance issues for truck wash bays
The Environmental Protection Authority (EPA) in Australia sets regulations for wastewater discharge because of the potential damage caused by pollutants to the environment. But, it is the water authority that grants permission for wash bays to discharge to the sewer network at a local level.
Each water authority has a specific process to follow for approval to connect to the wastewater sewer network. More information is available about liquid trade waste regulations for New South Wales.
Most wash bays discharge wastewater to the trade waste sewer system. Even though the sewer network does not release water directly to the environment, pollutants can still damage downstream treatment plants. However, if there is no wastewater network available in your area, there may be other options. Leach drains, evaporative ponds or holding tanks are acceptable on agreement with the water authority.
In terms of truck washes, one of the primary wastewater quality issues is oil content. Water collected from the truck wash should pass through an oil-water separator to remove the oil before discharging the wastewater. Depending on the other likely contaminants of the truck wash wastewater, there may also be other treatment required, for example, pH control.
It is also important to note that wash bays larger than 20 square metres must be roofed or have a rainwater diversion system. Most truck washes will fall into this category. The reason for this requirement is to prevent wastewater treatment plants from being overloaded with clean rainwater.
Once a permit has been issued, the local water authority has the power to inspect the installation for compliance with the conditions. Failure to comply could result in fines or even shut down until the non-compliance is rectified.
How to service wash bay equipment
Regulators also specify that wastewater treatment equipment must be regularly serviced and maintained. These conditions are part of the trade waste agreement between the local water authority and the client.
Servicing equipment is essential to ensure that it continues to operate as per design. This action will prevent unexpected wastewater non-compliance due to equipment failure. Typical servicing tasks include:
Testing the rainwater diversion system and repairing if necessary
Cleaning out silt traps and filters to make sure water doesn't build up in the wash bay and overflow into the stormwater system.
Checking the operation of oil water separators, removing sludge and cleaning filters.
Compliance demands that these tasks be performed and that they are accurately documented and auditable. Cleanawater provides maintenance services for our equipment taking the burden of ongoing compliance from our clients. This service allows our clients to focus on their core business.
Talk to Cleanawater for expert advice
Contact Cleanawater for expert advice about washing big trucks. We have more than 20 years of experience in the Australian context. Our technical experts can help you meet your compliance requirements and design the right truck wash bay for your needs.
Contact Cleanawater to find out more about our permanent and portable wash bays.
Must Read
Cleanawater on 14 December 2021
We know that most problematic odours afflicting waste handling areas are biological, using a topical odour treatment can mitigate existing odours and prevent odour generation while leaving a fresh key ...
Read more
Cleanawater on 2 September 2021
No matter what industry you're in, chances are you need odour control. VapourGard can help you eliminate odour complaints in a safe, cost-effective, and versatile way. ...
Read more