Information on custom oil water separators + examples
What are custom oil water separators?
Custom oil water separators provide a solution for businesses with unique water processing needs.
Broadly speaking, oil water separators can be separated into two categories. One: off the shelf solutions. Two: custom oil water separators.
Off the shelf solutions are suitable for most businesses who want to implement a standard industrial or commercial water processing system. In many cases they can be all that is needed to achieve water authority compliance.
Custom made solutions, on the other hand, are for businesses with individual requirements which cannot be solved using standard systems. For example, in instances where the environment is not suitable, or where oily water mixture is too complex to be processed by an off the shelf system.
Read on for oil water separator examples which we've installed.
1. Containerised DEOIL5 hydrocyclone
In this instance, the client needed a rugged custom oil water separator, which could deliver reliable performance in the harsh conditions at their Karratha (Western Australia) mining site.
In order to ensure maximum reliability in such a hot and dry climate, we designed a system which was entirely enclosed within a modified shipping container.
This design provided componentry with excellent protection from the elements while also making the entire system more easily portable. It could be moved just like any other shipping container.
This, the first of our custom oil water separator examples, featured:
a custom internal retrofit
lighting
emergency stop functions
climate control
electromagnetic flow meter
All of the above was housed within the modified shipping container body.
2. TS Series Coalescing Auto Desludger
On this occasion, the client needed custom oil water separators for a site located in regional Australia.
Because of the relative isolation of the area, the systems needed to be low maintenance. Frequent maintenance for such a distant location would have been quite expensive.
For this reason, the solution was built with timer logics, which periodically and automatically dumped and flushed the system of sludge. This provided a simple and automatic way of cleaning out and maintaining the system, without the need for manual operation.
This solution provided with the client with excellent time and cost savings on maintenance.
3. Transformer Bund Oil Separator - DEOIL3 Hydrocyclone
These custom oil water separators were designed for use with transformer bunds. Specifically, they were made to switch the system on and off in the event of rain or an oil spill.
This, the second of our custom oil water separator examples, featured:
Recirculation control
Logic control
The logic control is able to determine when a spill has occurred or when there is rain. It then switches on, triggering recirculation for effective management of rain and wastewater.
Which system does my business require?
Whether your business requires custom oil water separators will depend on a number of factors. These factors can include, but are not limited to, your type of business, environment, and wastewater output.
An onsite inspection may be needed to determine whether an off the shelf solution will be sufficient, or whether a custom made system will be required in order to achieve water authority compliance.
Your first contact should be a water treatment specialist. They will be able to provide you with information regarding your local water authority requirements and your business' water treatment needs.
"Custom oil water separators provide a solution for businesses with unique water processing needs."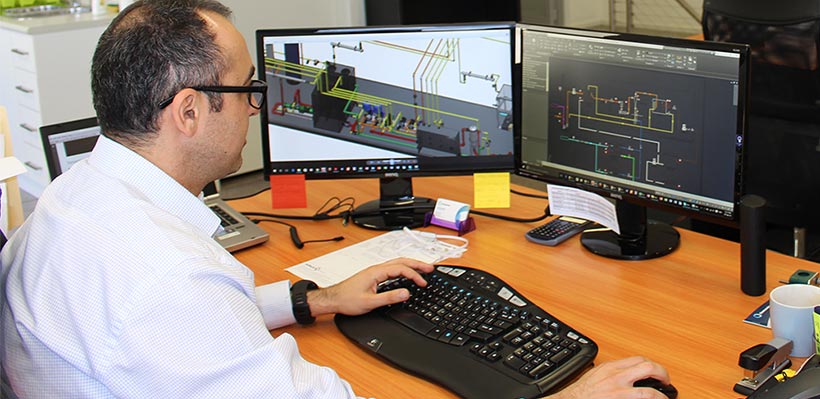 Speak with the water treatment and recycling specialists
At Cleanawater, we have more than 17 years' experience in providing Australian businesses and industries with water treatment and recycling solutions.
We've helped a wide range of commercial operations to become water authority compliant. And, we could help you too. So, don't put it off any longer.
You can find out more about Cleanawater online, or by calling 1800 353 788
Must Read
Cleanawater on 14 December 2021
We know that most problematic odours afflicting waste handling areas are biological, using a topical odour treatment can mitigate existing odours and prevent odour generation while leaving a fresh key ...
Read more
Cleanawater on 2 September 2021
No matter what industry you're in, chances are you need odour control. VapourGard can help you eliminate odour complaints in a safe, cost-effective, and versatile way. ...
Read more