Our tips for construction site wash bay design
Construction sites have a need to wash heavy equipment and trucks. Dust, mud, concrete and other waste all accumulate on construction equipment and can cause mechanical problems or corrosion if left alone. In order to take proper care of construction assets, a regular washing process is necessary. 
At the same time, wastewater from washing construction equipment may be harmful to the environment. Chemicals, oils, and greases — as well as large amounts of silt — cause problems in downstream wastewater treatment plants. These contaminants must be captured and removed from wash bay wastewater.
Construction sites are unique. They are constantly changing, and often there is a lack of real estate for facilities. This creates another challenge for implementing wash bays. The ideal solution? A customised wash bay specifically designed for the site. It should also be modular and portable so that it can be moved, should the need arise.
Cleanawater is a leading provider of customised wash bay solutions for the construction industry.
Key elements of a construction wash bay design
1. Compliance
The reason for installing a wash bay is to contain and process wastewater for discharge to a sewer. If no trade waste sewer is accessible, it may be necessary to store the wastewater for disposal by a licensed contractor. Ensure your customised wash bay solution is compliant with Australian regulations.
2. Size
A construction site wash bay is sized based on the equipment being washed. Cleanawater wash bays are modular, so they can be extended to any size. Just remember, sizing also affects the wastewater pre-treatment.
Oil separators or other wastewater pre-treatment must be sized for the maximum throughput of the wash bay. Silt traps should also be large enough to accommodate the expected solids collection.
3. Rainwater
It is important to prevent rainwater from routing to the trade waste sewer network via a wash bay rather than the stormwater network. Wastewater treatment plants are not designed for the peak flow rate of rain events. For this reason, either roofed construction or first flush diversion systems are required for wash bays more than 20 m2 in area.
4. Flexibility
Construction sites change over the duration of a project. Portable wash bays provide the flexibility construction sites need to move a wash bay from one area of the site to another, as conditions dictate. In addition, they do not require excavations during installation — which minimises their impact on the site.
Construction site wash bay design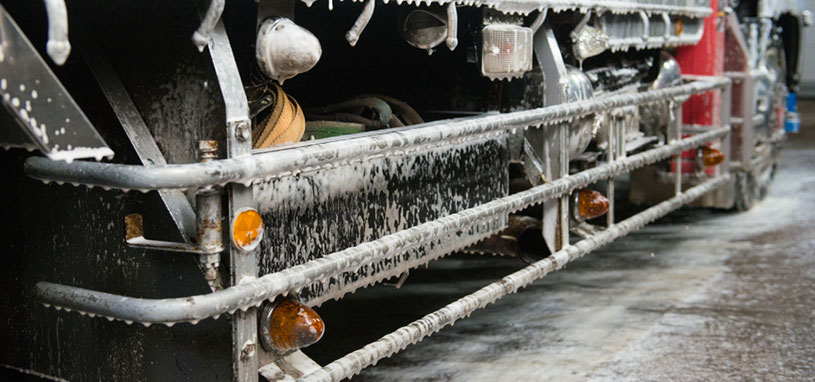 When Cleanawater designs a customised construction site wash bay, we'll:
Perform a site visit and clarify wash bay requirements. We'll evaluate the site layout, and assess the type of vehicles and equipment which will be washed.
Check the availability of water.
Check the availability of trade waste sewers — their location could impact the available options for wash bay location.
Evaluate the type of contaminants that could be present in wash bay wastewater. This includes chemicals, hydrocarbons and dust. Potential contaminants must be listed as part of your trade waste permit application.
Specify the specific wastewater pre-treatment options. This could include oil separators, pH control and other chemical treatment. Check with your local water authority for the pre-treatment requirements according to your trade waste permit.
Determine the necessary capacity of the wash bay, in terms of water flow. The supply pressure and flow rate should be compared with the wash bay requirements. Deficiencies may require an investment in upgraded utilities in consultation with your local water authority.
Size the wash bay — we'll factor in the physical areas as well as the weight of the equipment which will be washed.
Size the wastewater pre-treatment solutions and silt trap.
Once you agree on a customised design, Cleanawater will build and install the wash bay. We offer flexible financing options so that customers can remain within budget.
Construction site wash bay maintenance and servicing
Our technicians perform routine maintenance and servicing tasks that keep wash bay and pre-treatment equipment working as per design. Local water authorities may require this as part of a trade waste license. Our maintenance and servicing contracts help constructions sites preserve their compliance and avoid the cost of expensive fines.
Maintenance and servicing also prevents unplanned downtime. Small problems can be identified and corrected before they turn into big problems and major repairs.
Talk to Cleanawater for expert advice 
Contact Cleanawater for your construction site wash bay design. We have more than 20 years of experience and can advise you on the best solution for your business. 
Contact Cleanawater to find out more about construction site wash bays.
Must Read
Cleanawater on 14 December 2021
We know that most problematic odours afflicting waste handling areas are biological, using a topical odour treatment can mitigate existing odours and prevent odour generation while leaving a fresh key ...
Read more
Cleanawater on 2 September 2021
No matter what industry you're in, chances are you need odour control. VapourGard can help you eliminate odour complaints in a safe, cost-effective, and versatile way. ...
Read more