Wash bays for heavy equipment
Wash bays are used to clean dirt, oil and other waste from vehicles and equipment. This is important to protect against corrosion and minimise maintenance outages due to increased wear and tear.
Most applications can use a standard vehicle wash bay to accomplish this task. However, some industries use equipment that could never fit into a standard vehicle wash bay, these include
Construction vehicles

Mining vehicles and equipment

Transport vehicles

Industrial equipment

Some quarantine applications
Cleanawater has been serving the Australian water treatment market since 1996. We offer a variety of wash bay solutions to suit your business.
Design features for heavy equipment wash bays
Every wash bay has certain standard features. These include a waste water discharge point, silt management system and wastewater treatment system.
Discharge points
An authorised discharge point must be negotiated with local water authorities. No waste water may be discharged into a municipal sewer system without a trade waste permit in place.
Silt management
Heavy equipment, especially those found in the mining and construction industries, have a larger silt load than standard vehicles. Silt management systems collect the soil and solids from the wastewater before it is treated for other contaminants.
For normal silt loading, a silt sump may be sufficient. However, sumps have a limited size and could be overloaded by the large amounts of soil washed from construction and mining equipment. For this reason, a beach pit wash pad may be more appropriate. Cleanawater engineers help you to assess the silt loading of your application during the design stage of projects.
Heavy equipment design
Heavy equipment wash bay design must also account for the weight of the equipment. Concrete construction must be of a sufficient rating to handle the maximum load of the heaviest equipment.
A substandard construction may crack and fail under the weight of heavy equipment. This would lead to very costly repairs and may even render the wash bay nonoperational for safety reasons. It is much more expensive to increase the weight capacity of a civil construction after it is built than to construct it to a higher rating in the first place.
Access covers
Access covers protect underground pits from vehicle traffic. The nature of heavy vehicle wash bays means that standard access covers will probably not be sufficient to carry the load.
While this may not seem like a major issue, access covers protect water pits underneath the surface of the ground. Cracking a water pit by exposing it to excessive weight will lead to untreated water entering the ground water. The resulting pollution will damage the environment and could lead to fines.
Cleanawater process for implementing heavy equipment wash bays
Cleanawater has a defined process for implementing a heavy equipment wash bay. Our experience gained through a number of projects in various industries has helped us to develop and improve this process over time so that we offer the best possible solution to our clients. Each project follows a similar pattern, which can be outlined as follows:
Initial consultation

Inground services check

Water availability check

Discharge point check

Stormwater point check

Rainfall pattern check

Design and quotation

Installation

Commissioning

Inspections

Service and maintenance
Case studies
Cleanawater offers products and services to bring existing heavy equipment wash bays up to specification as well as new installations. A common retrofit requirement for existing wash bays is to divert rainwater to the stormwater system, once it exceeds 10 millimetres on the wash pad. This applies to unroofed bays bigger than 20 square metres.
Cleanawater fitted a first flush diversion system to meet the storm water requirements for an existing wash bay at Aitkin Cranes. We performed the same retrofit for KW Doggett Fine Paper.
Barrick Gold is an Australian mining company. They were having problems with their waste water discharge quality from their heavy equipment wash bay. Sludge ingress was affecting the performance of their oil water separator. Cleanawater implemented a hydrocyclone oil water separator onto their existing system, which meets the 10 ppm hydrocarbon discharge standard and handles a flow of 10,000 litres per hour.
Your questions answered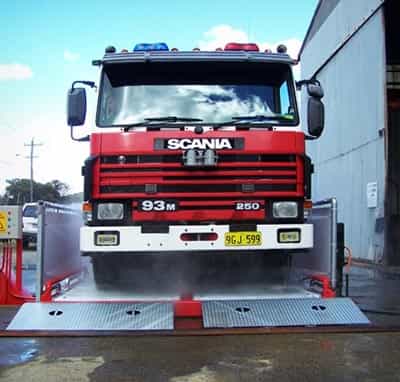 Is it cheaper to have roofed or unroofed wash bays?
Unroofed bays are cheaper, but remember that legislation requires rainwater to be diverted to stormwater for wash bays exceeding 20 sqm. Roofed wash bays have the advantage of providing rain water harvesting for wash bay use.
What size pits are needed?
Pit sizes are calculated during the design stage of a wash bay project. It is best to design for future growth of wash bay use because retrofitting a larger pit is an expensive undertaking.
Can heavy equipment wash bays be portable?
Yes. Cleanawater offers a portable wash bay design that can be moved from one location on site to another depending on the needs.
Can we recycle wash bay water?
Yes. Cleanawater supplies water recycling solutions. These systems can be justified on the basis of lower waste water discharge volumes and costs as well as lower potable water use. Cleanawater engineers help you to assess your application and design the best system for your needs.
Contact Cleanawater for expert advice
Cleanawater has more than 20 years experience in Australian waste water systems. We offer heavy equipment wash bays for mining, construction, transport and other industries.
Find out more about our wash bays or call our expert team on 1800 353 788 to arrange a consultation for your heavy equipment wash bay needs.
Must Read
Cleanawater on 14 December 2021
We know that most problematic odours afflicting waste handling areas are biological, using a topical odour treatment can mitigate existing odours and prevent odour generation while leaving a fresh key ...
Read more
Cleanawater on 2 September 2021
No matter what industry you're in, chances are you need odour control. VapourGard can help you eliminate odour complaints in a safe, cost-effective, and versatile way. ...
Read more