Effective, continuous, efficient oil skimming
Compact. Convenient. Easy to use. Cleanawater tube skimmers are the simple yet powerful solution for your oil removal needs.
Our tube skimmers effectively remove oils and grease from the surface of water collected in tanks and pits. They're portable and can be easily installed and redeployed.
Suitable for smaller applications, skimmers of this type are used by a variety of Australian businesses.
Ideal for these industries
Workshops
Service stations
Transport
Mining and more
Remove oils from tanks and pits
Removes free oils and grease from water
Requires very little space to operate
Easy to transport and fast to deploy
Designed for continuous use applications
Enquire about tube skimmers
Benefits of Cleanawater tube skimmers
Provides an effective oil removal solution
Compact design for use in limited space
Low weight means easy transportation
Durable construction for long service life
A compact yet powerful solution
Our tube skimmers are compact. In fact, our smallest model, the TOS-08, can operate in a tank just 100cm x 100cm in size. This makes skimmers of this type perfect for where limited space is a consideration.
Minimal maintenance required
Designed for continuous use applications, our tube skimmers feature a simple construction which means that little supervision is required, and that maintenance costs and duties are kept to a minimum.
Easy to install and redeploy
Use your tube skimmer when and where it's needed, then easily shift it onto the next job. The lightweight design makes transportation hassle-free. Simply move and redeploy your skimmer as necessary.
Customise to suit your application
Because of the natural flotation of their tubes, our tube skimmers can be deployed in sumps and tanks where there is a varying water level. The tube itself can also be specified to any length required.
TOS-08
TOS-15
TOS-20
TOS-25
Why choose Cleanawater?
Cleanawater leads the Australian market in water treatment system design, manufacture, installation and servicing.
As your one-stop water treatment provider, we're committed to supplying the right solution for your business. Our award-winning products are engineered for performance, economy and ease of use. That includes both custom-built and off-the-shelf units approved by all major water authorities.
Our comprehensive after-sales service includes support from experts in your area. So you can always speak to somebody who understands your local market.
We distribute across Australia with fast, efficient delivery for off-the-shelf systems. And we'll install, service and maintain your equipment on a schedule that suits you – ensuring minimal downtime.
It means superior results and outstanding value for your investment.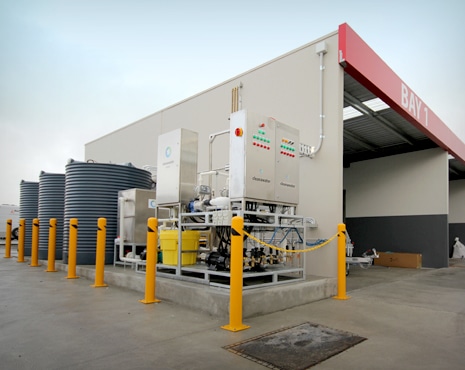 A tube skimmer is a simple and compact device used to remove free oils and grease from the surface of water which has been collected in a tank or pit.
How does a tube skimmer work?
The heart of a tube skimmer is its tube. This is an endless hose made of a special material that has a round cross-section (or tubular) and oleophilic properties.
This quality means that oil is attracted to the material, and water is repelled. The tube hangs down from the tube skimmer unit into the tank where the oil and grease are present on the surface of the water.
The tube skimmer main unit provides powered motion to the looped tube so that it is continuously drawn up into the main unit where it passes through a series of scrapers.
These scrapers remove the collected oils from the tube and allow it to pour into a funnel where it drains to a nearby waste oil collection tank or drum.
The tube also floats, so it stays on the surface of the water, which is where the majority of oil and grease typically collects, making it a targeted approach to oil removal.
Where are tube skimmers used?
Tube skimmers are ideally suited to smaller applications such as free oil removal from coolant reservoirs, workshop sumps or anywhere that bulk oil and grease collects in a tank.
The portable nature of these units also makes them suitable for applications where skimmers need to be moved and redeployed in more than one location.
What are the tube skimmer power requirements?
Tube skimmers use very little power. They are 240VAC and are supplied with a standard three-pin power plug for easy installation and redeployment.
As the tube is continuously drawn through scrapers in the unit, these scrapers can score and wear the tube over a prolonged period of time.
However, the tube is made of a very robust material, and the scrapers are also adjustable to account for any wear in normal use.
Can a tube skimmer be used in hot water or oil?
The tube material used in tube skimmers has an operating range of -40degC to +90degC.
Is the tube tolerant to different pH levels?
The tube material is highly resistant to different pH levels and can tolerate pH from 0-14.
How much space is needed for a tube skimmer?
This depends upon the model selected, but the smallest model (the TOS-08) can be mounted only 30cm above the water. It can also operate in a tank 100cm x 100cm.
Three Ways Rainwater-harvesting Technology Can Benefit Your Business

No matter what industry you're in, chances are you use a lot of water. Whether you require water for wash down and irrigation purposes, dust suppression, or onsite activities, water costs are.

How Car Wash Operators Benefit from Year-Round Water Conservation Efforts

It's no secret that many industries are facing water shortage issues. For car wash operators, this is a particularly important issue as your business is reliant on water.

Five Reasons Recycling Wastewater is Necessary

The term "wastewater" doesn't have particularly appealing connotations. In areas of the world where water appears to