Hydrocyclone Oil Separators
Highly efficient oil droplet separation
Ready for efficient oil removal? Cleanawater's hydrocyclone systems are more effective than traditional oil water separators.
Harnessing centrifugal force up to 1,000 times the strength of gravity, they're engineered to remove oil droplets down to 10-15 microns – as well as other hydrocarbons and surfactants.
Our extensive range includes options capable of handling 3,000 to 500,000+ litres per hour. Each model complies with all regulatory bodies – including local and regional water authorities. And they exceed all mining environmental discharge standards.
Uses and applications
Mining
Trade waste treatment
Transformer bunds
Workshops
Wash pads
Dairies
Re-fuelling areas
Enquire about hydrocyclone oil separators
Benefits of hydrocyclone oil water separators
Removes oil droplets down to 10-15 microns
Low operating costs
Exceed water authority requirements for hydrocarbon discharge
Pre-plumbed and pre-wired
Suitable for use in a wide range of industries
Available upgrades to suit hazardous areas
Lowest maintenance systems on the market
One-off purchase with working life of 20+ years
Relatively small footprint (compared with traditional separators)
Automated – low operating costs
Durable stainless steel construction
Cleanawater hydrocyclone oil water separators are engineered to efficiently remove oil droplets down to 10-15 microns; traditional coalescing oil separators function between 40-60 microns.
With automated functionality, they can run unsupervised. They require virtually no maintenance and have low energy usage – reducing operating costs. Ideal for use in mining, they're also well-suited to workshops, wash pads, dairies and re-fuelling areas.
Our hydrocyclone systems offer discharge standards that exceed water authority requirements – helping you avoid costly fines from authorities. And because they come pre-plumbed and pre-wired, you'll save on installation costs. It also means they're ideal for retrofits and temporary sites.
Authority compliant
Quarantine approved
DEOIL3 – 3000L/hr Electric or Pneumatic
DEOIL5 – 5000L/hr Electric or Pneumatic
DEOIL10 – 10,000L/hr Electric or Pneumatic
DEOIL20 – 20,000L/hr Electric or Pneumatic
Larger models available to suit
Why choose Cleanawater?
Cleanawater leads the Australian market in water treatment system design, manufacture, installation and servicing.
As your one-stop water treatment provider, we're committed to supplying the right solution for your business. Our award-winning products are engineered for performance, economy and ease of use. That includes both custom-built and off-the-shelf units approved by all major water authorities.
Our comprehensive after-sales service includes support from experts in your area. So you can always speak to somebody who understands your local market.
We distribute across Australia with fast, efficient delivery for off-the-shelf systems. And we'll install, service and maintain your equipment on a schedule that suits you – ensuring minimal downtime.
It means superior results and outstanding value for your investment.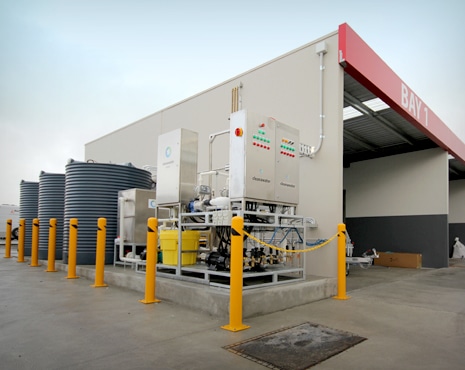 Frequently asked questions
How do hydrocyclone oil separators work?
Wastewater enters the cyclone chamber and is spun under extreme centrifugal forces up to 1,000 times the force of gravity. This force causes water and oil droplets to separate.
The heavier water phase is forced outward towards the cyclone wall and the lighter oil phase migrates towards the centre core.
The separated oil is discharged from one end of the cyclone and treated water is discharged through the opposite end for further treatment, filtration or discharge.
What size hydrocyclone oil separator do I need?
This will depend on the application. For small, single-pressure washer applications a 3,000 litre per hour system is generally ideal. Larger systems are sized based on flow rates, rainfall ingression allowances and storage capacity (among other factors).
Call Cleanawater on 1800 353 788 to discuss which size will best suit your requirements.
Do you provide hydrocyclone system installation?
Yes. Call 1800 353 788 for information on installation in your area.
Do I need anything other than a hydrocyclone oil separator?
This will depend on your layout and discharge requirements. Standard packages include a non-emulsifying pump, float switches, waste oil decant tank, galvanised skid and a control panel.
They come pre-wired and pre-plumbed for plug and play installation.
Will a hydrocyclone separator remove emulsified oils?
Do I need a permit to install an oil separator?
It's likely – however, the requirements vary between local authorities. Call 1800 353 788 or contact your local authority to confirm.
Three Ways Rainwater-harvesting Technology Can Benefit Your Business

No matter what industry you're in, chances are you use a lot of water. Whether you require water for wash down and irrigation purposes, dust suppression, or onsite activities, water costs are.

How Car Wash Operators Benefit from Year-Round Water Conservation Efforts

It's no secret that many industries are facing water shortage issues. For car wash operators, this is a particularly important issue as your business is reliant on water.

Five Reasons Recycling Wastewater is Necessary

The term "wastewater" doesn't have particularly appealing connotations. In areas of the world where water appears to