Vertical Gravity Separators (VGS)
Highly efficient removal of free oils from water
Ready for efficient oil removal? Cleanawater's VGS systems are designed to outperform traditional oil water separators.
They efficiently remove free oils and grease from water – making them effective in a range of industrial and commercial settings. Their small footprint and optional hot water handling unit make them ideal for commercial kitchens. But they're equally adept at removing oil from industrial waste water or wash-down water. And you can look forward to a long service life thanks to easy maintenance and a durable stainless steel construction.
Uses and applications
Vehicle and equipment wash down bays
Commercial kitchens
Industrial, mechanical and mining workshops
Re-fuelling areas
Construction sites
Transformer bunds
Car washes
Service stations
AQIS wash down facilities
Hire equipment branches
Food and beverage plants
Enquire about vertical gravity separators
Get expert advice and find out more about the costs of oil water separators.
Benefits of Cleanawater vertical gravity separators
Adheres to discharge standards for oil and grease removal
Easy installation
Complete packages including all peripherals
Capacities to suit your exact requirements
Durable stainless steel construction
Easy to use - automated operation
No consumables required
Compact design for minimal space requirements
Options to suit all budgets
Cleanawater VGS systems are designed to help you comply with water authority discharge standards for oil and grease removal.
Thanks to their lightweight construction and small footprint, they're quickly and easily installed. That means your system can be up and running in no time.
We offer complete, compact systems ideal for limited space; the VGS' small footprint requires far less floorspace than a coalescing separator. And they're supplied with non-emulsifying pumps, float switches and controllers – everything you need to get up and running.
We can supply a customised VGS to suit your site requirements, industry and budget – with any capacity from 700L to 3,000L per hour.
Built from durable stainless steel with durability in mind, they're adaptable enough to handle hot oils and grease – perfect for hospitality applications. The units' automated operation requires no consumables – saving on material costs. And our VGS design allows on-line maintenance, meaning minimal operational downtime.
Authority compliant
Quarantine approved
DV 700
DV 1500
DV 3000 NG
Why choose Cleanawater?
Cleanawater leads the Australian market in water treatment system design, manufacture, installation and servicing.
As your one-stop water treatment provider, we're committed to supplying the right solution for your business. Our award-winning products are engineered for performance, economy and ease of use. That includes both custom-built and off-the-shelf units approved by all major water authorities.
Our comprehensive after-sales service includes support from experts in your area. So you can always speak to somebody who understands your local market.
We distribute across Australia with fast, efficient delivery for off-the-shelf systems. And we'll install, service and maintain your equipment on a schedule that suits you – ensuring minimal downtime.
It means superior results and outstanding value for your investment.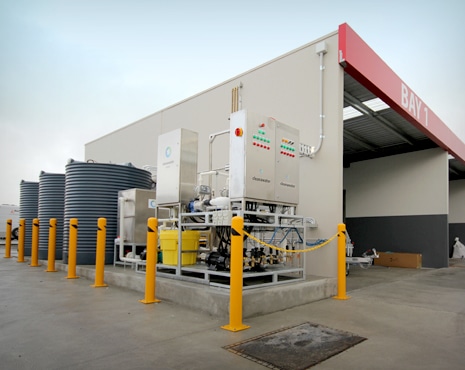 Frequently asked questions
How do vertical gravity separators work?
Vertical gravity separators (VGSs) work on the principle of liquid density and coalescence. Oily water is fed into the VGS' chamber at the top of the unit. Upon meeting the stationary water volume inside the chamber, the velocity of flow is reduced and suspended solids in the water that have a higher density to water, begin to drop out. These collect in the sump at the bottom of the unit.
Oil that has a lower density to water begins to rise to the top of the unit. Inclined plates in the form of a series of cones are placed in the path of these rising oil droplets (commonly referred to as a SPAK). The droplets collide and collect on these plates. When enough oil droplets collect and merge together, they become more buoyant and rise to the surface quickly. At the surface, an integrated skimmer takes away the oil to a waste oil collection drum. Treated water is directed out the side of the unit with oil removed.
How do I know a VGS is right for my operation?
This depends on a variety of factors including budget, location, flow rates and oily water properties. Call Cleanawater on 1800 353 788 and we'll be happy to advise on the best system for you.
What do oil water separators need to be connected to?
Gravity flow systems are available, however, traditionally a specifically sized non-emulsifying pump will pump oily water through an oil water separator for treatment. Discharge may be connected to sewer, leach drains, evaporation ponds, stormwater (with permit only) holding tanks or other approved discharge points.
Do you provide VGS installation?
Yes. Call Cleanawater on 1800 353 788 to hear about installation services in your location.
Do I need anything else other than a VGS?
This will depend on your layout and discharge requirements. Standard packages include a non-emulsifying pump, float switches, waste oil drum, galvanised support frame and a control panel.
How often do oil separators require servicing?
Every 3-6 months, generally. This depends on the amount of sludge accumulated in your process and oil influent levels.
What type of pumps should I use with an oil separator?
Non-emulsifying, low shear pumps such as diaphragm pumps or helical rotor pumps must be used at all times.
Can oil separators be installed outdoors?
Yes. Our units are constructed from stainless steel or polyethylene which are ideal for outdoor environments.
Three Ways Rainwater-harvesting Technology Can Benefit Your Business

No matter what industry you're in, chances are you use a lot of water. Whether you require water for wash down and irrigation purposes, dust suppression, or onsite activities, water costs are.

How Car Wash Operators Benefit from Year-Round Water Conservation Efforts

It's no secret that many industries are facing water shortage issues. For car wash operators, this is a particularly important issue as your business is reliant on water.

Five Reasons Recycling Wastewater is Necessary

The term "wastewater" doesn't have particularly appealing connotations. In areas of the world where water appears to
Our locations
40 Latitude Blvd
Thomastown
VIC 3074
38 Ricketty St
Mascot
NSW 2020
30/388 Newman Rd
Geebung
QLD 4034
67 Howe St
Osborne Park
WA 6017
8 Greenhill Rd
Wayville
SA 5034