Case Study: VapourGard at Blaxland Waste Management Facility
Have you ever wondered how waste is managed in one of Australia's most pristine, heritage-listed regions? In this case study, you'll find out about the innovations used to manage odour and keep air quality safe at a major facility in the beautiful Blue Mountains, NSW, Australia.
The Challenge
Blaxland Waste Management Facility is located in the rugged region west of Sydney known for its scenic views, steep cliffs, eucalyptus forests, waterfalls and villages filled with guesthouses. Its natural beauty and environmental status is a reason why many people choose to holiday in the area or call it home. Managing waste in such a location comes with added challenges for local authorities.
The Blaxland site processes all types of waste, including hazardous and non-hazardous materials, and has been encroached by homes and businesses since it began operating in the 1950s. Naturally, odour is risk that needs active management.
As part of ongoing innovations at the facility, Blue Mountains City Council decided to invest in some new, environmentally-friendly technology. The VapourGard VG500 system eliminates odours, so that neighbouring areas are not impacted by bad smells.
The system also helps ensure that environmental compliance obligations are not just met, but exceeded.
The Solution
Blue Mountains City Council is committed to keeping the region pristine and protected. It asked CleanaWater to recommend the best option to eliminate offensive odours leaving the site boundaries. After a thorough investigation and inspection of the site, we determined that our VG500 VapourGard Bulk Air odour treatment unit was the most suitable option.
What CleanaWater Did
CleanaWater's expert technicians installed the VG500 system to suit the site's exact requirements. We strategically placed 500 metres of diffuser ducting in the applicable location, making contact with the odorous emissions escaping from the active waste cells, and turning them into non-volatile compounds. This configuration allows odours to be neutralised before they can reach any surrounding residential, commercial or industrial zones
Benefits
CleanaWater's unique VapourGard™ is an industry-leading system.
It is more effective than fragrance and neutralising oils. That's because its active deodorisation technology destroys odour particles rather than just masking them. The vapours stay airborne for longer than traditional sprays allowing more effective odour treatment.
VapourGard allows total control of airborne odours and can be used for indoor and outdoor applications.
Results
Since the implementation of the VapourGard system, Blaxland Waste Management Facility has experienced significant improvements in odour challenges.
Additionally, the VG500 system helps reduce the risk of offensive odours being experienced in surrounding areas.
Conclusion
The implementation of the VapourGard VG500 system at the Blaxland Waste Management Facility was a success. Since the installation of the system, almost all complaints from neighbouring properties have been eliminated, significantly reducing the risk profile of the Facility.
The facility's management is highly satisfied with the results and considers the VapourGard system to be a valuable investment in ensuring BMCC provides adequate protection and uphold its responsibility to comply with government environmental regulations.
"In combination with a wide range of operational controls, we have found that complaints from our neighbours have significantly reduced since the VapourGard was installed."
Rebecca Tempest - Manager, Resource Recovery & Waste Services, Blue Mountains City Council
After-sales support
Comprehensive after-sales service. Seven days a week. That's the CleanaWater support promise.
We have industry experts located in Melbourne, Brisbane, and Newcastle. So you can always speak to somebody who understands your local market.
They're available around the clock to answer any queries you may have – whether it's about our systems or odour and water treatment in general.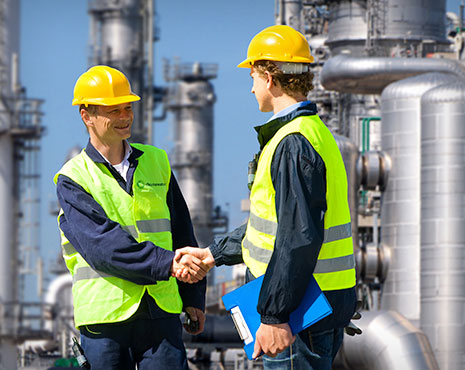 Cleanawater's end-to-end process
Step 1
Process Development
Cleanawater's project engineers confirm all site parameters, commence design and process evaluations on specific requirements for your waste water treatment plant works.
Step 2
Conceptual Modelling
Conceptual 3D models, predictive flow and performance analysis models are tested prior to manufacturing a site's waste treatment system.
Step 3
Manufacturing
We update the design briefs and create build drawings before manufacturing and commissioning at our Melbourne facility.
Step 4
Installation
The Cleanawater team complete water waste management installation and commissioning on site – without disrupting your operations.