Landfill
Customised odour control strategies for landfills
Key odour challenges for the landfill industry
Landfills are prime generators of odorous gases
Odour sources in landfills are large and diffuse
Specific odour control strategies are required
EPA compliance requirements must be met
Residential areas are developing closer to landfills
Resident intolerance for odours is growing
Industry overview
The landfill industry presents unique challenges for odour control. Due to the large and diffuse nature of landfills, specific odour management options apply. The relevant approaches are large area atmospheric misting and vapour generation, as well as topical surface treatment in an overlaying 'blanket' over odorous materials.
These technologies not only aid in compliance with EPA enforced boundary odour limits but also reduce resident odour complaints. At Cleanawater, we also offer ongoing support services to keep your odours in check, including chemical supply and delivery, odour monitoring and telemetry, and installation.
Products for the landfill industry
Cleanawater's industry solutions
One of the prime problems experienced by landfills is the need to meet the odour level restrictions enforced by the EPA.
With residential developments growing to meet greater demand for housing, odour complaints from residents are also becoming more common.
Cleanawater can help landfills be proactive in their response to these pressures by developing an odour management plan particularly suited to their needs. Usually, this would involve the application of surface treatments and atmospheric misting and vapour systems.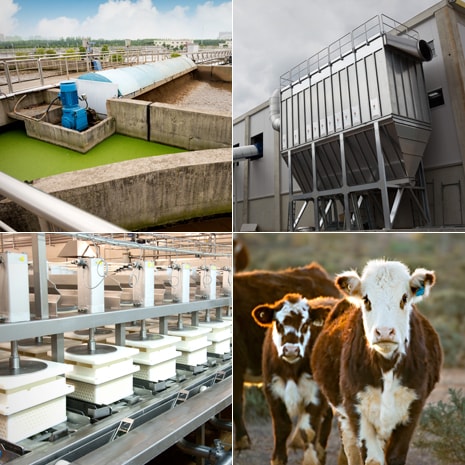 Our complete approach to odour management
Step 1
Solution Concept
Our experts will assess your site and develop an odour-reducing solution.
Step 2
Design & Engineering
We draw up your system ready to be custom-built.
Step 3
Installation
We'll assemble your custom system at your designated site.
Step 4
Commissioning
Our experts thoroughly test all systems to ensure they are ready for operation.
Step 5
Operation
We continually monitor and log system operations to ensure odour emissions remain at required levels.
Cleanawater's industry experience
Our strong partnership with Canadian company Ecolo allows us access to world-class expertise and knowledge of the landfill industry.
We tap into this industry experience and combine it with our large range of odour solution technologies to provide an appropriate strategy to reduce odours at your landfill site.
Expert advice and solutions
Our broad knowledge of odour control issues and products is integral to the services we provide to clients. We instigate extensive inspections of landfill sites, to ensure you get the best possible odour solution.
Unlike some competitors who only have knowledge in one kind of technology, we have a wider set of methods and products at our disposal, to solve your odour problem in a more targeted, cost-effective way.
At OdourPro, we like to make sure you are getting the most out of your odour control systems and strategy. That is why we offer services to complement our odour abatement products.
We install systems, supply and deliver chemicals, maintain and monitor odour control units, refurbish faulty machinery all while offering professional advice on the best course of action to take to reduce odours at your site, permanently.
Compliance assured equipment
Our equipment components are specifically designed for harsh conditions and a high frequency of use. They are used worldwide with proven success and effectiveness.
With our high-quality products and ongoing support services, we can help you reduce odours to meet EPA enforced odour limits at site boundaries.
8 common applications for odour management systems

This is where you are likely to find odour management systems in Australia. Includes information on industry accreditation and Australian standards.

What are odour neutralising misting systems?

Find out what you need to know about using odour neutralising misting systems to suppress and eliminate odours on your operation's site or sites.

4 Odour Neutralisers Used in Australia

These are four of the most commonly used odour neutralisers utilised by Australian businesses and public organisations. Learn about how you can use them for your site too.