Leaders in wastewater treatment and management, & 
odour control

 systems

We'll provide you with wastewater systems and odour control treatment Australia wide.
Who is Cleanawater?
Cleanawater started out offering wastewater treatment systems in Melbourne and now leads the Australian market in water treatment system design, as well as manufacture, installation and servicing of wastewater treatment plants.
Our award-winning wastewater treatment units are engineered for performance, economy and ease of use. That includes both custom-built and off-the-shelf units approved by all major water authorities. 
Authority compliant
Quarantine approved
Help you meet water authority regulations

Full service – equipment design, supply, installation, maintenance, repairs, finance and after-sales support
Providers of eco-friendly wastewater treatment
Decades of expertise and experience
Award-winning systems engineered for performance, economy and ease of use
Competitive wastewater treatment systems prices
Oil Water Separators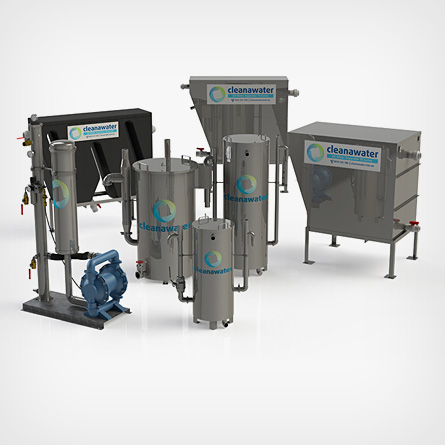 Oil water separators
Cleanawater's oil water separators lead the Australian market in removing suspended solids, free oils and grease from waste water.
We have one of the most comprehensive ranges on the market – with capacities ranging from 1,000L to 50,000L per hour.
Applicable industries
Wash Bay Solutions
Recycling and Harvesting
First Flush Diversion
Chemical Control
Odour Control
Pump Stations
Select an industry to refine your selection
Cleanawater's end-to-end process
Step 1
Process Development
Cleanawater's project engineers confirm all site parameters, commence design and process evaluations on specific requirements for your waste water treatment plant works.
Step 2
Conceptual Modelling
Conceptual 3D models, predictive flow and performance analysis models are tested prior to manufacturing a site's waste treatment system.
Step 3
Manufacturing
We update the design briefs and create build drawings before manufacturing and commissioning at our Melbourne facility.
Step 4
Installation
The Cleanawater team complete water waste management installation and commissioning on site – without disrupting your operations.
Our wastewater treatment systems & solutions
Wastewater treatment case study
Magic Hand Car Wash
Magic Hand asked Cleanawater to find a way to make their car wash bays more water-efficient – without increasing ongoing costs. The new system also had to keep pace with a consistently high volume of vehicles.
Wash bay servicing and maintenance

Contact Cleanawater for expert advice about your wash bay application. We service to give you peace of mind that your system is compliant and operating effectively.

Oil water separator benefits

Any business discharging trade waste needs a permit from their local water authority. They must use the right pretreatment solution like oil water separators to protect the environment.

Is your Activated Carbon Media up to date?

Activated Carbon is one of the most simplistic and effective solutions to remove a broad range of odours, Activated Carbon does have a life span and will need to be removed and replaced once the media is spent