Portable Heavy Machinery Wash Bay
Affordable, portable wash bays for heavy machinery
Regular washing systems for cars and trucks often don't fit to the dimensions of heavy machinery. At Cleanawater, we specialise in modular, portable washbays custom made for your heavy machinery.
From forklift washing stations to mobile excavator wash stations, we can design and provide the right portable washing solution for your business. We can keep you compliant with local water authority standards, with a more affordable and useful solution than permanent wash pads.
Uses and applications
AQIS facilities
Shipping container and ISO container wash-down
Freight terminals
Commercial car sale sites
Building and construction sites
Import yards
Export yards
Garages and workshops
Enquire about portable wash bays
The costs associated with owning and running a wash bays can vary.
The benefits of Cleanawater washbays for heavy machinery
Avoid non-compliance fines and shutdowns
Can be retrofitted
Easy to move from site to site
Custom-made to suit your needs
Quarantine approved
Flexible payment options
Plug-and-play system options
Moving a permanent wash bay from one worksite to another can be time consuming and expensive. A portable equipment wash station, on the other hand, is not only more affordable but also is easy to use and transport at man different job sites.
Our Cleanawater crew tailor-make solutions for our clients. We can design and build portable heavy machinery wash bays to your exact specifications.
Don't risk the fines and shutdowns that come with non-compliance; invest in a portable wash bay to stay productive. We can organise a flexible payment plant to spread the cost over a series of instalments.
Authority compliant
Why choose Cleanawater?
Cleanawater leads the Australian market in water treatment system design, manufacture, installation and servicing.
As your one-stop water treatment provider, we're committed to supplying the right solution for your business. Our award-winning products are engineered for performance, economy and ease of use. That includes both custom-built and off-the-shelf units approved by all major water authorities.
Our comprehensive after-sales service includes support from experts in your area. So you can always speak to somebody who understands your local market.
We distribute across Australia with fast, efficient delivery for off-the-shelf systems. And we'll install, service and maintain your equipment on a schedule that suits you – ensuring minimal downtime.
It means superior results and outstanding value for your investment.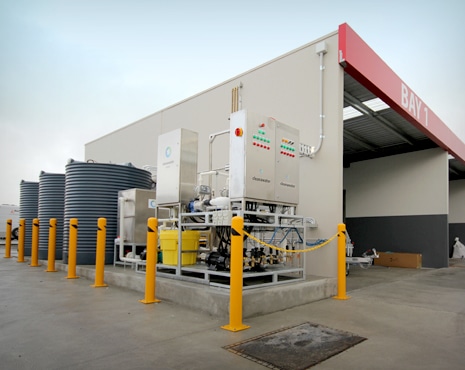 Frequently asked questions
Can you design a mobile excavator wash bay?
We certainly can. Our team can provide you with a mobile excavator wash bay in Melbourne, and all around Australia. We can custom build a wash station for cars, trucks, and virtually any piece of heavy machinery you have.
When I use the heavy machinery portable wash bay, where does the wastewater go?
Depending on where your site is located and the kind of That depends on a few things, like where your site is located and what sort of wastewater you're disposing of. Compliant ways to dispose of wastewater include:
Using a pollutant-removing unit to recycle the water
Discharging the water into a sewer after obtaining the relevant license
Making an arrangement for removal with a Cleanawater operator
How do Cleanawater portable wash bays for heavy machinery treat water?
We can tailor features on wash bays for specific tasks, but most industries have generic requirements for wastewater treatment and removal. Conventional tasks undertaken by our heavy machinery wash bays include:
Collecting the water in a tank
Filtering the wastewater and removing dirt, debris, large particles and plastic
Separating oil from the water until the water is compliant with regulations
If additional features are required for compliance with wastewater disposal in your industry, our team can tailor a solution to your specific needs.
What can I do if I don't have access to a sewer system on site?
There are many alternate options for wastewater disposal, even when a sewer system isn't on site. One option is to store wastewater in a holding tank. Liquid from the tank can then be collected by licensed Cleanawater operators, and remove of it in compliance with regulations in your industry.
What's the best wash bay for my needs?

Wash bays are used for any kind of equipment or vehicle wash down ranging in size from wheelchair cleaning to large busses and trucks

Wash bays for workshops and small spaces

Growing businesses including workshops often have space constraints. Wash bays are a necessary part of the operation but must be squeezed into tight spaces. Portable wash bays meet these requirements and have the benefit of being relocatable

Our tips for construction site wash bay design

Portable wash bays provide the flexibility construction sites need for wastewater compliance. Customised designs and modular solutions ensure that construction sites get the wash bay they need