Get a complete water treatment solution
Wastewater treatment encompasses a range of solutions. The term refers to any time water is processed for a specific purpose, regardless of industry. This includes for drinking, irrigation or disposal into drains.
Which water treatment systems are right for you will depend on your intended application. That's where we at Cleanawater come in. Whatever your water treatment needs, we can tailor an industrial water treatment equipment solution to suit your requirements and budget. We will give you the best in water waste management.
Common water treatment systems
Water treatment units
Oil water separators
Water recycling
Hydrocarbon removal
Chemical dosing
Rainwater harvesting
Quarantine
Wash bay processing
Enquire about our water treatment systems
Benefits of Cleanawater wastewater management systems
Custom-made systems are tailored to your exact requirements
Low-cost off-the-shelf solutions also available
We'll get you water authority compliant
Removes all hydrocarbons, impurities, and micro-organisms
Minimal ongoing and running costs
Water is one of the world's most precious resources. At Cleanawater, we are dedicated to helping organisations safely store, use and discharge water. Every day, we assist Australians in meeting their regulatory standards, as well as their environmental responsibilities.
Our expert team design, manufacture, and install all of our water treatment systems. Unlike some other companies, we handle your water treatment solution end to end. So, whatever your project, you'll get the same first-class service and support from start to finish.
Custom made to suit your needs
Fully water authority compliant
Providers of industrial water filtration systems
Why choose Cleanawater?
When it comes to choosing between water treatment companies, the choice is clean and clear. Cleanawater leads the Australian market in water treatment system design, manufacture, installation and servicing.
We create systems which offer exceptional performance, simplicity of use, and economy. Whether you choose a custom-made or off-the-shelf system, you can be assured of water authority compliance and long-lasting reliability.
Cleanawater has been a trusted industry name for over 20 years. So you know we'll be there for you today and tomorrow. And, yes, we offer full after-sales support across our entire range of products.
We service Australia-wide, with fast delivery for off-the-shelf water treatment systems. Plus, we'll install, service and maintain your new system to match your schedule, so there is minimal downtime.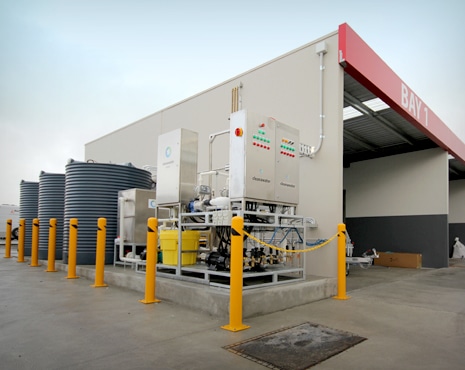 Frequently asked questions
Which system do I need for recycling wash bay water?
The system configuration will depend on the quality of water the wash bay is producing. We will need to gather a water sample and conduct a water test to understand what impurities are in the water. So we can determine which systems will best deliver the water quality required to recycle the water.
What types of water does Cleanawater treat?
At Cleanawater, we treat a broad range of water types. However, our focus is on developing systems which manage and treat industrial wastewater and water harvested from rainwater.
Which water treatment systems does Cleanawater offer?
We design and construct a variety of systems suitable for industrial wastewater and collected rainwater. Industrial waste is generated from a wide range of trades and applications and contains a wide range of impurities.
Treatment systems need to comply with local authority standards, Cleanawater designs systems around these requirements through water sampling and consultation.
What are the requirements of a typical water recycling system?
In most cases, water treatment systems need to remove hydrocarbons, settlement, and micro-organisms while also improving the turbidity.
What's needed for a wash bay that cleans products from overseas?
In applications such as these, the Department of Agriculture and Water Resources has strict compliance rules around the treatment of water and industrial water filtration systems used. At Cleanawater, we can work with the Department to design and construct water treatment systems which satisfy the requirements that can lead to accreditation.
Are water treatment systems expensive?
Depending on the sophistication of the industrial wastewater systems and the processes required, our systems have a typical payback period of 5-10 years. However, in many cases, systems are required to be compliant, which makes them essential to your operation. At Cleanawater, we have financial options available to reduce the upfront cost by turning payments into easy and manageable monthly payments.
3 Best Oil Water Separators for Industry

Searching for an oil water separator that's right for your business and industry? Get started here.

Information on custom oil water separators + examples

Find out more about custom oil water separators and how they compare to off the shelf solutions. Includes oil water separator examples.

What are oil water separators?

Need to get to grips with the basics of oil water separator technology? Get started here.
We have representatives in