Hyper-durable and quick-installation RV wash bays
Search any of the many campgrounds dotted around Australia, and you'll find people spritzing down their road-weary RVs and caravans with a garden hose, thinking, "I wish there was a caravan was bay near me." As a site owner, you can make their wish come true.
Cleanawater's engineers can design a custom wash bay for your caravan and RV parks. Explore our portable wash bay options.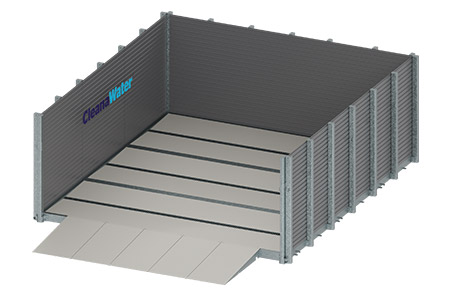 Our portable wash bay features
Cleanwater's portable wash bays require no excavation or in-ground preparation. That means no pipework, pits and underground pumps. Simply choose an installation site and set it up. Capable of filtering and recycling water, our portable RV wash bays can be moved and reinstalled at any point.
Wind-rated walls and hot-dip galvanised steel construction withstand all environments
Wind-rated walls and hot-dip galvanised steel construction withstand all environments
Robust construction handles 12 tonnes per axle
Watertight design prevents environmental contamination
Turnkey packages for easy assembly, disassembly and transportation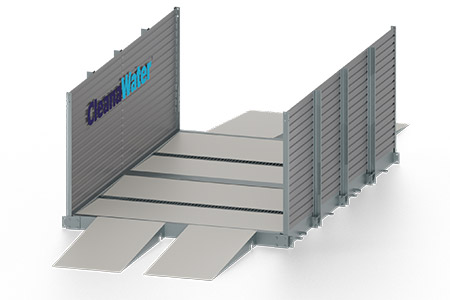 Use our calculator to get your portable wash bay estimate
Authority-compliant wash bays for RV parks
Cleanawater's RV wash bays are designed to comply with all Australian authority rules and regulations. All wastewater generated is filtered through an oil-water separator before being sent to the sewers. Our mobile wash bay designs do not require any in-ground works for installation, limiting your environmental footprint and allowing you to place your wash bay wherever you feel is most convenient for your customers.
You can rest assured that your site will always be above board and in the good graces of your local environmental authorities and your guests alike.
Simple set-up, simple-use caravan self-serve wash bays
Relaxed, comfortable and constant travel — that's the appeal of the RV lifestyle. But it's hard to enjoy life in a recreational vehicle caked in dirt, dust and debris. Out on the road, caravan owners are usually forced to go to a truck wash if they want some heavy-duty cleaning done, but navigating a truck stop bustling with big rigs isn't ideal.
You'll turn your site into a regular stop on every traveller's journey by providing RV and caravan owners with a safe and simple washing bay for large vehicles.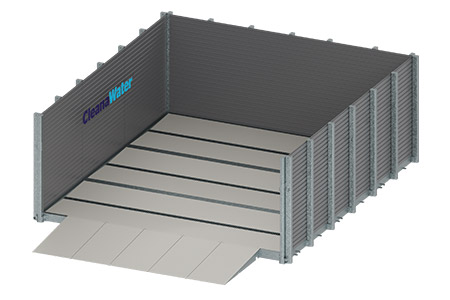 Meticulously designed wash bays for RVs and caravans
Cleanawater's caravan wash bays allow both self-service and automatic washing. High-pressure water jets scrub caravans with high-pressure water and detergent jets from multiple angles.
To offer your customers even greater convenience, we offer several set-up configurations. These include the addition or removal of ramps, walls and covered shelters. For example, you may prefer a single ramp for a drive-on/reverse-off design or two opposing ramps for drive-through functionality.
We can create whatever wash bay design you feel best serves your customers.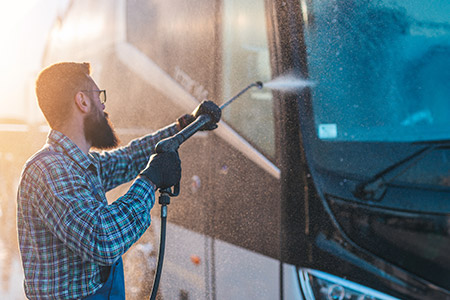 Three Ways Rainwater-harvesting Technology Can Benefit Your Business

No matter what industry you're in, chances are you use a lot of water. Whether you require water for wash down and irrigation purposes, dust suppression, or onsite activities, water costs are.

How Car Wash Operators Benefit from Year-Round Water Conservation Efforts

It's no secret that many industries are facing water shortage issues. For car wash operators, this is a particularly important issue as your business is reliant on water.

Five Reasons Recycling Wastewater is Necessary

The term "wastewater" doesn't have particularly appealing connotations. In areas of the world where water appears to

The Benefits of Rainwater Harvesting

In Australia, water is a precious commodity - and an expensive one. In this context, reusing and recycling water is incredibly important. Particularly for industry, rainwater harvesting can provide an ideal solution.

Wash bays problems and solutions

For wash bays, it is crucial to comply with local water authorities, design for current and future needs, and use the right chemicals. Working with a trusted partner can help overcome these challenges.
I have been a plumber for over thirty years and installed many water treatment systems. CleanaWater systems are by far the best for quality and reliability. They provide excellent customer service, from sales staff right through to expert advice and technical help. Can't thank CleanaWater enough!
Iain Paterson, Multilple Trades and Maintenance
We have seen a fantastic improvement since the OdourPro VapourGard™ system was installed 3 years ago. The system mitigates the heavy odours which are released from the site, which has improved conditions for our staff and almost completely eliminated complaints from local residents and businesses
Glenn Claverie, Select Civil
The whole process was very simple, the sales and technical support was great, when needed contact was made easily for assistance during construction and the finished product works and looks fantastic, all in all working with the CleanaWater team to purchase our new Portable Wash Bay was a trouble free process
Doug Neil, Stihl Sales and Service Centre Coffs Harbour
The purchasing of our oil separator, from obtaining a quote through to delivery, was made extremely easy through CleanaWater, the staff are easy to deal with and make the whole process hassle-free, as well as supplying a quality product. I would highly recommend CleanaWater products in the future.
Bret Sheehan, Surefire Plumbing Services
The VapourGard™ system is a great alternative to the other odour suppression systems out there. The unit is easy to use and maintain, does not need a portable water source to dilute the chemical and has a low chemical usage which cuts down on cost.
Nicholas Bhugon, SITA Australia
Cleanawater have been very helpful in getting the solution ordered and out the door to us as quickly as possible. All this in the midst of supply chain issues globally. It's nice when things still, just, work!
Tom Filipcic, FUCHS Lubricants (Australasia) Pty. Ltd.
In combination with a wide range of operational controls, we have found that complaints from our neighbours have significantly reduced since the VapourGard was installed.
Rebecca Tempest - Manager, Resource Recovery & Waste Services, Blue Mountains City Council
Frequently asked questions
How big are your RV wash bays?
With our modular designs, we can quite literally make your wash bay as big as you need it to be. If you run a large RV park, you'll be able to have as many caravans in the wash at one time as you like.
Our wash bay decks come in two sizes:
Small: 3.25m x 2.4m (W x D)
Large: 6.5m x 2.4m (W x D)
Being modular, you can chain as many decks together as you like. Once you've reached an adequate size, you can orient the wash bays in any way by choosing which faces will be walls and which will be ramps.
What are the standard inclusions of your caravan wash bays?
Standard inclusions include:
Galvanised steel deck modules
Galvanised steel wall sheets
Galvanised steel ramp
Galvanised steel wall supports
Galvanised steel gutter grates and trash screens
What happens if the draining system gets blocked?
No wastewater system is immune to blockages. Our solution was to develop wash bays that are easy to unclog and clean.
The draining pipes below the wash deck run at 45° (rather than the standard 90° angles), making it significantly easier for your nearest plumber to snake.
How do I clean an RV wash bay?
We've intentionally designed our wash bay gutter channels to fit the head of a standard channel spade, which you can pick up at any hardware store. With regular check-ups by your site staff, you shouldn't have to worry about drain blockages too much at all.
Are the wash decks skid-proof?
We've coated our decks in non-slip polyurethane to ensure wheels — and feet — don't go skidding accidentally.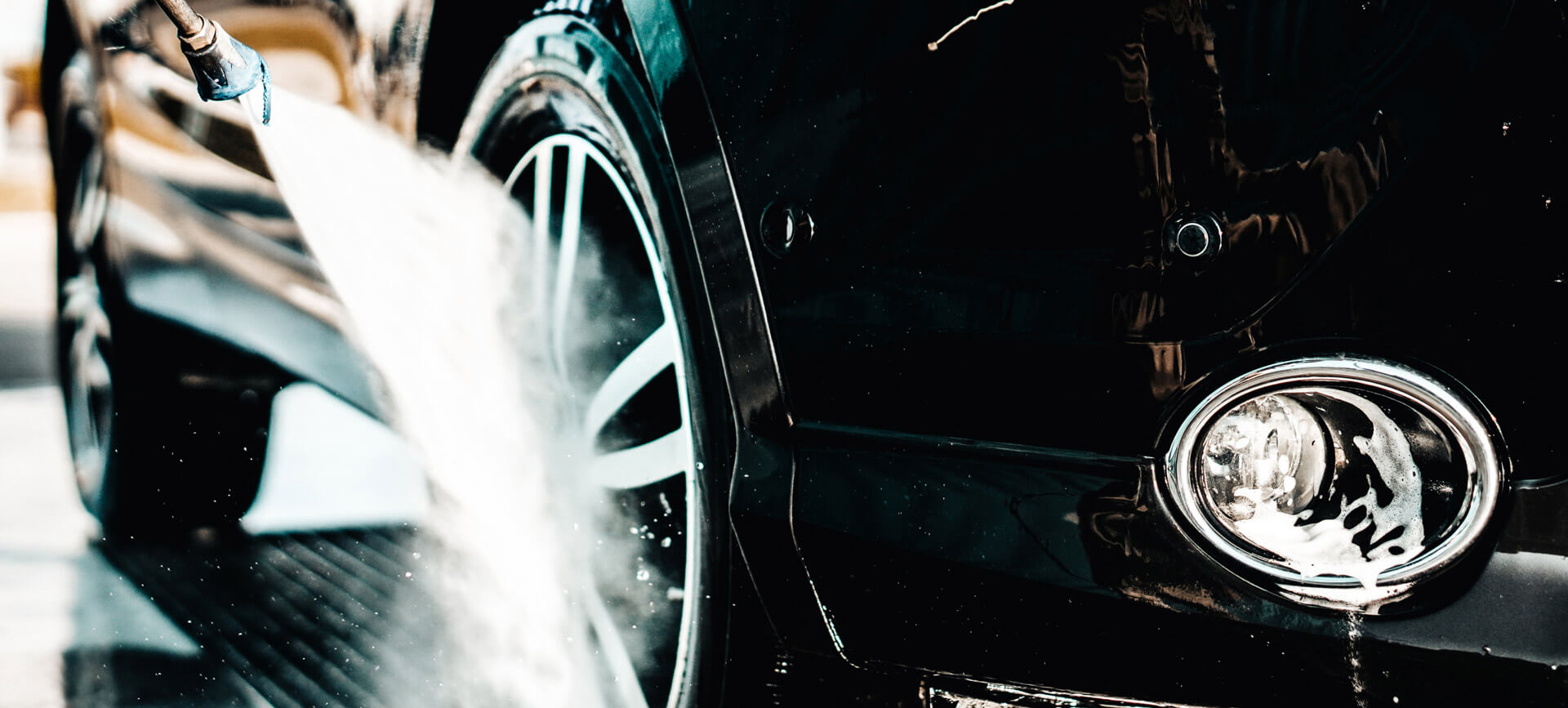 Enquire about our Wash Bays