Portable Wash Bay For Cars
Portable wash bays for vehicles can provide convenient mobility
A modular wash bay can easily be retrofitted for wash down operations across a variety of industries. It can be packed up and transported easily, across different sites for supreme convenience.
At Cleanawater, we design mobile wash bays for cars which are compliant with local water authorities. The portable wash bay system is the ideal alternative to a permanent concrete wash pad, and it saves our clients money.
Uses and applications
Public car washes
Garages and workshops
Commercial car sale sites
Building and construction sites
AQIS facilities
Shipping container and ISO container wash-down
Freight terminals
Import yards
Export yards
Enquire about portable wash bays
The costs associated with owning and running a wash bays can vary.
Benefits of Cleanawater portable car wash bays
Compliant with water authorities
Avoid potential fines and shutdowns
Custom-made to exact specifications
Easily transferred from site to site
Ability to be retrofitted
Quarantine approved
Plug-and-play system options
Flexible payment options so you can spread the costs
At Cleanawater, we create portable wash bays made specifically for cars. Whether you need a plug-and-play system that's ready to go, or a custom-made system, our experts can manufacture and design portable wash bays for your exact needs.
Thanks to its portability, this water system is ideal for temporary sites or any site where modifications are not allowed. It's a more affordable, temporary option which can be tailored for a range of industrial applications.
By investing in a portable car wash bay, you can save money in more than one way. Our systems have been designed to meet the exact standards of local water authorities — preventing fines or costly shutdowns — and we have flexible financial plan options which allow you to spread the cost of your investment out.
Authority compliant
Why choose Cleanawater?
Cleanawater leads the Australian market in water treatment system design, manufacture, installation and servicing.
As your one-stop water treatment provider, we're committed to supplying the right solution for your business. Our award-winning products are engineered for performance, economy and ease of use. That includes both custom-built and off-the-shelf units approved by all major water authorities.
Our comprehensive after-sales service includes support from experts in your area. So you can always speak to somebody who understands your local market.
We distribute across Australia with fast, efficient delivery for off-the-shelf systems. And we'll install, service and maintain your equipment on a schedule that suits you – ensuring minimal downtime.
It means superior results and outstanding value for your investment.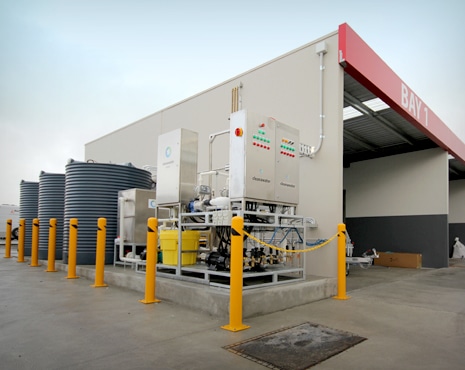 Frequently asked questions
Where does the wastewater go when my portable car wash bay is used?
This will depend on the location of your site and the type of wastewater being disposed of. To remain compliant with local water authorities, the wastewater can be disposed of by:
Making an arrangement with Cleanawater operators for wastewater removal
Discharging directly into a sewerage system but you must have a licence to discharge to the sewer
Discharging to a septic tank effluent disposal scheme (STEDS) — in this case, you or a Cleanawater representative can contact the council to ensure the wastewater will be accepted
Recycling the water through a unit which removes the pollutants, allowing you to reuse the water
What if I don't have access to a sewer system on my site?
If you don't have access to a sewerage system, the wastewater from the washbay can be redirected to a holding tank which can be emptied by a Cleanawater operator. As licenced liquid waste collectors and contractors, we can efficiently remove wastewater while remaining compliant with industry standards.
How do Cleanawater portable car wash bays treat water?
Most industries require similar portable wash bay systems. Generally speaking, our portable car wash bay systems will:
Filter and remove large particles, dirt, and even debris like plastic
Collect water in a tank so oils can be separated from the water — this is an essential criterion to remain compliant with local water authorities
However, your business may require extra features depending on your operational needs. If you'd like to find out more about how our wash bays treat water, get in touch with our friendly team of wastewater treatment experts.
What's the best wash bay for my needs?

Wash bays are used for any kind of equipment or vehicle wash down ranging in size from wheelchair cleaning to large busses and trucks

Wash bays for workshops and small spaces

Growing businesses including workshops often have space constraints. Wash bays are a necessary part of the operation but must be squeezed into tight spaces. Portable wash bays meet these requirements and have the benefit of being relocatable

Our tips for construction site wash bay design

Portable wash bays provide the flexibility construction sites need for wastewater compliance. Customised designs and modular solutions ensure that construction sites get the wash bay they need