Coalescing Plate Separators
What are coalescing plate separators?
Coalescing plate separators remove suspended solids, free oils, and grease from waste water using gravity. Contaminated water is pumped into a chamber where solids sink to the bottom, and oil rises to the top. The clean water is then extracted, while the contaminants are removed.

Cleanawater has one of the most comprehensive ranges on the market – with capacities ranging from 1,000L to 5,000L per hour. Easily installed and maintained, they'll help you meet – and exceed – water authority regulations. That means a cost-effective solution that guards against fines and shutdowns.
Uses and applications
Vehicle and equipment wash down
Wash down bays
Industrial, mechanical and mining workshops
Re-fuelling areas
Construction sites
Transformer bunds
Car washes
Service stations
AQIS wash down facilities
Hire equipment branches
Food and beverage plants
Enquire about coalescing plate separators
Get expert advice and find out more about the costs of oil water separators.
Benefits of Cleanawater coalescing plate separators
Approved and appraised by major water and regulatory authorities
Easily installed
Complete packages including all peripherals
Capacities to suit your exact requirements
Durable stainless steel construction – or budget poly models
Easy to use – automated operation
No consumables required
Compact design for minimal space requirements
Options to suit all budgets
Minimal maintenance required
Cleanawater coalescing separators are designed to comply with all discharge standards for oil and grease removal.
They're quickly and easily installed, so your system will be up and running almost as soon as you take delivery.
We offer complete, compact systems ideal for limited space. And they're supplied with non-emulsifying pumps, float switches and controllers – everything you need to get up and running.
We can supply a customised coalescing separator to suit your site requirements, industry and budget – with capacities from 1,000L to 5,000L per hour available.
Available in stainless steel and polyethylene, our range is designed with total flexibility in mind – so there's a model to suit every operation's needs and budget.
The units' automated operation requires no consumables – saving on material costs. And they're easily maintained, saving on running costs and ensuring minimal downtime for your operations.
Authority compliant
Quarantine approved
TS1000 SS
TS1500 SS
TS2000 SS
TS2500 SS
TS3000 SS
TS4000 SS
TS1000 PE
TS1500 PE
TS2000 PE
TS2500 PE
OC15
OC50
Why choose Cleanawater?
Cleanawater leads the Australian market in water treatment system design, manufacture, installation and servicing.
As your one-stop water treatment provider, we're committed to supplying the right solution for your business. Our award-winning products are engineered for performance, economy and ease of use. That includes both custom-built and off-the-shelf units approved by all major water authorities.
Our comprehensive after-sales service includes support from experts in your area. So you can always speak to somebody who understands your local market.
We distribute across Australia with fast, efficient delivery for off-the-shelf systems. And we'll install, service and maintain your equipment on a schedule that suits you – ensuring minimal downtime.
It means superior results and outstanding value for your investment.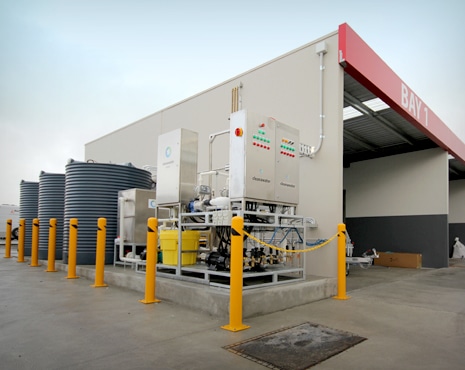 How do coalescing separators work?
Coalescing media packs are positioned in two stages to force free oil droplets to impinge on surface area. Upon impingement on media packs, droplets rise to the surface and are skimmed off into a waste oil container.
How do I know a coalescing system is right for my operation?
This depends on a variety of factors including budget, location, flow rates and oily water properties. Call Cleanawater on 1800 353 788 and we'll be happy to advise on the best system for you.
Do you provide coalescing separator installation?
In most locations, yes. Call 1800 353 788 Cleanawater to confirm whether we can supply installation in your area.
Do I need anything other than a coalescing separator?
This will depend on your layout and discharge requirements. Standard packages include a non-emulsifying pump, float switches, waste oil drum, galvanised support frame and a control panel.
How often do coalescing oil separators require servicing?
Every 3-6 months, generally. But this depends on the amount of sludge accumulated in your process and oil influent levels.
What type of pumps should I use with a coalescing separator?
Non-emulsifying, low shear pumps such as diaphragm pumps or helical rotor pumps must be used at all times.
Can they be installed outdoors?
Yes. Our coalescing separators are constructed from durable materials ideal for outdoor environments.
Control Odour with VapourGard

Control odours effectively and safely with CleanaWater's VapourGard system. Ideal for industries such as mining, landfill operations, recycling, and more, the VapourGard system uses lightweight particles to neutralise odours, requires minimal maintenance,

Everything you'll ever need to know about Oil Water Separators

This article provides a comprehensive guide to oil-water separators, and the equipment used to separate oil and water mixtures into their individual components. It explains how oil-water separators work and discusses the different types available, includi

How car wash businesses can save more water than ever

Car wash businesses can save water and money by using high-pressure, low-flow equipment, reducing and recycling water, installing water-saving devices, maintaining equipment, and educating customers. CleanaWater offers a portable wash bay that captures an
We have representatives in