Save on mains water use, wastewater removal and disposal
Cleanawater's water recycling systems offer immediate ongoing savings on mains water use – and wastewater transportation/disposal. Our systems allow you to process run-off water on site for re-use, reducing environmental impact.
Ideal for a wide range of industries, our recycled water systems exceed all required standards. And thanks to our unrivalled expertise, we can supply a custom system exactly suited to your site's requirements.
Uses and applications
Wash down bays
Construction sites
Car washes
Truck and heavy vehicle bays
Equipment hire locations
Industrial crate-washing
Quarantine (AQIS) wash down
Factory processes
Enquire about water recycling systems
Benefits of Cleanawater water recycling systems
Immediate return on investment
Protect yourself from rising mains water and trade waste disposal costs
Reduce your environmental impact
Systems designed to suit individual site requirements
Low-cost entry level systems available
Minimal consumable and ongoing running costs
Award-winning systems
Closed loop zero liquid discharge systems available for areas that have no discharge point
Start saving on wastewater removal immediately. Cleanawater's water recycling systems remove the financial and logistical burden of high mains water usage – as well as wastewater removal and disposal. The savings are ongoing – running costs are minimal and you'll insulate yourself from rising haulage and mains water prices. Re-using water on-site also reduces your demands on Australia's limited fresh water supply.
Thanks to Cleanwater's expertise across a broad range of industries, we can customise your system to your site's exact requirements. We can supply anything from an entry level unit to a multi-stage filtration system.
Our federal and state government-award-winning systems are even available in closed-loop zero liquid discharge format – ideal for sites with no discharge point.
We will get you authority compliant
Quarantine approved
Container Wash Water Recycling – Quarantine Specification
Containerised Water Recycling Plants
Equipment Wash Water Recycling Plants
Car Wash Water Recycling Plants
Closed Loop Water Recycling Systems
Why choose Cleanawater?
Cleanawater leads the Australian market in water treatment system design, manufacture, installation and servicing.
As your one-stop water treatment provider, we're committed to supplying the right solution for your business. Our award-winning products are engineered for performance, economy and ease of use. That includes both custom-built and off-the-shelf units approved by all major water authorities.
Our comprehensive after-sales service includes support from experts in your area. So you can always speak to somebody who understands your local market.
We distribute across Australia with fast, efficient delivery for off-the-shelf systems. And we'll install, service and maintain your equipment on a schedule that suits you – ensuring minimal downtime.
It means superior results and outstanding value for your investment.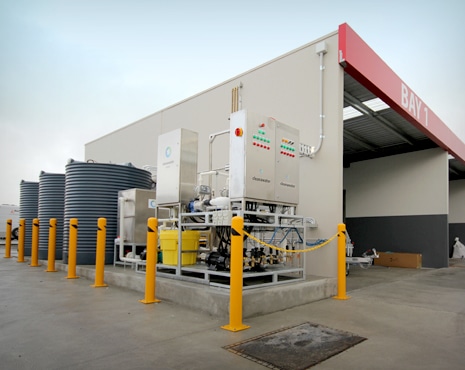 Frequently asked questions
How much water can your systems recycle?
100% of water collected in a pit can be recycled. Due to losses from evaporation and washing activity, a water re-use figure of 80% is typically achievable.
How much do water recycling systems cost to purchase?
Water recycling systems are available from as little as $122 per week.
Do I still need mains water if I am recycling water?
For wash down, small amounts of top-up water are required to compensate for evaporation losses. These can be topped up by harvested rainwater or mains water.
For industrial processes or dust suppression, topping up is not necessary.
Can you install my water recycling system?
Yes. Cleanawater's team of experienced technicians can service and maintain installed systems. Our team are available for mining and regional installations.
Fixed price and pay-as-you-go service and maintenance agreements are available upon system commissioning. This ensures your plant is consistently operating efficiently.
What water quality can I expect from a water recycling system?
This will depend on what you're using the water for. However, all systems are designed for a high quality output.
Contact Cleanawater to discuss your specific project.
How much power do I need to provide for a water recycling system?
Systems can be provided to suit 240V or 415V. Larger flow systems will require 415V. We can advise on electrical requirements on confirmation of system parameters.
What foot print size do I need for a water recycling system?
This will depend on your site's requirements. The smallest systems are typically 3m x 2m however layouts are flexible for small footprint locations. Systems can be supplied skid-mounted or containerised.
Control Odour with VapourGard

Control odours effectively and safely with CleanaWater's VapourGard system. Ideal for industries such as mining, landfill operations, recycling, and more, the VapourGard system uses lightweight particles to neutralise odours, requires minimal maintenance,

Everything you'll ever need to know about Oil Water Separators

This article provides a comprehensive guide to oil-water separators, and the equipment used to separate oil and water mixtures into their individual components. It explains how oil-water separators work and discusses the different types available, includi

How car wash businesses can save more water than ever

Car wash businesses can save water and money by using high-pressure, low-flow equipment, reducing and recycling water, installing water-saving devices, maintaining equipment, and educating customers. CleanaWater offers a portable wash bay that captures an
We have representatives in