Wash bays that offer convenience of portability
Need a portable wash area that's up to local authority standards? Cleanawater's portable wash bay equipment will help you meet their strict criteria.
Our portable wash bay equipment can be transported to your site as a plug-and-play system that's ready to go. Or we can design and build one that's perfectly suited to your site.
Uses and applications
Garages and workshops
Public car washes
Mine sites
Construction sites
Commercial hire centres
AQIS facilities
Shipping container and ISO container wash-down
Freight terminals
Import yards
Export yards
Enquire about portable wash bays
The costs associated with owning and running a wash bays can vary.
Benefits of Cleanawater portable wash bays
Authority-compliant – avoid fines and shutdowns
Off-the-shelf units available in a range of sizes and capacities
Bespoke units available to fit your exact needs
Quick and simple to deploy and install
Fully relocatable
No excavation or site modification required
Compatible with additional water treatment equipment
Packages start from $8 per day – spread the cost
Why choose Cleanawater's portable wash bays?
Cleanawater supplies portable systems for all wash down areas. Whether you require an off-the-shelf unit or a custom-designed solution, you'll benefit from our 20 years of wash bay expertise across a wide range of industries.
With no excavation required, our portable wash bays are ideal for temporary sites – or where site modification is not permitted. They are fully relocatable and so can be quickly decommissioned, moved and re-installed. They're also flexible and adaptable for AQIS wash down or water recycling purposes.
Spread the cost of your wash bay with our flexible finance options; get your operation up to authority standards with minimal cost. And investing in a Cleanawater portable wash bay means avoiding costly fines and shutdowns that come with breaching standards.
Authority compliant
Truck wash pad
Pipe and tubular wash pad
Workshop pad
Unroofed truck wash pad
Public car washes
Mine sites
Commercial hire centres
Construction sites
Import/export yards
Why choose Cleanawater?
Cleanawater leads the Australian market in water treatment system design, manufacture, installation and servicing.
As your one-stop water treatment provider, we're committed to supplying the right solution for your business. Our award-winning products are engineered for performance, economy and ease of use. That includes both custom-built and off-the-shelf units approved by all major water authorities.
Our comprehensive after-sales service includes support from experts in your area. So you can always speak to somebody who understands your local market.
We distribute across Australia with fast, efficient delivery for off-the-shelf systems. And we'll install, service and maintain your equipment on a schedule that suits you – ensuring minimal downtime.
It means superior results and outstanding value for your investment.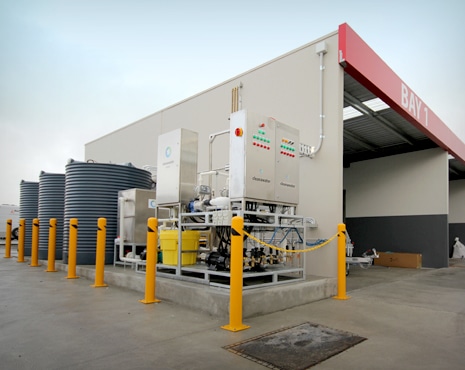 Frequently asked questions
How do I know if my portable wash bay is compliant with local water authority regulations?
If you have any questions about compliance of your existing systems, call Cleanawater on 1800 353 788. We'd be happy to take a look and advise you on what you need to do.
Permanent and portable wash bays will usually require bunding around the perimeter and holding pits. Other features required to prevent waste water from entering stormwater systems include diversions systems and other pre-treatment devices.
How do I best retain solids that accumulate in my portable wash bay?
Portable wash bays can be fitted with silt traps and baffled pits to make the removal of accumulated solids much easier. Wash down environments with high solids can be supported by beach pits and drive-in sumps.
How do I best retain solids that accumulate in my portable wash bay?
Yes, wastewater produced by portable wash bay needs to be pre-treated before it enters local wastewater systems. Discharging without treatment is against the law, and can result in heavy fines for businesses.
First flush diversion systems attached to unroofed, portable wash down bays larger than 20sqm can treat any run-off before it enters stormwater drains.
Can I still install a portable wash down bay if I have no access to sewerage on-site?
There are a range of discharge methods available to businesses without access to sewerage systems, including leach drains, evaporative ponds, and holding tanks.
If your business or site is located in a regional area that relies on septic systems, you should contact your local council for specific advice on how to discharge treated wastewater.
Does portable wash bay equipment change depending on the industry?
Most industries will require very similar portable wash bay systems. However, some businesses may require additional features, such as pH correction.
Call Cleanawater on 1800 353 788 to learn more about what you need for your business.
Three Ways Rainwater-harvesting Technology Can Benefit Your Business

No matter what industry you're in, chances are you use a lot of water. Whether you require water for wash down and irrigation purposes, dust suppression, or onsite activities, water costs are.

How Car Wash Operators Benefit from Year-Round Water Conservation Efforts

It's no secret that many industries are facing water shortage issues. For car wash operators, this is a particularly important issue as your business is reliant on water.

Five Reasons Recycling Wastewater is Necessary

The term "wastewater" doesn't have particularly appealing connotations. In areas of the world where water appears to