What is a chemical dosing system?
Chemical dosing systems effectively measure, control and regulate pH levels. These systems facilitate the automatic injection of chemicals into a water treatment systems to manage odours and septic agents. Chemical dosing systems are widely used in pump stations, rising mains, and sewer manholes.
Stay in control and remain compliant
Cleanawater's chemical dosing systems are supplied as pre-plumbed solutions a complete IP65 enclosure system. They are easy to integrate into your existing infrastructure. Our solutions are all backed by OdourPro Chemical Dosing Systems, Australia's industry leader in comprehensive chemical dosing systems, odour control and management.  
Uses and applications
Trade waste
Potable water
Industrial water
Acidic water mixtures
Manufacturing process water
Caustic water mixtures
Enquire about chemical dosing systems
Benefits of Cleanawater chemical dosing systems
Keep liquids at a constant pH
No unauthorised discharge
Adhere to all regulations and authority requirements
Pre-plumbed, factory pre-commissioned – save on install costs
Automated, hassle-free dosing solutions
Cleanawater chemical dosing systems automatically keep liquids at a constant pH, ensuring hassle-free water treatment. Suitable for industrial and commercial wastewater, they help you adhere to all water authority regulations - meaning no costly fines or shutdowns. Thanks to their remote alarm and SMS notifications, you can be assured of zero unauthorised discharge (optional).
Cleanawater supplies each unit pre-plumbed and factory pre-commissioned. And they can be retrofitted to your existing setup – saving you on install time and expense.
Our units offer a variety of measurement and output options, including:
Free and total chlorine residual
pH; RX (ORP)
Hydraulic peroxidel peracetic acid
Chlorine dioxide
Temperature
We offer a range of chemical dosing systems to suit all flow rates – including both single and dual pump systems for one-way or two-way dosing. Each unit automatically recognises a wide variety of power supplies, creating a true plug-and-play solution.
Authority compliant
Single or Dual Systems
Recirculating pH Control System
Inline pH Control System
Why choose Cleanawater?
Cleanawater leads the Australian market in water treatment system design, manufacture, installation and servicing.
As your one-stop water treatment provider, we're committed to supplying the right solution for your business. Our award-winning products are engineered for performance, economy and ease of use. That includes both custom-built and off-the-shelf units approved by all major water authorities.
Our comprehensive after-sales service includes support from experts in your area. So you can always speak to somebody who understands your local market.
We distribute across Australia with fast, efficient delivery for off-the-shelf systems. And we'll install, service and maintain your equipment on a schedule that suits you – ensuring minimal downtime.
It means superior results and outstanding value for your investment.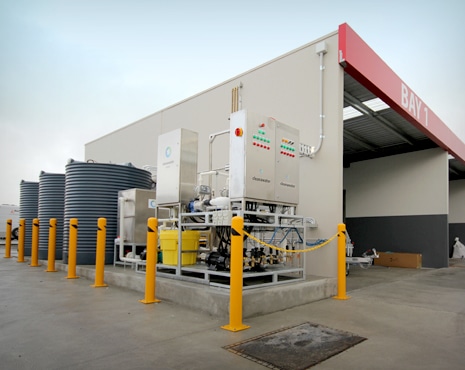 Frequently asked questions
When do I require a chemical dosing system?
When pH levels in waste water are not at the desired range – or if you need to chemically dose water for your process. Neutral level of pH is 7. Often pH requires correction due to dominant levels of acids or caustics.
Do I need to manually switch dosing pumps on and off?
No. Our systems are pre-calibrated in the factory to trigger 'set points' to switch pumps on and off when required.
What type of dosing pumps do you supply with your packages?
We provide a range of solenoid or peristaltic pumps with our correction and dosing systems.
My pH levels are very erratic, are systems available to correct pH both ways?
Yes. Systems are commonly supplied with an acid pump and caustic pump for erratic pH levels.
Do you have systems available for potable water treatment?
Yes. Cleanawater provides a range of ORP systems suitable for potable water treatment.
Do your systems have an automatic shut off?
Systems can be logic programmed to include valves to open and shut depending on the pH reading.
What chemicals do I need to correct pH?
A variety of liquids of dry chemicals are available to treat pH. Popular options include hydrochloric acid and sodium hydroxide.
Are your pH control systems scalable?
Yes. Systems can be sized to suit anything from 100 litres per day to flow rates in the mega litres.
Control Odour with VapourGard

Control odours effectively and safely with CleanaWater's VapourGard system. Ideal for industries such as mining, landfill operations, recycling, and more, the VapourGard system uses lightweight particles to neutralise odours, requires minimal maintenance,

Everything you'll ever need to know about Oil Water Separators

This article provides a comprehensive guide to oil-water separators, and the equipment used to separate oil and water mixtures into their individual components. It explains how oil-water separators work and discusses the different types available, includi

How car wash businesses can save more water than ever

Car wash businesses can save water and money by using high-pressure, low-flow equipment, reducing and recycling water, installing water-saving devices, maintaining equipment, and educating customers. CleanaWater offers a portable wash bay that captures an
We have representatives in