How our truck wash bays work
Our truck wash bays are designed with galvanised steel floor decks to provide a secure platform for quick, efficient cleaning of vehicles and equipment. Special troughs collect wastewater, while side walls contain spray created during the process. The addition of ramps ensures easy access ramps lets you drive in and out quickly for a hassle-free clean up every time.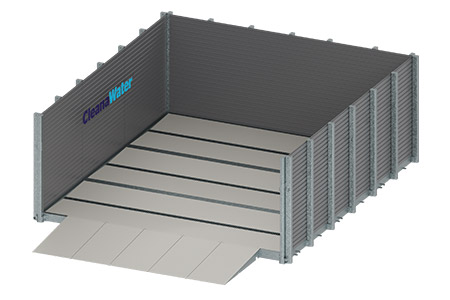 Our portable truck wash bay features
Our portable truck wash bay is packed with a variety of features to make vehicle cleaning an easy, safe and efficient process. 
Can be retrofitted
Easy to move from site to site
Custom-made to suit your needs
Plug-and-play system options
Can carry loads up to 12 tonnes
External water connection ports ensure no leaks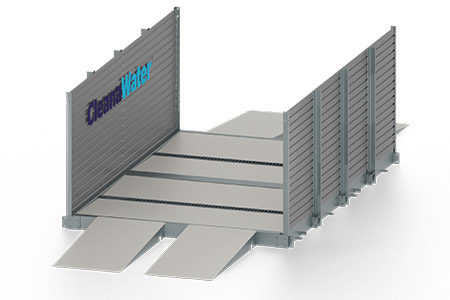 Use our calculator to get your portable wash bay estimate
Mobile wash bays for trucks
Portable truck wash systems are useful across many different industries. Modular in design, these portable truck wash bays can be packed up and transported to different sites to maximise convenience and effectiveness.
Truck wash down equipment designed for every application
Our truck ways bays are modular systems that can be expanded to suit your on-site needs. Our truck wash equipment comes in two sizes: small, 3.25m wide x 2.4m deep, and large, 6.5m wide x 2.4m deep. You can even join multiple decks together for a customisable fit. 
We also have a variety of wall, ramp, and shelter options available that can be tailored to suit your area. Common configurations include drive-through (two side walls), drive-on and reverse-off (three walls), or no walls. Our portable wash bay design specifications meet every on-site need and come will all the equipment needed like oil water separators.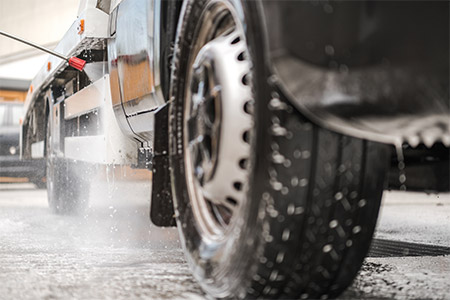 Why choose a portable wash bay for on-site trucks
CleanaWater is your go-to for portable wash bays, delivering 20 years of expertise and experience across a broad range of industries. Not only are our systems easy to install without excavation or site modification needed – but they're also completely relocatable if you need something that can be taken down quickly! From AQIS applications all the way to water recycling needs – CleanaWater offers flexible cost effective solutions tailored exactly to fit whatever it is you might be after.
Get ahead of the curve with quarantine-approved solutions.

Spread out payments for added convenience and affordability.
Don't let non-compliance shut down your business.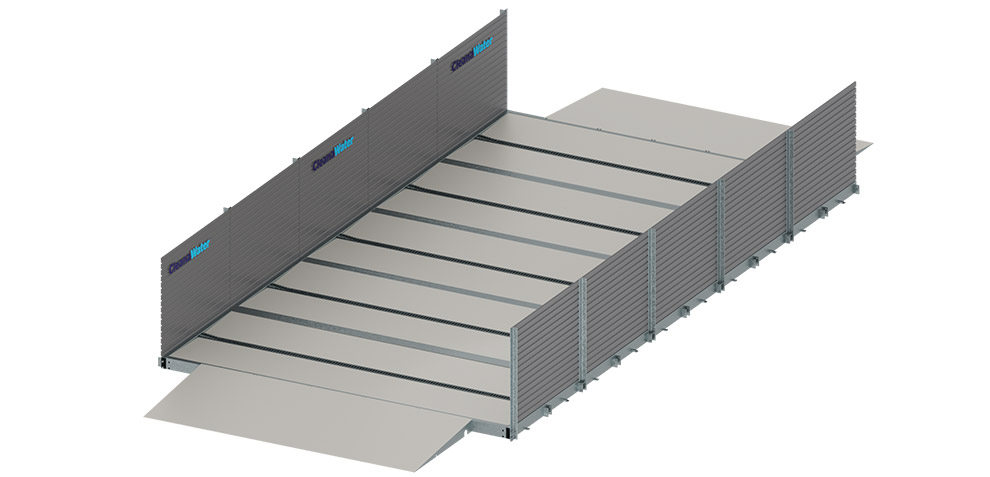 Three Ways Rainwater-harvesting Technology Can Benefit Your Business

No matter what industry you're in, chances are you use a lot of water. Whether you require water for wash down and irrigation purposes, dust suppression, or onsite activities, water costs are.

How Car Wash Operators Benefit from Year-Round Water Conservation Efforts

It's no secret that many industries are facing water shortage issues. For car wash operators, this is a particularly important issue as your business is reliant on water.

Five Reasons Recycling Wastewater is Necessary

The term "wastewater" doesn't have particularly appealing connotations. In areas of the world where water appears to

The Benefits of Rainwater Harvesting

In Australia, water is a precious commodity - and an expensive one. In this context, reusing and recycling water is incredibly important. Particularly for industry, rainwater harvesting can provide an ideal solution.

Wash bays problems and solutions

For wash bays, it is crucial to comply with local water authorities, design for current and future needs, and use the right chemicals. Working with a trusted partner can help overcome these challenges.
I have been a plumber for over thirty years and installed many water treatment systems. CleanaWater systems are by far the best for quality and reliability. They provide excellent customer service, from sales staff right through to expert advice and technical help. Can't thank CleanaWater enough!
Iain Paterson, Multilple Trades and Maintenance
We have seen a fantastic improvement since the OdourPro VapourGard™ system was installed 3 years ago. The system mitigates the heavy odours which are released from the site, which has improved conditions for our staff and almost completely eliminated complaints from local residents and businesses
Glenn Claverie, Select Civil
The whole process was very simple, the sales and technical support was great, when needed contact was made easily for assistance during construction and the finished product works and looks fantastic, all in all working with the CleanaWater team to purchase our new Portable Wash Bay was a trouble free process
Doug Neil, Stihl Sales and Service Centre Coffs Harbour
The purchasing of our oil separator, from obtaining a quote through to delivery, was made extremely easy through CleanaWater, the staff are easy to deal with and make the whole process hassle-free, as well as supplying a quality product. I would highly recommend CleanaWater products in the future.
Bret Sheehan, Surefire Plumbing Services
The VapourGard™ system is a great alternative to the other odour suppression systems out there. The unit is easy to use and maintain, does not need a portable water source to dilute the chemical and has a low chemical usage which cuts down on cost.
Nicholas Bhugon, SITA Australia
Cleanawater have been very helpful in getting the solution ordered and out the door to us as quickly as possible. All this in the midst of supply chain issues globally. It's nice when things still, just, work!
Tom Filipcic, FUCHS Lubricants (Australasia) Pty. Ltd.
In combination with a wide range of operational controls, we have found that complaints from our neighbours have significantly reduced since the VapourGard was installed.
Rebecca Tempest - Manager, Resource Recovery & Waste Services, Blue Mountains City Council
Frequently asked questions
Where does the wastewater go when I use my portable truck wash bay?
That depends on a few things, like where your site is located and what sort of wastewater you're disposing of. Stay compliment with your local water authorities and dispose of wastewater by:
Contacting Cleanawater operators and making an arrangement for wastewater removal
Obtaining a license to discharge to the sewer and discharge directly into the sewerage system
Recycle the water with a pollutant-removing unit which will let you reuse the water
Discharge into a STEDS (septic tank effluent disposal scheme). Either you or a Cleanawater representative working on your behalf can contact the relevant authorities to confirm that the wastewater gets accepted.
How do Cleanawater portable truck wash bays treat water?
While we can tailor wash bays to particular needs, most industries have generic requirements. Our portable truck wash bay systems:
Collect water in a tank. Oils present are then separated from the water, which is essential for remaining compliant with wastewater regulations.
Remove dirt, large particles, and debris, such as plastic, by filtering it out of the water.
We can work with your team to see if any additional features are required for compliance. Get in touch with our team to find out more about how we can help with your specific needs.
I don't have access to a sewer system on my site. What can I do?
Even if you don't have sewer system access on your site, there may be alternate options for wastewater disposal. For example, wastewater from the wash bay can be stored in a holding tank. Then, licensed liquid waste collectors from Cleanawater can remove the wastewater in a way that compliment industry regulation.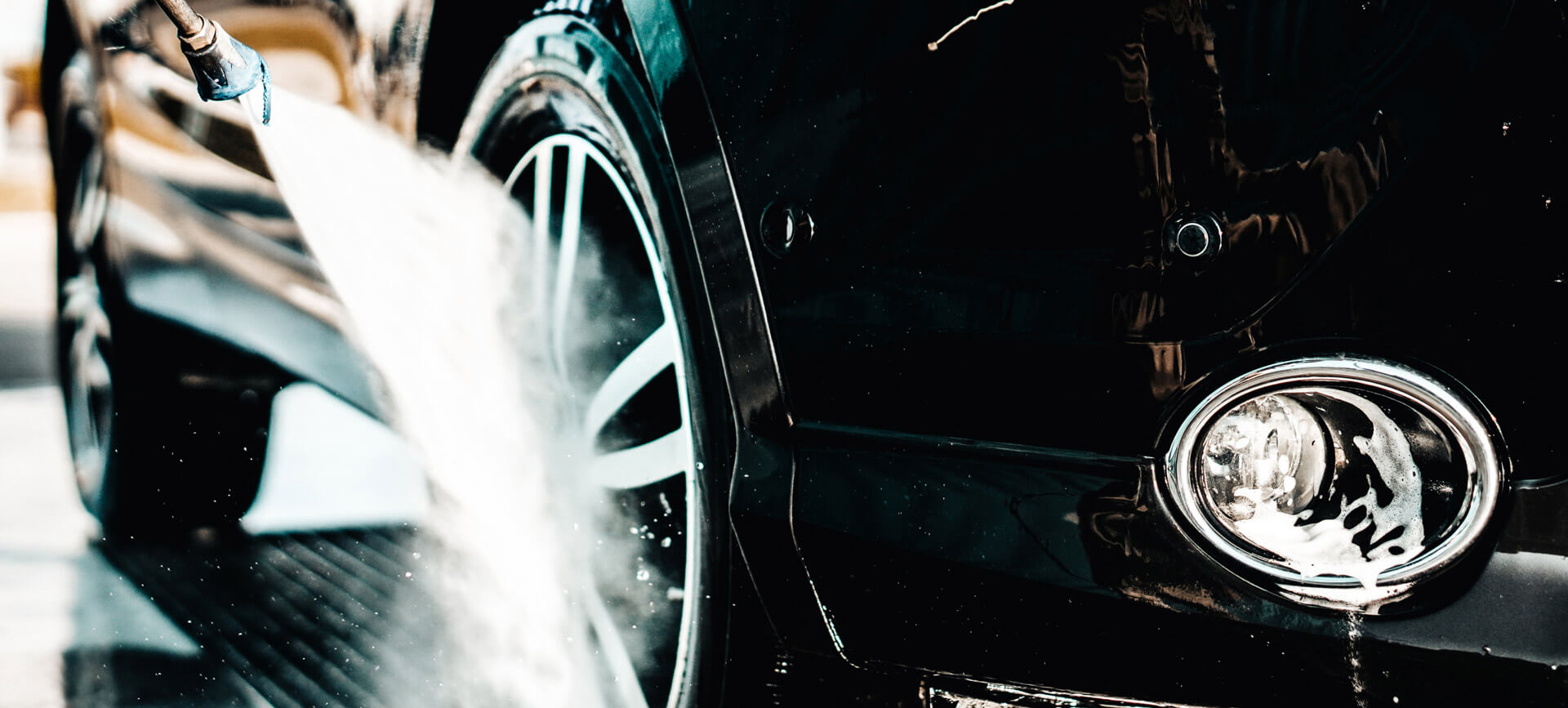 Enquire about our Wash Bays