Our guide to vehicle wash down bay design
Vehicle wash down bays are standard for mining companies; vehicle hire organisations; and truck, heavy vehicle, and AQIS/quarantine wash down facilities. Even workshops and industrial sites use wash down facilities to clean equipment. Vehicle wash down bay design can be roofed or unroofed, depending on size and the site configuration.
Although vehicle wash down may seem like a simple operation, there are strict rules governing the design of wash down bays and the control of wastewater. Local water authorities have the power to impose penalties and even shut down facilities that do not comply with regulations.
Find out how Cleanawater can help you with vehicle wash down bay design and compliance.
Key elements of vehicle wash down bays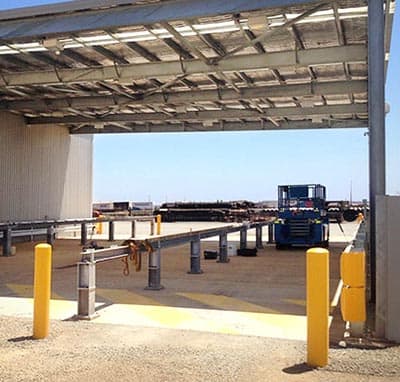 The most important element of a vehicle wash down bay is the management of wastewater. An authorised discharge point must therefore be negotiated with the local water authority, or a discharge tank must be installed. This tank collects treated water for disposal by truck. Local water authorities have specific processes for obtaining a wastewater discharge license, with water quality specifications and pre-treatment requirements.
Every wash bay has a silt sump to capture soil and other solids from the wastewater before it passes through pre-treatment. Wash bays are graded so that water flows to a low point where it enters the silt sump. Solids collect in the bottom of the sump, and a pipe near the top transports water to a collection pit for pre-treatment.
Pre-treatment solutions are specified by local water authorities and normally include oil water separators. They may also require pH control and other site-specific treatments to ensure that wastewater quality remains within specification.
Cleanawater process for vehicle wash down bay implementation
It is advisable to work with an experienced partner in wash bay design and wastewater treatment to ensure compliance with regulators. Cleanawater has over 20 years experience in wastewater solutions. Our track record includes the installation of multiple vehicle wash down bays. We follow a process developed from experience to deliver successful projects to each client.
Step1: Initial Consultation
We discuss the client requirements; view the proposed site; and gain an overall understanding of the scope of the project.
Step 2: Inground services check
We determine if any pipes or cables are installed underground at the proposed site, which may impact on construction. Sites may be moved or reconfigured as a result of this step.
Step 3: Water availability check
We assess the water flow and pressure requirements based on the expected volume of vehicles. Consideration is also given to future expansion of the business. Roofed vehicle wash down bays have the potential for rainwater harvesting, which may also be evaluated at this point in addition to the potential for recycling.
Step 4: Discharge point check
This a key step in terms of compliance. Negotiations with local water authorities will clarify pre-treatment requirements and location of a discharge sewer.
Step 5: Stormwater point check
This a critical step for unroofed wash bays. It is important to make provisions for large volumes of rainwater so that the pre-treatment system and wastewater system are not overloaded. First flush diversion enables wash bays to capture potential contaminated water but allow for clean water to flow to stormwater sewers.
Step 6: Bureau of Meteorology data check
We check the BOM Intensity–Frequency–Duration data to set design criteria regarding expected rainfall patterns for unroofed wash bays.
Step 7: Design and quotation
Our team collates all of the information and checks conducted up until this point to produce a detailed design of the vehicle wash bay. All parameters are checked against compliance criteria to ensure the wash bay meets and exceeds local water authority requirements. Design elements include size of wash bay, size and location of silt sump, pre-treatment solutions, and discharge systems of wastewater and stormwater as appropriate.
Step 8: Installation
The installation of wash bays is completed by Cleanawater teams. The bay is built according to design drawings and is signed off by engineers. Cleanawater participates in the inspections process and sign offs by local authorities.
Step 9: Commissioning
Commissioning of vehicle wash bays involves testing each element of the system. The wash bay performance is evaluated; and the functioning of each element is checked. Staff training is also carried out to ensure each person fully understands how the system works.
Step 10: Live and post live inspections
We ensure that the system is operating as per design and that local water authorities are satisfied with the compliance.
Step 11: Service and maintenance
Ongoing service and maintenance contracts are often required by local water authorities as part of their wastewater license application. Cleanawater provides these services to ensure equipment operates as expected and to pick up any defects before an environmental incident occurs.
Contact Cleanawater for expert advice
Cleanawater has more than 20 years experience in Australian wastewater systems. We have worked with clients and local water authorities across the breadth of the country to implement vehicle wash bay systems that discharge into municipal wastewater sewers. Our track record and expertise make us the ideal partner to help you set up your vehicle wash bay facility.
For industry-leading advice on your vehicle wash bay, contact the Cleanawater team on 1800 353 788 to arrange a consultation.
Must Read
Cleanawater on 26 September 2023
Control odours effectively and safely with CleanaWater's VapourGard system. Ideal for industries such as mining, landfill operations, recycling, and more, the VapourGard system uses lightweight partic ...
Read more
Cleanawater on 21 March 2023
Control odours effectively and safely with CleanaWater's VapourGard system. Ideal for industries such as mining, landfill operations, recycling, and more, the VapourGard system uses lightweight partic ...
Read more