Wash bay design for compliance and cost saving
Local water authorities place pre-treatment requirements on any wastewater entering the sewer system, however it is important to remember that rushing into a wash bay installation without adequate design considerations can cost a company millions of dollars (literally).
And so, one of the biggest problems regarding wash bay installation is the misconception that this is a simple system that can be installed without expert advice.
To avoid the expenses of replacing a wash bay or having to retrofit it to meet compliance costs, it's crucial to approach the experts for solid advice. Especially considering that when the cost of lost revenue is added due to site shutdowns while a system is being rectified, the economic impacts can be even more severe.
Fortunately, Cleanawater designs and supplies wash bay systems for all industries and applications including mining, vehicle washdown, and carwash systems.
Checklist for designing a wash bay
| Checklist Item | Details |
| --- | --- |
| What permits are required? | Your local water authority will issue a trade waste permit to discharge washdown water to a sewer. Check for any other industry specific permit requirements too. |
| Do you need a roofed or unroofed system? | The economics of choosing a roofed or unroofed system will depend on the size of the wash bay. If an unroofed wash bay is chosen, a first flush diversion system will be needed to divert the rain water to the stormwater system after the wash bay has been flushed of contaminants. |
| Is your location permanent, or do you need a portable wash bay? | Cleanawater supplies permanent or portable wash bays depending on the application. |
| How far is the discharge point from your wash bay site? | Pre-treated water must be discharged to a sewer even if the discharge point is a long distance from the wash bay. Pump stations can be added to provide the pressure needed to transfer the treated water. |
| What are the civil considerations for your site? | Excavations are required to install a collection pit and plumbing connections. However, if civil work is not possible on site, a portable wash bay can be installed above ground. |
| Will your washdown water contain silt and solids? | Where silt and solids may be present in washdown water, pre-treatment will include a system to retain these solids for disposal. This could be in the form of silt traps or baffled pits. Beach pits or drive in sumps are used for high solids wash down environments. |
| What is the required usage per day? | Wash bays are available for high and low usage. Cleanawater can help design packages to minimise operational costs. |
| What pre-treatment do you require before discharging wastewater? | The minimum requirement is to have an oil separator system that removes hydrocarbons and solids. Some applications also require pH treatment. Check with local authorities before implementing pre-treatment solutions. |
| Do you want to contain overspray? | Overspray can be contained by installing perimeter curtains or walls. |
| What bunding and water containment controls do you need? | A minimum requirement is for the wash bay slab to be sloped towards a holding pit. Perimeter bunding or strip drain will prevent the ingress of other water into the system, which would unnecessarily overload the pre-treatment system. |
| Is your location remote or in a metro area? | Remote areas may not have access to municipal sewers. Alternatives are to use evaporation ponds, holding tanks, or site water treatment plants. |
| What is your main's water pressure like? | If your main's pressure is low, or if you prefer to use rainwater, a rainwater harvesting system can be installed. |
| Will your application require odour control? | High odour environments require odour control as part of the pre-treatment for wastewater discharge. |
Common mistakes when installing a wash bay
One of the mistakes people make when installing a wash bay is to attempt to process liquid waste through the wash bay system. Pre-treatment systems are not designed to absorb waste oil and coolants. These wastes must be disposed of via a licensed operator.
Another common misconception is that once washdown water is treated, it can be considered pure, and therefore can be recycled for reuse, discharged into the stormwater system, or allowed to seep into the soil. Wastewater is different to stormwater, and regulations prohibit the discharge of wastewater into the stormwater system.
Suppliers of detergents and degreasers do not always understand the impact they have on oil water separators. These products have the tendency to keep oil and water in an emulsion state, which renders the separator useless, and you will not be water authority compliant. Only quick break, bio degradable detergents and degreasers should be used in wash bays to prevent environmental incidents due to a breakthrough of oil in wastewater.
Specialised industry considerations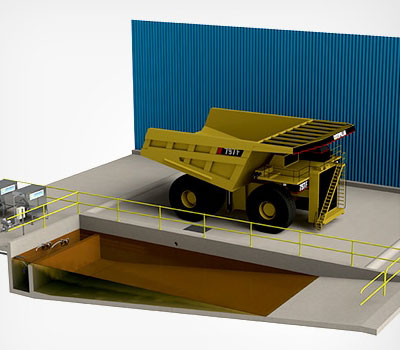 Australian Quarantine and Inspection Services (AQIS) have very strict requirements for wash bays. For example, they typically require wash bays to have three walls with a height of two metres. They also specify very fine filters, which could be a small as 100 microns.
Mining sites can wash both heavy and light vehicles on the same wash bay, provided it is sized correctly. Using multiple water cannons to wash heavy vehicles generates a large volume of washdown water. They typically do not have sewer facilities for wastewater discharge, and thus are dependent on evaporation ponds, holding tanks, or water treatment plants.
A benefit of washdown solutions is that treated wash water can be used for dust suppression. Water quality requirements should be checked and adhered to before pursuing this option.
Contact Cleanawater
Cleanawater has extensive experience in the implementation and retrofitting of wash bays and associated pre-treatment systems. Our technical experts understand the local water authority requirements and what you need to do for compliance. Don't get caught out with an expensive upgrade or a site shutdown because of lack of compliance.
Let Cleanawater design and supply your wash bay system before implementing your project. Call us on 1800 353 788, or see our wash bay designs on our website.
Must Read
Cleanawater on 14 December 2021
We know that most problematic odours afflicting waste handling areas are biological, using a topical odour treatment can mitigate existing odours and prevent odour generation while leaving a fresh key ...
Read more
Cleanawater on 2 September 2021
No matter what industry you're in, chances are you need odour control. VapourGard can help you eliminate odour complaints in a safe, cost-effective, and versatile way. ...
Read more