Industrial Water Treatment and Processing
Take advantage of Cleanawater's specialist industry knowledge
Key odour challenges for the industrial water treatment and processing industry
Complex industry needs that require a comprehensive strategy
Urban growth encroaching closer to water treatment sites
Growing community intolerance of odorous emissions
Increased pressure to meet environmental compliance requirements
Prevention of Work Health and Safety issues
High volumes of water to treat in the network
Industry overview
Industrial water treatment and processing facilities have strict trade-waste agreements with their municipal wastewater authority on wastewater quality. The Protection of the Environment Operations (POEO) Act outlines additional legal requirements. State regulated Environmental Protection Authorities also measure odour units at site boundaries, enforcing particular limits.
In the industrial water treatment and processing industry, the volumes of wastewater generated usually require onsite treatment before discharge to a wastewater network. The treatment process can cause high levels of odorous gas emissions. Typical odour control interventions include chemical dosing, carbon or biofiltration units, and odour neutralising systems.
Products for industrial water treatment and processing
Cleanawater's industry solutions
Cleanawater offers proven solutions for the industrial water treatment and processing industry based on a dual strategy approach. We have immediate, 'plug and play' interventions for quick odour control, as well as longer-term odour reduction technologies.
We also provide services to keep your odour control system in peak condition for a longer product life expectancy, which translates to saved maintenance time and money.
We can help you become compliant with municipal trade-waste agreements and Environmental Protection Authority requirements.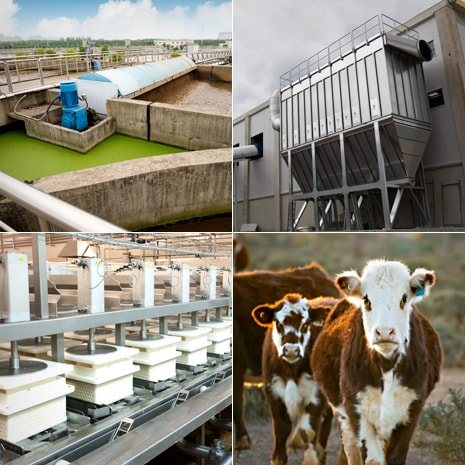 AB Mauri
AB Mauri's facility generates large amounts of wastewater in the process of yeast production, necessitating an on-site effluent treatment plant. This created unpleasant odours, resulting in complaints from nearby businesses and residents. AB Mauri needed to stop odour problems immediately, so they called Cleanawater.
Our complete approach to odour management
Step 1
Solution Concept
Our experts will assess your site and develop an odour-reducing solution.
Step 2
Design & Engineering
We draw up your system ready to be custom-built.
Step 3
Installation
We'll assemble your custom system at your designated site.
Step 4
Commissioning
Our experts thoroughly test all systems to ensure they are ready for operation.
Step 5
Operation
We continually monitor and log system operations to ensure odour emissions remain at required levels.
Cleanawater's industry experience
We have a great depth of experience with odour management for the industrial water treatment and processing industry, having worked with many clients within this industry over a period of more than 25 years.
We understand the challenges and needs of our industrial water treatment and processing industry clients, and we work to create comprehensive solutions employing the latest and widest range of technologies.
Expert advice and solutions
Our broad knowledge of odour control issues and products is integral to the services we provide to clients. We instigate extensive inspections of industrial water treatment and processing sites, to ensure you get the best possible odour solution for your network.
Unlike some competitors who only have knowledge in one kind of technology, we have a wider set of methods and products at our disposal, to solve your odour problem in a more targeted, cost-effective way.
In short, we understand odours: their different types, biochemical causes and the most effective solutions.
At Cleanawater, we like to make sure you are getting the most out of your odour control system. That is why we offer services to complement our odour abatement products.
We install systems, supply and deliver chemicals, maintain and monitor odour control units, refurbish faulty machinery all while offering professional advice on the best course of action to take to reduce odours at your site, permanently.
We also provide product training so that your site workers are more productive and confident in the operation of our odour control systems.
Compliance assured equipment
Our products are all made especially to suit the harsh conditions of industrial water treatment and wastewater sites. They are made of high-quality materials and are UV radiation and corrosion resistant.
Our odour control systems cause dramatic shifts in levels of odour generation, with some products able to reduce emissions by up to 99%.
8 common applications for odour management systems

This is where you are likely to find odour management systems in Australia. Includes information on industry accreditation and Australian standards.

What are odour neutralising misting systems?

Find out what you need to know about using odour neutralising misting systems to suppress and eliminate odours on your operation's site or sites.

4 Odour Neutralisers Used in Australia

These are four of the most commonly used odour neutralisers utilised by Australian businesses and public organisations. Learn about how you can use them for your site too.