Rainwater and Stormwater Harvesting
Cost-effective, low-maintenance alternative to water recycling
Cleanawater's water recycling systems offer immediate and ongoing savings. Capture and store water otherwise washed into stormwater drains – saving on mains water usage, wastewater transportation/disposal and reducing environmental impact.
Ideal for a wide range of industries, they'll help you meet relevant authority standards. And thanks to our expertise, we can supply a custom system exactly suited to your site's requirements.
Uses and applications
Wash down bays
Construction sites
Car washes
Parking lots
Industrial estates
Commercial estates
Driveways
Remote and agricultural sites
Refuelling areas
Enquire about rainwater and stormwater harvesting
Benefits of Cleanawater Rainwater Harvesting
Immediate return on investment
Protect yourself from rising mains water and trade waste disposal costs
Reduce your environmental impact
Above or below-ground tank configurations
Reduce on-site health risks
Skid-mounted and portable
Options to handle 1,000 to 1,000,000+ litres
Start saving on mains water usage immediately. Cleanawater's rain and storm water harvesting systems pay themselves off through savings on wastewater removal and disposal. The savings are ongoing – running costs are minimal and you'll insulate yourself from rising wastewater haulage prices.
Re-using water on-site also reduces your demands on Australia's limited fresh water supply. And our systems reduce health risks by treating and sterilising water stored for prolonged periods.
Thanks to Cleanawater's expertise across a broad range of industries, we can customise your system to your site's exact requirements. We offer above ground or below ground tank configurations to handle 1,000 to 1,000,000+ litres. We can even skid mount units for portability and ease of installation.
We will get you authority compliant
Reduce mains water usage
Groundwater Harvesting System
Roofwater Harvesting System
Why choose Cleanawater?
Cleanawater leads the Australian market in water treatment system design, manufacture, installation and servicing.
As your one-stop water treatment provider, we're committed to supplying the right solution for your business. Our award-winning products are engineered for performance, economy and ease of use. That includes both custom-built and off-the-shelf units approved by all major water authorities.
Our comprehensive after-sales service includes support from experts in your area. So you can always speak to somebody who understands your local market.
We distribute across Australia with fast, efficient delivery for off-the-shelf systems. And we'll install, service and maintain your equipment on a schedule that suits you – ensuring minimal downtime.
It means superior results and outstanding value for your investment.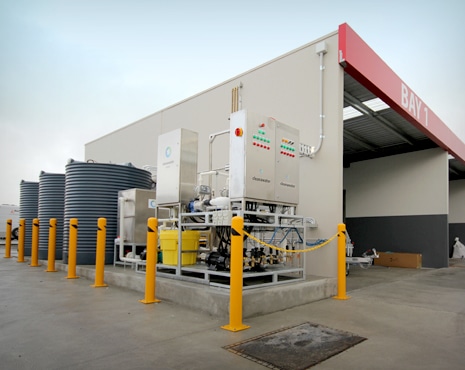 Frequently asked questions
What are the flow rates available for these systems?
Flow rates can be as low as 50L per hour. Maximum flow rates will depend on your harvested capacity but can be up to 100,000L per hour.
We can't use mains water for washing due to environmental standards. Are your systems suitable to replace a mains water source?
Yes. If you are not permitted to use mains water, rainwater harvesting coupled with water recycling is an ideal solution.
Ground surfaces often contain oils, fuels and grease. Can your systems filter these to enable safe reuse?
Yes. Cleanawater systems for water harvesting provide an oily water separation stage of filtration.
As water is stored for prolonged periods of time, what disinfection system is used with your systems?
Our systems use chlorination, UV or ozone disinfection to ensure harvested water is safe for re-use.
How much maintenance do your rainwater harvesting systems require?
All systems are designed to require minimal maintenance and consumables. Self-cleaning options are available.
How much power do your rainwater harvesting systems require to run?
Smaller treatment systems run on 240V, 10A power. Larger systems may require three-phase power.
My hardstand area is heavily contaminated; can I still install a rainwater harvesting system?
Cleanawater can provide a treatment system to suit most contaminated hardstand areas.
Call 1800 353 788 to discuss.
Can your rainwater harvesting systems be used in conjunction with your water recycling systems?
Yes. It's common to use rainwater harvesting and recycling systems together for a comprehensive water-saving solution.
Control Odour with VapourGard

Control odours effectively and safely with CleanaWater's VapourGard system. Ideal for industries such as mining, landfill operations, recycling, and more, the VapourGard system uses lightweight particles to neutralise odours, requires minimal maintenance,

Everything you'll ever need to know about Oil Water Separators

This article provides a comprehensive guide to oil-water separators, and the equipment used to separate oil and water mixtures into their individual components. It explains how oil-water separators work and discusses the different types available, includi

How car wash businesses can save more water than ever

Car wash businesses can save water and money by using high-pressure, low-flow equipment, reducing and recycling water, installing water-saving devices, maintaining equipment, and educating customers. CleanaWater offers a portable wash bay that captures an