Composting
Cleanawater's comprehensive odour management for composting sites
Key odour challenges for the composting industry
Intrinsically odorous nature of composting
Urban growth encroaching closer to treatment sites
Growing community intolerance of odorous emissions
Increased pressure to meet environmental compliance requirements
Odour treatments must not affect the organic composting process
Prevention of Work Health and Safety issues
Industry overview
Odour management for composting facilities must factor in the high levels of odour emissions produced on-site due to the biological breakdown of organic material. The most appropriate method of control depends on the size of the odour source. For large and diffuse odours, atmospheric misting or vapour generation could be best, alongside a topical 'blanket' treatment.
If, however, the odour can be contained, biofiltration would be a better option, whether that be via a skid mounted vessel unit, or an open bed filtration unit. Odour management for composting facilities must also address EPA odour limits at site boundaries.
Cleanawater's industry solutions
Cleanawater offers proven and effective odour management for composting sites based on a dual strategy approach. We have immediate interventions for quick odour control, as well as long-term odour reduction technologies.
We also provide services to keep your odour control system in peak condition for a longer product life expectancy, which translates to saved maintenance time and money.
We can help you become compliant with Environmental Protection Authority requirements.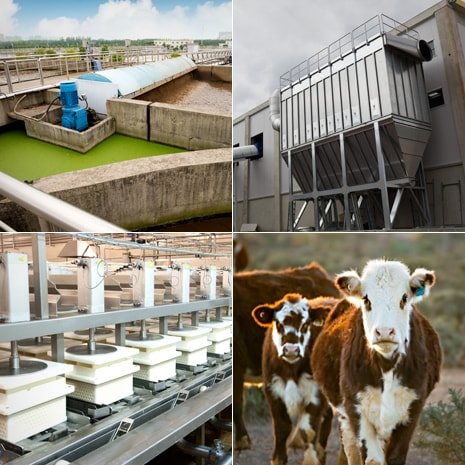 Our complete approach to odour management
Step 1
Solution Concept
Our experts will assess your site and develop an odour-reducing solution.
Step 2
Design & Engineering
We draw up your system ready to be custom-built.
Step 3
Installation
We'll assemble your custom system at your designated site.
Step 4
Commissioning
Our experts thoroughly test all systems to ensure they are ready for operation.
Step 5
Operation
We continually monitor and log system operations to ensure odour emissions remain at required levels.
Cleanawater's industry experience
At Cleanawater, we have extensive experience in odour management, having applied our wide range of technologies to a variety of industry applications over a period of 25 years.
We are proud to offer our products and services to composting facilities in Australia, with successful outcomes already achieved overseas. We understand the importance of quick odour intervention and compliance to EPA requirements.
Expert advice and solutions
Our broad knowledge of odour control issues and products is integral to the services we provide to clients. We instigate extensive site inspections so that you get the best in odour management for composting sites.
Unlike some competitors who only have knowledge in one kind of technology, we have a wider set of methods and products at our disposal, to solve your odour problem in a more targeted, cost-effective way.
At Cleanawater, we like to make sure you are getting the most out of your odour control system. That is why we offer services to complement our odour abatement products.
We install systems, supply and deliver chemicals, maintain and monitor odour control units, refurbish faulty machinery all while offering professional advice on the best course of action to reduce odours at your site, permanently.
Compliance assured equipment
Our products are all made especially to suit the conditions of the composting industry. They are made of high-quality materials and are UV radiation and corrosion resistant.
Our odour control systems cause dramatic shifts in levels of odour generation, with some products able to reduce emissions by up to 99%.
8 common applications for odour management systems

This is where you are likely to find odour management systems in Australia. Includes information on industry accreditation and Australian standards.

What are odour neutralising misting systems?

Find out what you need to know about using odour neutralising misting systems to suppress and eliminate odours on your operation's site or sites.

4 Odour Neutralisers Used in Australia

These are four of the most commonly used odour neutralisers utilised by Australian businesses and public organisations. Learn about how you can use them for your site too.