Quarantine wash bays that comply with AQIS regulations
Need to get a wash area up to quarantine standard? Triple interceptors or oil separators alone may not be enough. But Cleanawater's Australian Quarantine Inspection Services (AQIS) wash bay equipment will help you meet strict quarantine criteria.
Our AQIS wash bay equipment can be effectively retrofitted into existing wash down areas. Or we can design and build one that's perfectly suited to your site.
Uses and applications
Quarantine (AQIS) wash down
Import/export yards
Shipping container hire and handling depots
New vehicle, parts or equipment import and processing
Docks and shipping facilities
Transport and freight depots
Airline food waste processing plants
Enquire about quarantine wash bays
The costs associated with owning and running a wash bays can vary.
Benefits of Cleanawater quarantine wash bays
AQIS-compliant solutions to suit all wash down areas
Retrofitting and new design/build
Packages starting from $8 per day – spread the cost
Avoid fines and shutdowns
Opens new revenue streams (AQIS wash-down and sanitisation of imported goods)
Cleanawater supplies fully customised quarantine standards-compliant systems for all wash down areas. Whether you require a new solution designed from scratch – or need to bring an existing wash bay up to standard – we can deliver. Either way, you'll benefit from our 20 years of wash bay expertise across a wide range of industries.
Spread the cost of your wash bay construction or upgrade project with our flexible finance options; get your operation up to AQIS standards from just $8 per day. And investing in a Cleanawater AQIS wash bay means avoiding costly fines and shutdowns that come with breaching quarantine standards.
Authority compliant
Quarantine approved
Quarantine-Approved Oil Separators
Quarantine-Approved Filtration packages
Quarantine-Approved Water Recycling Systems
Quarantine-Approved Hi Range Chlorination Disinfection Packages
Why choose Cleanawater?
Cleanawater leads the Australian market in water treatment system design, manufacture, installation and servicing.
As your one-stop water treatment provider, we're committed to supplying the right solution for your business. Our award-winning products are engineered for performance, economy and ease of use. That includes both custom-built and off-the-shelf units approved by all major water authorities.
Our comprehensive after-sales service includes support from experts in your area. So you can always speak to somebody who understands your local market.
We distribute across Australia with fast, efficient delivery for off-the-shelf systems. And we'll install, service and maintain your equipment on a schedule that suits you – ensuring minimal downtime.
It means superior results and outstanding value for your investment.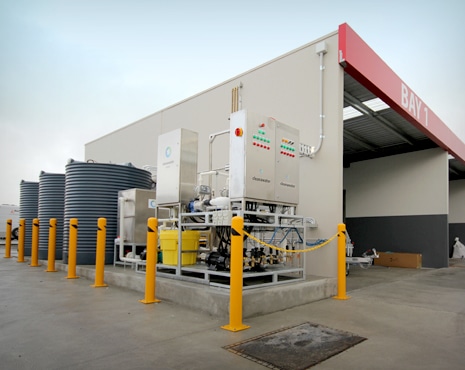 Frequently asked questions
How do I know if my wash down bay is AQIS compliant?
AQIS wash bays need to meet specific guidelines. These differ from regulations for typical wash down bays based on criteria classification.
Contact AQIS (Department of Agriculture and Water Resources) or call Cleanawater on 1800 353 788 to confirm your criteria eligibility.
I have a wash down bay – what upgrades do I need for AQIS compliance?
This is determined by AQIS. For water treatment, this may be as small as installing a 100 micron filter.
Does an AQIS wash bay need a roof?
Generally, no. This will be determined by your criteria classification.
Contact AQIS or Cleanawater on 1800 353 788 to confirm.
What detergents and degreasers should use in wash down?
Quick-break, biodegradable detergents and degreasers should be used at all times.
Quick-break degreasers allow oil and water to separate within minutes of application. This helps your oil separation system function effectively in removing oil before discharge. Non-quick break compounds may keep oil and water in suspension for several hours, allowing oil to pass through an oil water separator.
How do I best retain solids that accumulate in my wash down practices?
Silt traps and baffled pits are effective for retaining solids for easy scheduled removal. Beach pits/drive-in sumps are excellent for high solids wash down environments.
What permits do I need to install a wash down bay?
Typically, AQIS approval and trade waste approval are required if discharge is to sewerage. Inspections will be required by AQIS to approve the wash down area.
3 Best Oil Water Separators for Industry

Searching for an oil water separator that's right for your business and industry? Get started here.

Which oil separator is best for you?

Need to know the ins and outs of different oil water separators? Find out here.

Common oil water separator problems and their solutions

Users can carry out basic checks to troubleshoot their oil water separators. Call Cleanawater for expert assistance to diagnose problems and provide solutions
Our locations
40 Latitude Blvd
Thomastown
VIC 3074
38 Ricketty St
Mascot
NSW 2020
30/388 Newman Rd
Geebung
QLD 4034
67 Howe St
Osborne Park
WA 6017
8 Greenhill Rd
Wayville
SA 5034