How Car Wash Operators Benefit from Year-Round Water Conservation Efforts
It's no secret that many industries – and the world at large – are facing water shortage issues. For car wash operators, this is a particularly important issue as your business is reliant on water – much more than many other industries. You have to find a way to reduce your water costs while using only the highest quality water and meeting the water regulations for your area.
Water conservation means that you make every effort to conserve and manage the water at your disposal.
Installing water recycling or reclaim technology is an effective way to reduce your water use without negatively impacting your business.
If you implement effective year-round conservation efforts, you are more likely to operate efficiently and less likely to be affected when emergency or crisis situations affect your area. If you are already using the lowest amount of water possible or have an effective recycling system, local regulators are unlikely to shut down your carwash during emergency water shortage situations. 
Operate More Efficiently
Efficient operation is the number one concern for most car wash operators. By employing water conservation efforts, like water recycling and harvesting technology, you can save up to 80% of your water costs.
While the age of your equipment, wash packages you offer, and seasonal considerations will affect the amount of water you use, there is no doubt that installing water recycling technology drastically reduces the amount of water you use.
­­­
Avoid Drought Related Expenses
When a drought hits your area, local regulators are going to do everything they can to reduce water use. Professional car wash industry associations have also outlined the steps that car wash operations must take to save water during a drought.
If you do not already operate optimally and efficiently, theses changes could severely affect your business – even causing you to have to shut down for a period of days or weeks.
It is to your advantage to implement year-round conservation efforts, so that you can negotiate with your local regulators should a drought occur. If you have significant evidence of your efforts, then the across-the-board mandatory reductions and regulations (which could seriously hinder your operation) can be avoided.
Ensure Water Authority and Council Compliancy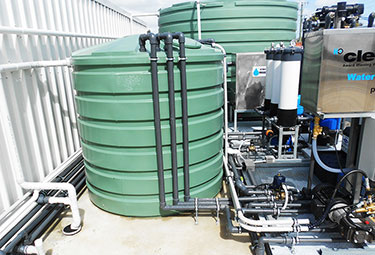 Compliancy with local regulations is as important in regular operating time as it is in drought restriction situations.  There are water recycling and harvesting equipment available for every carwash – whether they're manual, self serve, or touch free. 
It's important to choose the right solution for your particular carwash, as choosing the wrong combination of water treatment solutions could negatively impact your business. By working with a water technology company you trust, you can develop a system that is specifically designed for your carwash and complies with local regulations.
Become an Environmentally Friendly Operation
Most businesses are moving towards eco-friendly operations, and it's becoming increasingly important for carwashes to do the same. Water shortage is no longer just a third world problem. By refusing to decrease your water footprint, you endanger the future of your business and negatively impact the public and regulator perception of your brand.
Water conservation efforts will help you reduce the amount of freshwater you use, recycle your water more efficiently, and reduce your environmental footprint.
Must Read
Cleanawater on 14 December 2021
We know that most problematic odours afflicting waste handling areas are biological, using a topical odour treatment can mitigate existing odours and prevent odour generation while leaving a fresh key ...
Read more
Cleanawater on 2 September 2021
No matter what industry you're in, chances are you need odour control. VapourGard can help you eliminate odour complaints in a safe, cost-effective, and versatile way. ...
Read more