Car Wash Equipment for Correct Wastewater Management
Car washes are an environmentally friendly way to clean vehicles. These franchises are widely found in metropolitan areas, and are always in high demand. Contrary to popular belief, home-washing a car is not environmentally friendly, as wastewater containing oil and detergents is discharged into stormwater.
Commercial car washes are required by law to treat wastewater prior to sewerage discharge. An increasing number of car washes are incorporating additional environmentally-focused car wash equipment to further protect water sources. These car washes are able to reduce their mains water costs, and can broadly advertise their premises as environmentally friendly.
To learn more about the specific applications of wash bays and wastewater technology for car wash water treatment, watch the video below.
Cleanawater is an industry expert with extensive experience supplying this industry with basic and advanced car wash equipment. To find out more about how your car wash can easily meet water authority requirements call us on 1800 353 788.
Features of Cleanawater treatment systems
Cleanawater offers comprehensive water treatment solutions for car washes. Our full service includes:
Fully automated and water authority compliant car wash water treatment systems
Same day delivery available for some car wash water treatment equipment packages
Delivered pre-plumbed and pre-wired from the factory for easy installation and transportation
High level alarms available including SMS notification and remote monitoring
Benefits of Investing in Cleanawater Wastewater Technology
As an industry leader in water treatment, Cleanawater is proud to offer our clients:
Expert and dedicated team focused on delivering the best car wash equipment solution for your business
Outstanding pre and post sales service
Retrofitted applications
easily customisable solutions for specific needs
Industry Case Studies
Scenario 1: Retrofitting a car wash water recycling system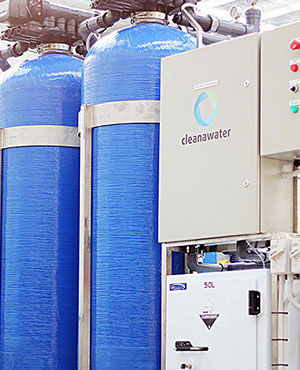 An existing Cleanawater customer approached us to purchase a car wash water recycling system to add to their existing water treatment system. The customer informed Cleanawater of the restricted installation space available for the new car wash water recycling system, and that a high level of alarm systems were required to assist technicians in the event of a fault.
Solution 
Cleanawater's water recycling system with recirculation pH controller and chlorine dosing.
Cleanawater supplied car wash equipment that exceeded the customer's performance expectations. 
The system was delivered as a plug-and-play solution to minimised downtime and installation expenses
Our solution was equipped with SMS notification alarm systems
The system required minimal maintenance and consumables.
The business is currently the only car wash in the area to feature environmentally friendly car wash water recycling systems, and is preferred by local customers for this reason.
Scenario 2: Water treatment and a car wash water recycling system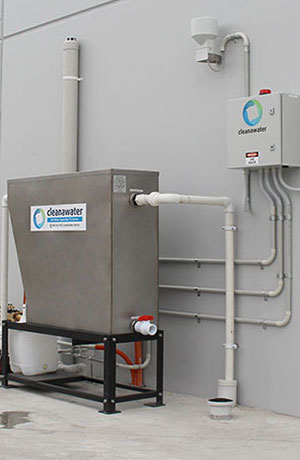 Cleanawater was recommended to a new car wash business looking to purchase a basic water treatment system on a tight budget. The business required specific car wash equipment including a first flush diversion valve as well as an oil water separator. The car wash required a cheap yet efficient and reliable system, and same day delivery to metropolitan Sydney.
Solution
Cleanawater delivered a cost effective yet highly efficient car wash water management solution. The first flush diversion valve worked in conjunction with the water treatment system:
Contaminated rainwater was diverted to the water treatment system
Clean rainwater was diverted to stormwater discharge
 The first flush diversion system helped the new business to save in sewerage discharge expenses, while the oil water separator provided peace of mind that the business was adhering to regulation requirements.
Cleanawater's Car Wash Water Recycling and Treatment Packages
Cleanawater provides car wash water recycling and treatment packages tailored to the industry. All Cleanawater systems are easily customisable, highly efficient and reliable, and some systems can be delivered on the same day.
To find out more about water recycling and treatment options for your car wash, call us today on 1800 353 788.
Must Read
Cleanawater on 14 December 2021
We know that most problematic odours afflicting waste handling areas are biological, using a topical odour treatment can mitigate existing odours and prevent odour generation while leaving a fresh key ...
Read more
Cleanawater on 2 September 2021
No matter what industry you're in, chances are you need odour control. VapourGard can help you eliminate odour complaints in a safe, cost-effective, and versatile way. ...
Read more