Oil Water Separators For Car Wash Facilities
Superior oil removal from car wash wastewater
Key wastewater challenges for the car wash industry
Car washes generate pollutants, including oils, greases, and detergents.
Poor water quality and harming aquatic ecosystems.
The risk of chemicals in a car wash bay entering stormwater drains.
The wastage of resources and excessive water usage.
Potential fines and clean-up costs from environmental violations.
Residents not wanting to use a car wash that isn't eco-friendly.
Industry overview - managing oil in car washes
An oil water separator is a system used in car wash operations to effectively remove oils, greases, and other pollutants from the wash water, ensuring compliance with environmental regulations, preventing water pollution, and maintaining the quality of water discharged from the car wash facility.
By implementing Cleanawater's innovative oil water separator technology, your car wash business can not only mitigate water pollution risks but also reduce its environmental footprint, enhance its public image, and achieve significant cost savings through responsible water management practices.
Car wash oil separator products
Choose from our range of polyethylene or stainless steel coalescing plate separators. Each is pre-plumbed, pre-wired and designed to fit existing infrastructure.
Our polyethylene separators are engineered using high-quality material, combining lightweight design with excellent durability and corrosion resistance. This makes them a perfect fit for car wash facilities, where space and mobility are paramount.
Similarly, for car wash businesses with higher wastewater demands, Cleanawater's stainless steel oil water separators offer a long-lasting solution. These separators are constructed from stainless steel, which enhances their durability, making them suitable for intensive use in busy car wash facilities.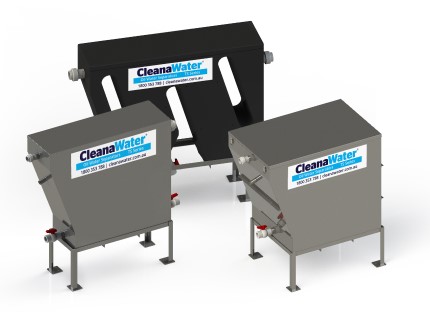 Cleanawater's car wash industry solutions
Cleanawater leads the way in providing tailored solutions for the car wash industry, addressing critical water management challenges. With a strong focus on sustainability and compliance, we offer advanced oil-water separator systems designed to efficiently remove oil, grease, and contaminants from car wash wastewater.
We understand that each car wash operation has unique needs. That's why our expert team works closely with your car wash business to analyse requirements and design customised oil-water separator solutions that integrate seamlessly into your operations.
With Cleanawater as a trusted partner, car wash businesses can elevate their environmental stewardship, bolster their reputation, and ensure a sustainable future while efficiently managing water resources.
How do oil water separators work?
Step 1
Pre-treatment
The contaminated water mixture enters the oil water separator.
Step 2
Primary separation
Non-emulsified oil droplets and other chemicals rise to the surface, which are mechanically removed.
Step 3
Coalescence
The water moves into a coalescing chamber system which can separate oil from water.
Step 4
Secondary separation
The remaining free-floating oil and smaller suspended solids rise to the surface.
Step 5
Discharge
The clean water, which has undergone multiple stages of separation, exits the oil water separator system into the water flow.
Cleanawater's experience in the car wash industry
At Cleanawater, we have been servicing the car wash industry since 1996. During this time, we have successfully collaborated with a diverse range of car wash businesses, from small independent operators to large-scale commercial facilities, offering tailored water management solutions that consistently meet or exceed regulatory requirements.
Our long-standing presence and expertise in the car wash industry prove our commitment to delivering cutting-edge, environmentally responsible solutions that address the unique challenges faced by our clients in this sector.
Expert advice and solutions
We take pride in offering expert advice and tailored solutions that empower car wash companies to navigate the complexities of water management with confidence.
Our team of professionals draw upon years of industry-specific experience to provide comprehensive guidance on selecting, implementing, and maintaining effective water treatment systems.
Whether it's assisting with oil water separator sizing, devising water recycling strategies, or ensuring compliance with environmental regulations, our holistic approach ensures that car wash companies can make informed decisions and achieve sustainable success in all water management endeavours.
At Cleanawater, we're dedicated to providing unparalleled ongoing support to car wash companies in their use of oil-water separators. Our commitment extends beyond installation, encompassing regular maintenance, system monitoring, and prompt assistance in case of any technical issues. 
With a team of experienced technicians and engineers at the ready, Cleanawater ensures that all car washes service stations can rely on the seamless operation and optimal performance of their oil-water separators.
Compliance-assured equipment
Cleanawater's oil-water separators are rigorously designed and engineered to meet and exceed compliance standards set by regulatory authorities. Our coalescing plate separators undergo thorough testing and evaluation to ensure they effectively free oil, grease, and contaminants from waste water, providing car wash businesses with a trusted solution that aligns with environmental regulations and industry best practices.
8 common applications for odour management systems

This is where you are likely to find odour management systems in Australia. Includes information on industry accreditation and Australian standards.

What are odour neutralising misting systems?

Find out what you need to know about using odour neutralising misting systems to suppress and eliminate odours on your operation's site or sites.

4 Odour Neutralisers Used in Australia

These are four of the most commonly used odour neutralisers utilised by Australian businesses and public organisations. Learn about how you can use them for your site too.