Industrial Oil Water Separators
For effective oil separation from industrial wastewater systems
Key oil-related challenges for industrial applications
Discharging dirty wastewater can lead to pollution and regulatory non-compliance.
Harmful contaminants from wastewater can easily enter the natural environment.
An excess of oil production can reduce the efficiency of industrial equipment.
Treating wastewater generated by industrial processes can be expensive.
Oily wastewater cannot be reused for irrigation or cleaning purposes.
Discharging oily wastewater can impact a company's public image.
Industry overview - managing oil in industrial settings
An oil water separator is used within industrial settings to effectively remove oils, greases, and other hydrophobic contaminants from wastewater streams. This method of oil extraction comes with some major benefits, including compliance with environmental regulations, safeguarding water resources, reducing treatment costs, and protecting downstream equipment.
At Cleanawater, we supply industrial companies with oil water separators designed to effectively manage and clean wastewater. We tailor our solutions to best match your industrial application, with oil water separators ranging from 1,000L to 5,000L nominal flow rate per hour. Plus, every system comes with non-emulsifying pumps, float switches and controllers – everything you need to get up and running.
Industrial oil separator products
Choose from our range of coalescing plate separators, made from either polyethylene or stainless steel.
Crafted from high-quality polyethylene, these separators offer a lightweight yet durable option that is resistant to corrosion, ensuring a long service life in demanding industrial environments. Their easy installation and low maintenance requirements make them a practical choice for various industries.
For industries with more rigorous demands, Cleanawater's stainless steel oil water separators are an ideal choice. They are designed to withstand heavy use in harsh industrial settings, as their corrosion resistance and durability make them an ideal solution for applications where longevity and performance are critical.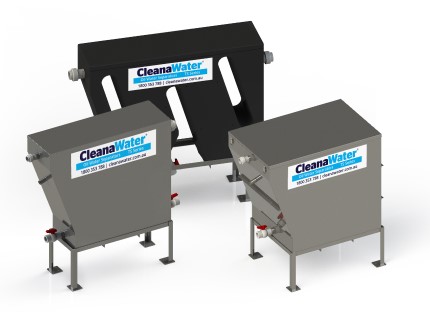 Cleanawater's industrial solutions
Cleanawater's industrial solutions exemplify a commitment to innovation, integrity, and customer satisfaction. With a team of professionals at your disposal, we collaborate closely with industrial sites to understand their unique challenges and tailor solutions that align with specific needs.
It's no secret that industrial equipment outlets that generate wastewater are required to treat water prior to discharge into sewers, leach drains or other approved discharge points. If you're not sure whether your industrial site is water authority compliant, you may be in breach of regulations.
At Cleanawater, we provide wastewater treatment solutions, such as oil water separator systems to suit all industries, from small-scale outlets to large-scale worksites. With our low-cost, easy-to-install systems, we're sure we can help you find an oil water separator that matches your budget and industrial application requirements.
Understanding the oil water separation process
Step 1
Pre-treatment
The oil water separator is filled with oily water generated from industrial washdowns and vehicle washing.
Step 2
Primary separation
Oil water separators work by pushing non-emulsified oil droplets and other solids to the surface. This forms a layer of sludge that can be removed mechanically.
Step 3
Coalescence
The water will move into a chamber equipped with coalescing plate separators. This will make it easier to separate the oil from the water.
Step 4
Secondary separation
The coalescing plate separator will bring the remaining free-floating oil and suspended solids to the surface.
Step 5
Discharge
After multiple stages of separation, the oil has been removed from the water. This creates a clarified liquid that can be discharged into the environment.
Cleanawater's experience with industrial systems
With over two decades of experience in the industrial sector, Cleanawater has established itself as a trusted authority in wastewater management. We have formed long-lasting partnerships with a diverse range of industries, from manufacturing and mining to food processing and automotive, demonstrating our ability to provide streamlined wastewater management processes that can be relied upon. 
Our years of experience position Cleanawater as an industry leader renowned for delivering innovative, efficient, and environmentally responsible solutions that meet the evolving needs and regulatory requirements of the industrial landscape.
Expert advice and solutions
When it comes to obtaining expert advice from oil removal specialists, Cleanawater has you covered. We can guide you through all wastewater management needs, collaborating with your industrial company to overcome unique challenges and regulatory requirements. 
Our personalised approach ensures all industrial applications receive reliable, cutting-edge solutions that will optimise operational efficiency, reduce long-term costs, and uphold environmental responsibilities.
Cleanawater's commitment to industrial companies goes beyond product delivery, as we provide ongoing support for all oil water separators. Our dedicated team of experts offers comprehensive maintenance services, regular performance assessments, and technical guidance, ensuring that the oil water separators continue to operate at peak efficiency.
This unwavering support not only extends the lifespan of the industrial separation systems but also empowers companies to consistently meet compliance standards, optimise their wastewater treatment processes, and navigate any operational challenges with the assurance of having a dependable partner by their side.
Compliance-assured equipment
Cleanwater's oil and water separators can help your industrial company meet the property environmental and water authority compliance measures. These separators have received official approval from local regulating bodies, attesting to their effectiveness in removing oils, greases, detergents, and other contaminants from wastewater.
Choose an oil water separator system that not only performs exceptionally but also aligns with the highest industry and regulatory benchmarks. At Cleanawater, we can supply a customised coalescing separator to suit your site requirements, industry, and budget.
8 common applications for odour management systems

This is where you are likely to find odour management systems in Australia. Includes information on industry accreditation and Australian standards.

What are odour neutralising misting systems?

Find out what you need to know about using odour neutralising misting systems to suppress and eliminate odours on your operation's site or sites.

4 Odour Neutralisers Used in Australia

These are four of the most commonly used odour neutralisers utilised by Australian businesses and public organisations. Learn about how you can use them for your site too.