Oil Water Separators For Mining Sites
For effective oil extraction from wastewater in mining sites
Key oil-related challenges for the mining industry
The contamination of nearby water bodies through the release of pollutants.

The potential for short and long-term environmental damage due to spills and leaks.

Mining companies have to pay top dollar if spills occur.

The strict regulations regarding the quality of water discharged from mining operations.

The damage excess oil can cause to other equipment on a mining site.

Improper water recycling practices.
Industry overview - managing oil in mining
An oil water separator is a specialised device extensively employed in mining operations to effectively remove oil, hydrocarbon contaminants, and suspended solids from wastewater, ensuring environmental compliance and safeguarding local ecosystems.
At Cleanawater, our advanced oil water separator systems are meticulously engineered and tailored to the specific needs of the mining industry, serving as a critical component in mitigating environmental risks associated with mining operations.
Mining oil separator products
Choose from our range of polyethylene or stainless steel coalescing plate separators to remove oil, gas, and free hydrocarbons from wastewater.
Separators constructed from high-quality polyethylene, are both durable and corrosion-resistant, making them well-suited for the challenging conditions of mining sites. Their lightweight design and easy installation process allow for flexibility in deployment, while their low maintenance requirements align with the often remote and resource-intensive nature of mining.
For more demanding applications in the mining industry, Cleanawater's stainless steel oil water separators provide a rugged and enduring solution. They offer exceptional durability and resistance to corrosion, making them an ideal choice for mining operations that involve heavy use and exposure to harsh elements.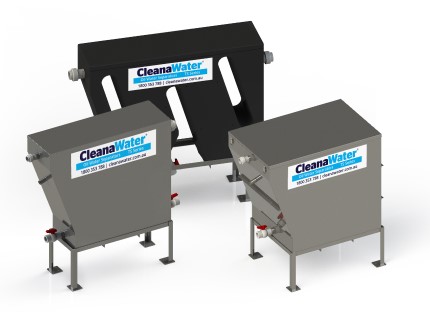 Cleanawater's mining industry solutions 
Cleanawater offers comprehensive and tailored solutions designed to address the unique challenges the mining industry faces - especially oily water discharge. Our cutting-edge technology includes advanced oil water separators. These systems play a pivotal role in helping mining companies meet stringent regulatory requirements and prevent water pollution by ensuring that only clean water is discharged. 
We understand the diverse needs of mining operations, which is why our customisable oil water separator systems are built to seamlessly integrate into various processes, safeguarding valuable equipment from contamination. With a proven track record and extensive expertise, Cleanawater is a trusted partner for the mining industry. Our tailored solutions not only contribute to better water quality and ecosystem protection but also enhance operational efficiency for your site. 
Understanding our oil water separator system
Step 1
Pre-treatment
This first stage involves the introduction of the contaminated water mixture into the separator.
Step 2
Primary separation
Emulsified oil droplets and solids rise to the surface and form a layer of floating sludge, which can be mechanically removed.
Step 3
Coalescence
The water moves into a coalescing chamber equipped with specialised coalescing systems to separate oil.
Step 4
Secondary separation
The remaining oil and smaller suspended solids continue to rise to the surface.
Step 5
Discharge
The clarified water, which has undergone multiple stages of separation, exits the oil water separator system through an outlet pipe.
Cleanawater's experience in the mining industry
Through successful partnerships with mining companies of varying scales and needs, Cleanawater has consistently delivered advanced oil water separator systems and comprehensive wastewater treatment strategies that effectively address the unique challenges posed by mining operations. 
This extensive experience showcases our ability to optimise equipment integration within mining processes and contribute to sustainable practices that safeguard both natural resources and the reputation of mining companies.
Expert advice and solutions
At CleanaWater, our experienced team collaborates closely with mining clients, thoroughly assessing operations to provide tailored recommendations for efficient water management and compliance. 
With a deep understanding of the intricacies of the mining industry, Cleanawater's solutions not only address regulatory requirements but also enhance operational efficiency, reduce environmental impact, and foster positive community relations.
Cleanawater's commitment to mining companies extends beyond the initial installation of oil water separation systems. We offer comprehensive ongoing support, including regular maintenance and monitoring services, ensuring the continued optimal performance of our systems. 
Our dedicated team of experts are readily available to address any concerns, provide technical assistance, and adapt the system as the mining operation evolves, guaranteeing that the oil separators remain a reliable and effective component in the company's long-term environmental management strategy.
Compliance-assured equipment
Our oil water separators hold a distinguished reputation for being compliance-assured by regulatory bodies. Our coalescing plate separators have undergone rigorous testing and assessment to meet the stringent environmental standards applicable to the mining industry, providing mining companies with the assurance that their water treatment processes align with regulatory mandates and contribute to responsible and sustainable operations.
8 common applications for odour management systems

This is where you are likely to find odour management systems in Australia. Includes information on industry accreditation and Australian standards.

What are odour neutralising misting systems?

Find out what you need to know about using odour neutralising misting systems to suppress and eliminate odours on your operation's site or sites.

4 Odour Neutralisers Used in Australia

These are four of the most commonly used odour neutralisers utilised by Australian businesses and public organisations. Learn about how you can use them for your site too.