Quarantine Oil Water Separators
For effective wastewater management in quarantine areas
Key wastewater challenges for the quarantine industry
The industry deals with hazardous substances, including oils, chemicals, and pollutants.
Strict regulations govern the discharge of wastewater from quarantine facilities.
Quarantine facilities often handle materials that can be harmful to aquatic life.
Cross-contamination between different types of waste is common.
Water sustainability can be costly for quarantine facilities.
Oil can harm other equipment, such as filters and treatment systems.
Industry overview - managing oil discharge in quarantine facilities
An oil water separator serves as a critical wastewater treatment system within the quarantine industry, playing a pivotal role in effectively removing oils, chemicals, and contaminants from quarantine facility wastewater before its discharge.
As a result, this safeguards environmental integrity, ensuring regulatory compliance and preventing the pollution of water bodies and ecosystems.
At Cleanawater, we supply quarantine facilities with a comprehensive range of oil water separators. With capacities ranging from 1,000L to 5,000L nominal flow rate per hour, we guarantee you'll find a wastewater management system that optimises and streamlines your water discharge practices. Each of our models are easy to install and maintain and contain everything you need to get the system up and running. This includes non-emulsifying pumps, float switches and controllers. Choose Cleanawater for sustainable wastewater management today.
Quarantine oil separator products
At Cleanawater, we give quarantine facilities the choice between two types of coalescing plate separators - polyethylene or stainless steel.
Polyethylene oil water separators are a cost-effective and environmentally friendly solution. They are constructed from high-quality polyethylene, making them lightweight, durable, and resistant to corrosion. These separators are easy to install and require minimal maintenance, making them an ideal choice for quarantine stations.
Similarly, our stainless steel range effectively removes oil and contaminants from water, ensuring compliance with strict environmental regulations. They are built to withstand heavy use, making them a reliable and durable choice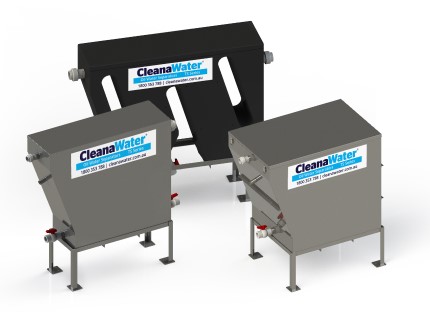 Cleanawater's quarantine industry solutions
Cleanawater is a leading provider of innovative wastewater management solutions tailored specifically for the quarantine industry. With a deep understanding of the unique challenges posed by quarantine facilities, Cleanawater offers a range of cutting-edge solutions designed to address the industry's stringent requirements.
Our quarantine industry solutions include advanced oil water separators that excel at efficiently removing pollutants generated from equipment washdowns. These separators ensure all potentially hazardous substances are contained, preventing their release into the environment. 
By providing reliable and high-performance oil water separators, we aim to assist quarantine facilities in maintaining a hygienic environment and environmentally responsible operation. 
When it comes to overcoming the unique challenges posed by quarantine wastewater requirements, choose Cleanawaer for your oil separator needs.
Understanding the oil water separation process
Step 1
Pre-treatment
Pre-treatment involves oily water from quarantine facilities entering the separator.
Step 2
Primary separation
Large oil droplets rise to the surface to form a floating layer of sludge. The contaminated liquid can then be mechanically removed.
Step 3
Coalescence
The water moves into a coalescing chamber equipped with specialised media packs that aid in oil removal.
Step 4
Secondary separation
The remaining oil and suspended solids continue to rise to the surface.
Step 5
Discharge
The clarified water from the oil water separator system can be discharged appropriately as it now meets authority regulations.
STEP 6
AQIS Filter
 Note that additional water treatment measures, such as the inclusion of a quarantine screen filter, may be necessary to comply with quarantine standards.
Cleanawater's experience in the quarantine industry
Since 1996, Cleanawater has been assisting the quarantine industry with wastewater management services by supplying high-quality, authority-compliant oil water separators. We understand the strict regulations surrounding quarantine bays, and that's why we ensure all our equipment meets and exceeds water authority guidelines. 
With this in mind, we have established ourselves as a trusted leader in providing tailored wastewater management equipment that effectively addresses the intricate challenges of the quarantine industry.
Expert advice and solutions
At Cleanawater, our team of professionals offer various levels of advice. From selecting the most suitable oil water separator system based on the types of contaminants encountered to optimising treatment processes for maximum effectiveness, we can help. By understanding the unique challenges faced by quarantine operations, we can devise strategies that mitigate risks, minimise cross-contamination, and streamline operations. 
Through our deep industry knowledge and commitment to innovation, we help quarantine facilities navigate the complex landscape of wastewater management with confidence, ensuring a safer environment and a sustainable future.
Our commitment to the quarantine industry goes beyond providing initial solutions. We are dedicated to offering ongoing support that ensures the long-term success of our clients' wastewater management systems. 
With a proactive approach, Cleanawater's support encompasses regular system maintenance, performance monitoring, and responsive troubleshooting to address any issues that may arise. 
This consistent engagement guarantees quarantine facilities can sustain optimal performance levels, maintain compliance, and promptly adapt to evolving industry standards.
Compliance-assured equipment
We take compliance seriously and are pioneers in delivering equipment specifically designed to assure regulatory adherence within the quarantine industry. To ensure this happens, we engage in meticulous engineering and rigorous testing during the development of our equipment. 
All of our systems, including our advanced oil water separators, are tailored to meet the stringent requirements of quarantine facilities. This guarantees peace of mind for stakeholders as they can rely on a system that effectively removes contaminants, oils and chemicals from wastewater streams.
8 common applications for odour management systems

This is where you are likely to find odour management systems in Australia. Includes information on industry accreditation and Australian standards.

What are odour neutralising misting systems?

Find out what you need to know about using odour neutralising misting systems to suppress and eliminate odours on your operation's site or sites.

4 Odour Neutralisers Used in Australia

These are four of the most commonly used odour neutralisers utilised by Australian businesses and public organisations. Learn about how you can use them for your site too.