Oil Water Separators For The Transportation Industry
Sustainable wastewater management for the transport sector
Key wastewater challenges for the transport industry
Maintenance, refuelling, and vehicle washing create a high amount of oily wastewater.
Rainwater can pick up oils and other pollutants from roads or auto maintenance areas.
Accidental fuel or oil spills are a common occurrence in the transport industry.
Refuelling operations can lead to the release of hydrocarbons and other pollutants.
Excess oil generation can decrease the performance of other equipment.
Oily discharge from aircrafts and marine systems can harm the environment.
Industry overview - managing oil discharge in transportation
An oil water separator is extensively used in the transport industry to effectively remove oil, grease, hydrocarbons, and other contaminants from wastewater. Usually, these pollutants are generated through transport-related activities, like maintenance, refuelling, equipment washdown, and stormwater runoff.
By using an oil water separator, your company can prevent environmental damage, ensure compliance with regulatory standards and promote sustainable water management practices.
At Cleanawater, we supply various transport industries, such as the aircraft and marine sectors with high-quality oil water separators. Each of our systems is equipped with everything needed to get up and running, including non-emulsifying pumps, float switches and controllers.
Transport oil separator products
Choose coalescing separator units made from polyethylene or stainless steel for your transport facility. 
Cleanawater's polyethylene oil water separators offer an efficient and cost-effective solution for handling oily water runoff from vehicle maintenance areas and fueling stations. These separators, constructed from high-quality polyethylene, provide lightweight, corrosion-resistant, and durable options that align perfectly with the fast-paced nature of the transport sector.
Similarly, for more demanding applications in the transport industry, Cleanawater's stainless steel oil water separators stand as a robust choice. Their stainless steel construction enhances their durability and resistance to corrosion, making them ideal for busy transportation hubs, ports, and industrial facilities where heavy use is the norm.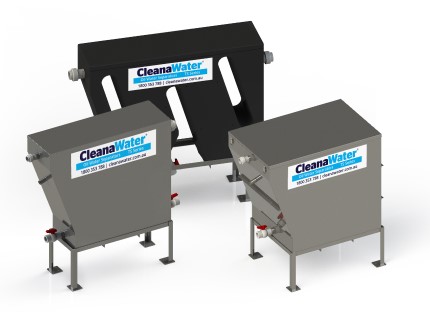 Cleanawater's transport industry solutions
At Cleanawater, we understand the significance of equipment washdown areas in the transport industry. That's why we offer tailored oil water separator solutions that combine advanced water treatment technologies with efficient water recycling systems.
These solutions not only assist in removing pollutants from vehicle washdown but also enable companies to recycle and reuse water, reducing water consumption and operational costs while adhering to stringent environmental regulations.
Therefore, we're proud suppliers of oil water separators for aircrafts, ships, marine engineering systems, and all transport needs. With our dedication to innovative and customer-centric solutions, we're your trusted wastewater management partner for life.
Understanding the oily water separator process
Step 1
Pre-treatment
In the pre-treatment phase, the contaminated oil content will enter the separator.
Step 2
Primary separation
Large oil droplets rise to the surface to form a floating layer of sludge. These contaminants can then be mechanically removed.
Step 3
Coalescence
The water moves into a coalescing chamber equipped with specialised media packs that aid in separating the oil water mixture.
Step 4
Secondary separation
The remaining oil and suspended solids continue to rise to the surface.
Step 5
Discharge
The clarified oil-free water passes through the system and can be discharged appropriately as it now meets authority regulations.
Cleanawater's experience in the transport industry
At Cleanawater, our experience is defined by our successful collaboration with a diverse range of transport companies, including logistics hubs, vehicle maintenance facilities, refuelling stations, and more. This hands-on involvement has enabled us to refine our products and services, ensuring they are finely tuned to address the specific needs of the transport sector.
Whether it's designing advanced oil-water separators to capture minute contaminants or developing customised wash bay systems that optimise water recycling, Cleanawater's practical expertise shines through in every solution we offer.
Expert advice and solutions
Our approach starts with a thorough assessment of your transport company's specific requirements. By understanding the intricacies of your operations and wastewater generation processes, our experts can recommend the most suitable equipment and systems for effective water treatment. This personalised guidance ensures that businesses receive solutions that not only meet their immediate needs but also contribute to long-term environmental sustainability and cost savings.
Cleanawater's team of experts remain engaged post-installation, offering regular maintenance services and technical support. This proactive approach helps prevent potential issues, ensures the optimal performance of equipment, and minimises downtime. 
In a vastly dynamic industry like transport, having a partner that provides prompt and reliable support is invaluable, allowing businesses to focus on their core activities with the confidence that their wastewater management systems are well-maintained and operating at peak efficiency.
Compliance-assured equipment
Cleanawater's compliance-assured equipment includes advanced oil-water separators, wash bay systems, and other innovative technologies. Each piece of equipment is engineered with a keen focus on addressing the intricate challenges faced by the transport sector, whether it's efficiently removing hydrocarbons from maintenance facility runoff or facilitating water recycling in vehicle washdown areas.
If you're looking for oily water separators that comply with all industry standards, team up with the professionals at Cleanawater today. 
8 common applications for odour management systems

This is where you are likely to find odour management systems in Australia. Includes information on industry accreditation and Australian standards.

What are odour neutralising misting systems?

Find out what you need to know about using odour neutralising misting systems to suppress and eliminate odours on your operation's site or sites.

4 Odour Neutralisers Used in Australia

These are four of the most commonly used odour neutralisers utilised by Australian businesses and public organisations. Learn about how you can use them for your site too.