Vehicle Wash Bay Oil Water Separator
For sustainable wastewater management in all vehicle washdown bays
Key wastewater challenges for the vehicle wash bay industry
Regulatory agencies often have strict guidelines for the discharge of wastewater.
Vehicle wash water can contain oils, grease, heavy metals, and other pollutants.
Oil buildup in drainage systems can lead to clogs and increased maintenance costs.
Contaminants like oil and grease can corrode pipes, drains, and infrastructure over time.
Oil contaminates freshwater resources, which are valuable and limited.
Oily water cannot be reused for other purposes.
Industry overview - managing oil in vehicle washdown bays
To effectively manage the discharge of oily water in your vehicle washdown bay, we recommend using an oil water separator. This is a specialised piece of equipment specifically designed to separate and remove oil, grease, and other contaminants from wash water. This ensures your washdown bay meets environmental regulations by preventing the discharge of pollutants into public water bodies.
At Cleanawater, we stock two types of oil water separators actively used within the vehicle washdown bay industry. Available in stainless steel and polyethylene, our range is designed with flexibility in mind, making it easier to find a model that suits your wash bay's operational flow and budget. With capacities ranging from 1,000L to 5,000L nominal flow rate per hour, we can help you find a reliable wastewater management solution.
Vehicle wash bay oil separator products
Our oil water separator systems are available in polyethylene and stainless steel alternatives.
Cleanawater's polyethylene oil water separators offer an optimal solution for the vehicle wash bay industry, providing an efficient means of managing wastewater while adhering to environmental regulations. Their lightweight, durable, and corrosion-resistant build ensures longevity and minimises maintenance requirements.
For wash bays with higher wastewater volumes and more rigorous demands, Cleanawater's stainless steel oil water separators provide a durable and long-lasting solution. Their robust build ensures longevity, even in high-volume wash bay settings, contributing to a more sustainable and environmentally-conscious approach within the industry.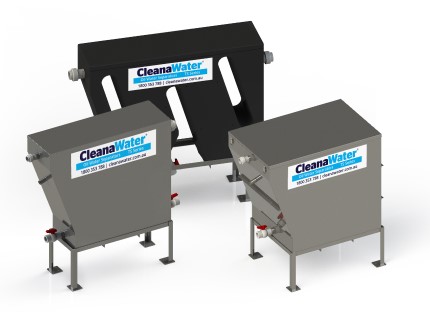 Cleanawater's vehicle wash bay industry solutions
Cleanawater is a leading provider of innovative solutions tailored to the vehicle washdown industry's unique needs. With a deep understanding of environmental compliance and waste water treatment, we offer a comprehensive range of products designed to address challenges faced by vehicle washdown operations.
We understand the importance of water conservation in vehicle washdown operations. That's why our customisable water recycling systems efficiently treat and purify used wash water, allowing businesses to reclaim and reuse water for multiple wash cycles. This not only reduces water consumption but also minimises operational costs and the overall environmental footprint of the wash bay.
By implementing our oil water separators into your everyday wash bay solutions, you can easily meet and exceed all water authority regulations. Plus, these oil water separation systems are seamlessly maintained, saving you time and money through decreased running costs and optimal operational efficiency.
Understanding the oil water separation process
Step 1
Pre-treatment
The pre-treatment stage of the process involves filling the separator with the oily wastewater generated from the vehicle washdown facility.  
Step 2
Primary separation
Non-emulsified oil droplets and other solids rise to the surface to form a floating layer of sludge, which is then removed mechanically.
Step 3
Coalescence
The water moves into a coalescing chamber equipped with specialised media packs that aid in oil removal.
Step 4
Secondary separation
The remaining free-floating oil and smaller suspended solids continue to rise to the surface from the coalescing plate separators.
Step 5
Discharge
The clarified water, which has undergone multiple stages of separation, exits the car wash bay oil water separator system.
Cleanawater's experience in the vehicle washdown industry
With a proven track record spanning several years, Cleanawater has established itself as a trusted and knowledgeable partner within the vehicle washdown industry. 
Our experience is built on a foundation of successful collaborations with a diverse range of wash bays, oil water separators and more, from small-scale operations to large commercial enterprises. Through this extensive industry exposure, we have gained invaluable insights into the unique challenges and regulatory requirements faced by vehicle wash bay operators.
By continuously refining our product offerings based on real-world feedback and industry trends, we ensure that our solutions remain relevant, effective, and sustainable.
Expert advice and solutions
Recognising that each wash bay operation has its unique characteristics, challenges, and environmental considerations, Cleanawater goes beyond offering off-the-shelf products. We engage in a consultative approach that begins with understanding the specific needs and goals of our clients.
Whether it's selecting the right type and size of oil-water separator, designing an efficient water recycling system, or developing a comprehensive wastewater treatment strategy, we're here to help.
Cleanawater's commitment to customer success extends well beyond the initial implementation of wastewater solutions. We take pride in fostering long-lasting partnerships with our clients by providing ongoing support and assistance. 
By understanding that operational needs and environmental regulations can evolve, Cleanawater offers a comprehensive support framework designed to address challenges as they arise. When you choose Cleanawater, you choose a dedicated wastewater management partner for life.
Compliance-assured equipment
Cleanawater's solutions are designed to effectively free oils, contaminants, and pollutants from wash water, ensuring that the treated wastewater meets and often surpasses the stringent requirements set by regulatory authorities. 
By supplying compliance-assured equipment, we aim to empower businesses in the vehicle washdown industry to operate with confidence, knowing that their wastewater management processes align with legal and ethical standards while contributing to the preservation of the environment.
8 common applications for odour management systems

This is where you are likely to find odour management systems in Australia. Includes information on industry accreditation and Australian standards.

What are odour neutralising misting systems?

Find out what you need to know about using odour neutralising misting systems to suppress and eliminate odours on your operation's site or sites.

4 Odour Neutralisers Used in Australia

These are four of the most commonly used odour neutralisers utilised by Australian businesses and public organisations. Learn about how you can use them for your site too.