Keep your discharge within a safe pH range
Ensure you meet water authority requirements regarding pH range for the discharge of your wastewater.
Cleanawater pH control systems keep your wastewater discharge within an acceptable pH range, as dictated by local water authority guidelines. So, your operation can release wastewater safely and without the risk of breaching relevant standards.
Our systems feature a turnkey design and are automated for minimal operating requirements and maintenance. You simply top up the chemical when its empty. It's that easy.
Uses and applications
Trade waste
Recycling water
Industrial water
Wash bays
Food manufacturing
Enquire about our pH control systems
Benefits of Cleanawater pH control systems
Meet your water authority discharge requirements for pH
Avoid costly fines
Install with no business downtime
Customised to suit all industrial requirements
Saves you money on installation costs
Can be installed anywhere
Our range of pH control systems help to ensure that you meet water authority guidelines. As part of a complete water treatment solution, they assist you in meeting all water authority standards. So you can avoid costly fines or potential shutdowns.
We offer two types of pH control systems:
In-line pH control systems
Cost effective installation
Easy to retrofit
Be up and running with minimal downtime
Self-installation
Recirculating pH control systems
Chemical efficient alternative
Reduces chemical consumption costs
Water authority preferred
Easy to retrofit
Low maintenance
Water authority compliant
Quarantine approved
Systems for low and high flow rates
Customised to suit your needs
Recirculating pH Control System
Inline pH Control System
Why choose Cleanawater?
At Cleanawater, we are a market leader in the design and manufacture of water treatment systems.
Whether for pH control systems, oil water separators or a complete wastewater treatment solution, we can assist with water authority compliant products and expert advice.
Our systems are award-winning, engineered for superior performance, and easy to use. We can also custom-build all solutions to match your exact requirements and budget.
We'll design your system, manufacture it and install it. We do it all. We can even arrange for simple servicing and maintenance, to ensure your system is always operating at its best.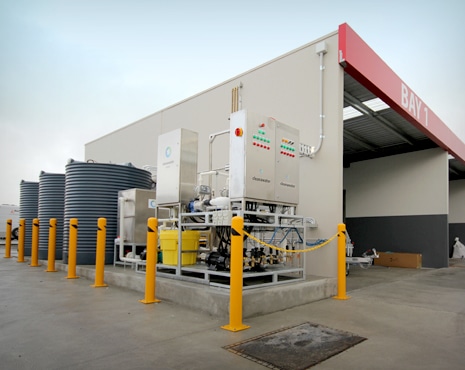 Frequently asked questions
When do I require a pH control system?
You require pH control systems when the pH levels in your wastewater are outside of an acceptable range. The neutral level of pH is 7, low level is 6, and high level is 10. If you are outside of this, you will usually require a pH control system. For other industrial applications, this may be 6-8.
What PH Control products do you have?
We have inline and recirculated solutions.
Do you supply turnkey pH control systems?
Yes. Systems are typically pre-plumbed and pre-wired and housed in an enclosure to enable quick and easy installation.
What type of dosing pumps do you supply with packages?
We provide a range of solenoid or peristaltic pumps with our pH correction systems.
My pH levels are erratic. Can systems correct pH both ways?
Yes. Systems are commonly supplied with an acid pump and caustic pump for erratic pH levels.
Do I need to manually switch dosing pumps on and off?
No. Our systems are pre-calibrated in the factory to trigger 'set points' to switch pumps on and off automatically when required.
Why choose Cleanawater for PH Control?
At Cleanawater, we have turnkey automated systems for all industries and flow rates. We also have experienced water treatment engineers on staff. They'll ensure you get the right solution for your needs.
How pH Controllers Operate

pH control systems are widely used in trade waste and recycling water applications. This business-focused guide covers the types of pH controllers and how they are used.

5 step guide to applying for Water Authority compliance

Get Water Authority compliant. Here's how you can obtain and submit your compliance application in five steps.

pH control is used to automatically adjust the pH of effluent water to maintain regulatory compliance and prevent pollution to the environment
We have representatives in