3 Best Oil Water Separators for Industry
Hydrocyclone systems are suitable for high volume operations, also low maintenance and complex oily water mixtures
Coalescing systems are commonly used in small and medium businesses where compliance is necessary
Vertical gravity separators provide an ideal solution where limited footprints are available
Oil water separators are used by a range of industries to ensure water authority compliance.
Whether for mining sites, workshops, service stations or other industrial applications, oil water separators along with their associated products provide a practical solution for industry's water processing needs.
Purchased from a reputable wastewater treatment company, oil water separators can effectively treat wastewater while ensuring an organisations' adherence to local water authority requirements.
Here is a list of three oil water separators, which are ideally suited for industrial use.
1. Hydrocyclone oil water separators

Hydrocyclone oil water separators work by applying centrifugal force in order to separate any present oil droplets from wastewater discharged by industries or organisations.
Typically, your chosen hydrocyclone oil water separator will be mainly comprised of a conical shaped chamber. That chamber will feature two exit outlets; one at its top and one at its base. It will also include a wastewater inflow inlet on the chamber's side.
In normal operation, your organisation's wastewater will enter the cyclone chamber. The wastewater is then spun at centrifugal forces, which are in some cases, up to 1000 times the force of the earth's gravity.
This results in the heavier water phase being pushed to the outer wall of the chamber before it is forced to be discharged via the outlet at the narrow end of the chamber. While this occurs, the oil, which is lighter than water, is moved to the centre of the chamber. It is then forced up and discharged via the top outlet.
Which oil separator do I need? Is a hydrocyclone oil water separator right for me and my business?
Hydrocyclone oil separators are ideally suited to industries which need filtration of large amounts of wastewater, as they feature large flow rates (from 2,000 to 500,000+ litres per hour).
They are also more compact than traditional oil water separators. Side by side they are often 90% smaller than other separator systems. This makes them perfect for where space is a consideration.
See our range of hydrocyclone oil separators.
2. Coalescing Oil Separators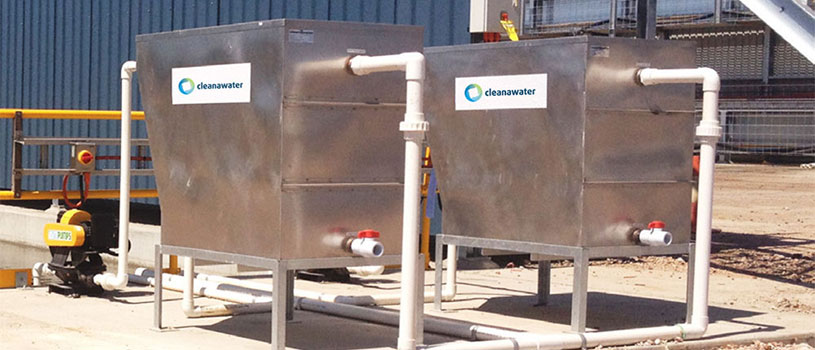 Coalescing oil separators work by forcing oil droplets to impinge on surface area and create larger oil droplets, which rise to the surface of wastewater, where they can be removed via a gravity skimming process.
This type of oil separator features oil attracting media packs. These packs are placed inside of the treatment chamber, where their surface area draws out oil droplets suspended in the wastewater. The droplets are then forced to collide, thereby creating larger droplets of oil.
The larger droplets of oil become, the more buoyant they become. Eventually, the droplets reach a mass that is big enough to break free from the media packs. At this point, they rise to the surface of the wastewater, where they can be easily skimmed off and delivered to the waste oil chamber.
What remains is oil free water, which can then be safely discharged.
Which oil separator do I need? Is a coalescing oil separator right for me and my business?
A coalescing oil separator provides a simple and effective way for businesses to remove oil while treating their wastewater. They are fast to install and are available in a range of options to suit various budgets.
These systems are often recommended for small and medium sized businesses, which are looking for a functional, yet more economically priced oil water separator.
See our range of coalescing oil separators.
3. Vertical Gravity Separators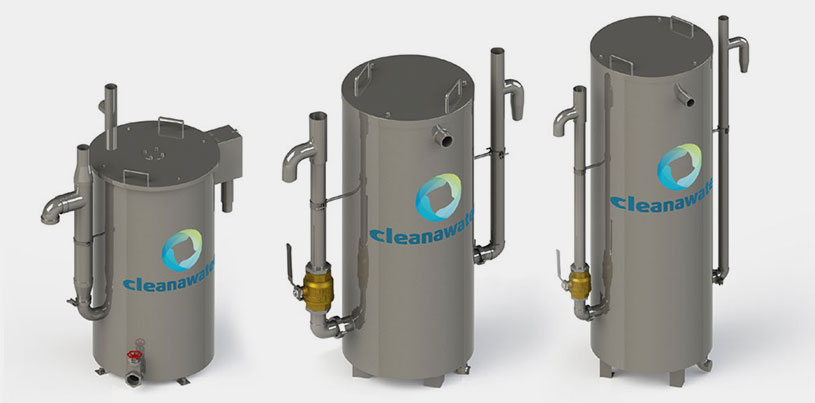 Vertical gravity separators work by controlling both fluid velocity and pressure. These forces gently pull non-emulsified impurities from wastewater, thereby letting high density contaminants fall into a sludge retaining area, which is located at the base of the systems' vessel.
While this occurs, oil droplets and low density suspended solids rise to the top of the vessel. Once risen, the oil can then drain off into a waste tank.
Separators of this type are generally set up to pump oily water from a sump or tank for treatment. Treated water can then be discharged to sewer, leach drains, evaporative ponds or holding tanks.
Which oil separator do I need? Is a vertical gravity separator right for me and my business?
Vertical gravity separators are fast and easy to install. They require very little ongoing maintenance, and they are also available as compact systems, which are ideal for outdoor installations.
A vertical gravity separator can be an appropriate solution for businesses that want a new, low-maintenance system that can be installed fast and with a minimum of downtime.
See our range of vertical gravity separators.
"Oil water separators are used by a range of industries to ensure water authority compliance."
Speak with a water treatment specialist
Prefer to speak with a specialist about your business' oil separator needs? Call the team at Cleanawater. We can answer any queries you have about wastewater treatment and water authority compliance.
At Cleanawater, we've been providing Australian industries with complete wastewater management and water recycling solutions for over 18 years. And we could help you and your business too.
Must Read
Cleanawater on 14 December 2021
We know that most problematic odours afflicting waste handling areas are biological, using a topical odour treatment can mitigate existing odours and prevent odour generation while leaving a fresh key ...
Read more
Cleanawater on 2 September 2021
No matter what industry you're in, chances are you need odour control. VapourGard can help you eliminate odour complaints in a safe, cost-effective, and versatile way. ...
Read more