A guide to Yarra Valley Water compliance
Yarra Valley Water (YVW) is the largest water supply and sanitation services provider in Melbourne. It covers our northern and eastern suburbs, and They service over 1.8 million people and 50,000 businesses.
The Essential Services Commission regulates the operation of YVW, which enters into agreements with trade waste generators to receive their trade waste into the sewerage treatment system.
What is trade waste and where does it go?
Trade waste is waste water that is generated by industrial, commercial or food business activities. This water contains more contaminants than household waste, some of which may be hazardous. Trade waste may contain chemicals, metals, high organic loads, fats, greases or detergents.
Once trade waste enters the sewer system, it is routed to sewerage treatment plants. Contaminants are removed from the water in these plants and clean water is discharged to the environment.
The first step in sewerage treatment uses an activated sludge process. This process removes organic material, solids and nitrogen. Activated sludge treatment is followed by pebble or sand filters to remove the remaining suspended solids. A final stage of UV light or other disinfection methods kills disease-causing bacteria and viruses.
What is a trade waste agreement?
Any business that discharges trade waste into the YVW sewer system is required to enter a Trade Waste Agreement. Companies can apply via the YVW website and attach all appropriate documentation related to business activity, expected contaminants and volume of trade waste.
YVW may conduct a risk assessment themselves, or require the customer to conduct one. Risk assessments highlight potential issues related to the generation of trade waste and what mitigating factors could be implemented.
There are three different classifications of trade waste each with their own agreement terms specified by YVW.
How does Yarra Valley Water classify trade waste?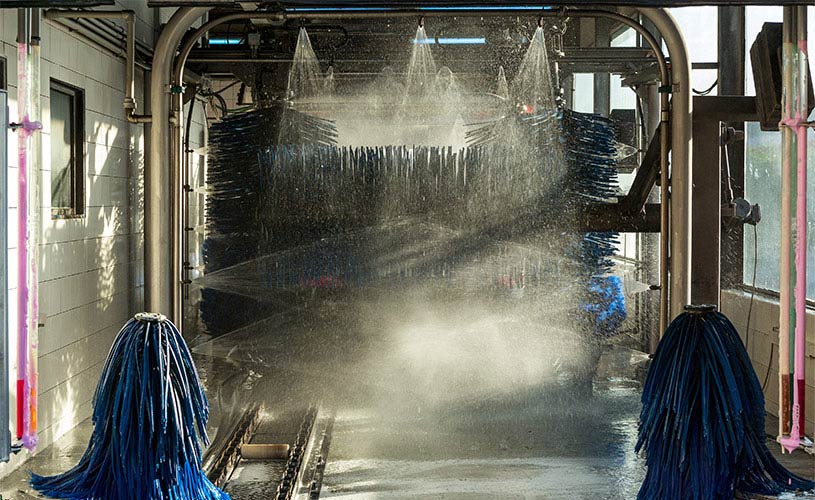 When filling in an application for a Trade Waste Agreement, customers must choose one of three types of trade waste. Each one has its own rates, permitted volumes and criteria limits.
1. Food businesses
Food businesses generate trade waste by using water for cooking, washing dishes and washing the kitchen itself. All food businesses require grease traps to capture fats, oils and solids before they enter the drain.
Trade waste rates are charged as a quarterly contract fee.
2. Industrial business
These trade waste agreements cover car washes, metal finishes, printers, laundries and chemical manufacturers. YVW has set a list of acceptance criteria for trade waste from industrial customers. These criteria cover parameters like physical characteristics and chemical characteristics (including specific maximum levels for certain contaminants).
An annual contract fee is charged based on the risk attributed to each customer and a discharge fee is calculated based on volume of water and mass of contaminants.
3. Minor Trade
This is a business that generates trade waste of a similar volume to domestic waste (e.g. Commercial offices, certain food businesses and retail shops).
YVW does not charge fees for minor trade waste customers, but retains the right to sample the waste at any time and to change the agreement if the volume of trade waste changes.
How does Cleanawater help you keep your trade waste compliant?
Both Food Business and Industrial Trade Waste Agreements specify pre-treatment conditions before effluent is discharged to the sewer. Cleanawater supplies and services trade waste treatment equipment so that companies can remain compliant with their Trade Waste Agreement.
Experts at Cleanawater calculate design requirements based on contaminants in the water and volume of waste generated.
Cleanawater supplies trade waste treatment equipment
At Cleanawater, we pride our selves on being problem solvers. We can assess your business and help you find the best solution to keep you compliant.
Our oil water separators will help your business meet YVW compliance standards. Our oil water separators are engineered for superior removal of oil from water, and systems are available from 1,000 litres to 500,000 litres.

Grease traps remove grease, oil and solids from food business trade waste. The sludge collected by the grease trap is pumped out and disposed of separately. Grease trap sizing depends on volume of waste generated and frequency of pumping the system out.

Oil skimmers remove oil from waste water streams. Different types of skimmers are available depending on the flow rate of water and the specification of oil content in the water released.

pH control systems control the pH of the trade effluent entering the sewer system. Correct pH is important because an excursion in pH can result in an acceleration of bacterial activity and the production of odours.
Cleanawater services equipment
Once engineers have designed and sized the equipment correctly. It must be installed by competent teams to ensure the equipment functions as per design. Maintenance and servicing of trade waste treatment equipment is critical to maintain compliance with the YVW Trade Waste Agreement.
Cleanawater provides contract maintenance services. Trained personnel keep trade waste equipment operating as per design, and give you peace of mind about your trade waste quality, keeping your business compliant.
We'll get your business compliant
Whether you're starting up a new business, or relocating your business to Melbourne, we can easily combine our solutions to suit your specific business, compliance and investment requirements.
Find out more at Cleanawater or call our expert team on 1800 353 788 today to arrange a consultation for your trade waste needs and to make sure you keep compliant with Yarra Valley Water.
Must Read
Cleanawater on 14 December 2021
We know that most problematic odours afflicting waste handling areas are biological, using a topical odour treatment can mitigate existing odours and prevent odour generation while leaving a fresh key ...
Read more
Cleanawater on 2 September 2021
No matter what industry you're in, chances are you need odour control. VapourGard can help you eliminate odour complaints in a safe, cost-effective, and versatile way. ...
Read more