Guide to Wastewater Treatment Compliance for Western Australia
Western Australia is Australia's largest state, covering a third of the entire country. It is home to more than 2.7 million people, who work together to support the state's flourishing economy, which is deeply rooted in the extraction, refining, and export of a range of mineral and petroleum commodities.
Also flourishing are Western Australia's stunning natural highlights — a veritable bounty of environmental treasures. The state is home to a range of diverse biospheres, including dense bushland and mountains, arid desert, extensive river systems, and untouched coastal areas.
The protection of this ecological diversity is a high priority to state and local governments in Western Australia. As such, runoff entering stormwater systems from commercial businesses must be free from contaminants. Doing so without consideration, or without a state government permit, may result in large fines.
Cleanawater offers wastewater pretreatment solutions to address the stringent requirements of local Western Australian stakeholders.
Trade Waste Definitions and Sources
Western Australia's Water Corporation defines trade waste water as "any wastewater discharged from your business other than waste from office facilities or staff amenities".
This broad definition applies to a range of businesses, including those involved in:
Food and beverage production
Industrial manufacturing
Metal processing
Engineering and production
Mechanical workshops
Service stations and car wash bays
Cleaning services
Medical and educational facilities
If you own a business that wishes to discharge trade wastewater into local sewerage systems, you need to apply to obtain a permit from your local water authority. In the case of WA, Water Corporation oversees and approves all permits.
Water Corporation waste policy
Water Corporation has a range of acceptance criteria that businesses must adhere to before applying for a trade water discharge permit. These criteria have been put in place to protect the health and safety of the wastewater network, its workers, and the biological functions in wastewater treatment plants.
Wastewater policy adherence and the fees associated with processing rely on what kind of contaminants are in the water. As such, these contaminants need to be treated on-site to ensure that the business remains compliant with the strict acceptance criteria.
It is important to note that Water Corporation does not allow roof runoff or stormwater to be processed at their facilities, due to the lack of resources to process clean water. Businesses must keep wastewater and stormwater entirely separate.
Officers from Water Corporation's trade waste division have the right to enter workplaces to assess and inspect a business' compliance with the policy.
Western Australia approval process
New businesses in Western Australia looking to discharge wastewater into local systems must apply for a trade waste permit. The application process requires that businesses provide:
Advice on the type of business, like food service, manufacturing, or hospitals
Business details including the site characteristics, operator information, and opening hours
Interior fixtures and fittings and how they are operated during business hours
Pretreating wastewater in Western Australia
Businesses looking to expel wastewater in Western Australia will benefit from local expertise and effective pretreatment equipment. To help keep you and your business compliant with local regulations, Cleanawater offers both in abundance. Here are some treatment options to consider in Western Australia.
Oil water separators
Oil is one of the most dangerous elements to enter the water system, and can affect plant and animal life everywhere in Western Australia. Large oil spills are bad, but even trace amounts can spread far and wide throughout vast ecological areas.
Many businesses generate oily runoff, including garages, mechanics, car wash stations, and wash bays. This is typical trade waste that needs to be removed before water is put back into the sewerage system.
Oil water separators force oil and water to separate, pushing the oil droplets to the surface where they are skimmed away for proper disposal. Clean water (down to 5 parts per million of oil) is then ejected from the device into the sewer.
Rainwater recycling and harvesting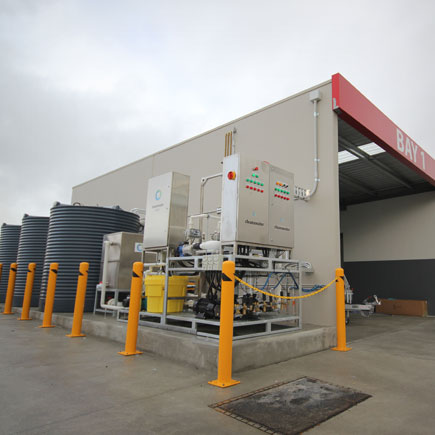 Western Australia is relatively dry compared to the eastern states. Rainwater is a precious commodity, but as stated previously, it cannot be processed with other types of wastewater. In order to remain compliant with local regulations, and to make the most of this scarce resource, it pays for businesses to reuse and recycle where they can.
With a recycling rate of between 80% and 90%, Cleanawater's rainwater harvesting solutions will allow your business to become less reliant on mains water, while offering the dual benefit of compliancy with Water Corporation's acceptance criteria.
No matter what your business does, Cleanawater has the wastewater pretreatment solution for you. Get in touch with our expert team to save water and remain compliant.
Must Read
Cleanawater on 14 December 2021
We know that most problematic odours afflicting waste handling areas are biological, using a topical odour treatment can mitigate existing odours and prevent odour generation while leaving a fresh key ...
Read more
Cleanawater on 2 September 2021
No matter what industry you're in, chances are you need odour control. VapourGard can help you eliminate odour complaints in a safe, cost-effective, and versatile way. ...
Read more