How Hydrocyclone Oil Separators Work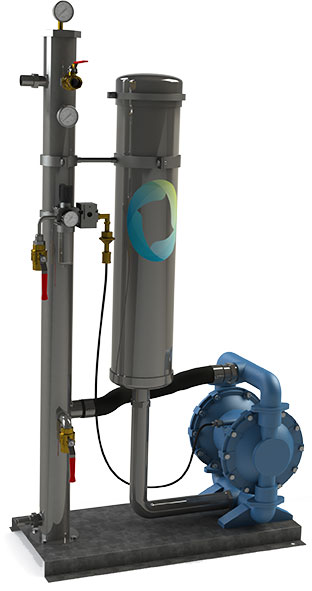 The problem: Oil in Water
The by-product of some industrial processes is oil-contaminated water, where tiny oil droplets have dispersed within the wastewater solution. Without the right equipment, it is difficult to extract oil from the wastewater so that it is safe to discharge or reuse.  
State governments have regulatory bodies in place to ensure that this water is safely managed and discharged. The government enforces wastewater discharge standards and issues fines for non-compliance.
There are a number of ways to remove oil from water, including coalescing oil separation and hydrocyclone oil separation. 
Hydrocyclone Oil Separators
Hydrocyclone Oil Separators apply extreme centrifugal force to separate oil particles from wastewater.
A Hydrocyclone's primary construction comprises of a conical shaped chamber. This chamber has two exit outlets located at each end with one wastewater inflow inlet on the side. The wastewater enters the cyclone chamber and is spun at centrifugal forces of up to 1000 times the force of gravity.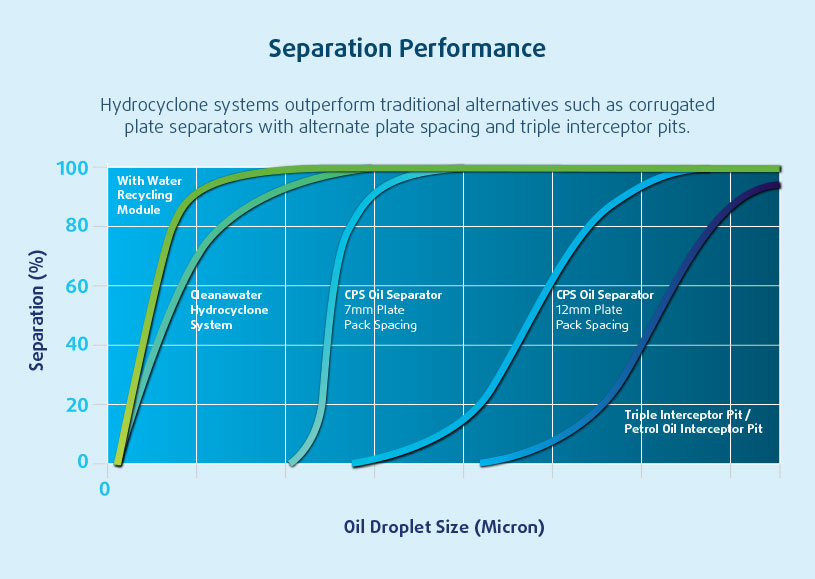 The heavier water phase is forced to the outer wall of the chamber and discharged through the outlet located at the narrow conical end. The lighter oil phase migrates to the centre of the cyclone chamber and is pushed upwards then discharged through the top outlet.
Advantages
Hydrocyclone Oil Separators are a highly effective, compact and low maintenance water filtration solution. This method of separation is ideal for industrial and commercial applications which require high quality filtration of large quantities of water.
Compact - Up to 90% smaller than traditional separator system
No moving parts means lower maintenence requirements
Large flow rates, available from 2,000 to 500,000+ litres per hour
Supplied pre-plumbed and pre-wired
Can remove oil droplets between 10-15 microns. Traditional oil separators function between 40-60 microns.
Cleanawater Hydrocyclones can have additional recycling and pre-treatement modules added to ensure that water treatment processes adhere to certain discharge standard requirements.
Call us to discuss your water recycling needs.
Must Read
Cleanawater on 14 December 2021
We know that most problematic odours afflicting waste handling areas are biological, using a topical odour treatment can mitigate existing odours and prevent odour generation while leaving a fresh key ...
Read more
Cleanawater on 2 September 2021
No matter what industry you're in, chances are you need odour control. VapourGard can help you eliminate odour complaints in a safe, cost-effective, and versatile way. ...
Read more