How often do you need to replace a carbon filter?
How often do you need to replace a carbon filter?

A carbon filter should be replaced every 12 months. All of our units have a cartridge life expectancy of at least 12 months under what would be considered normal operating conditions, however this may fluctuate due to odour level concentrations. For larger forced extraction systems the standard design will require yearly media changes, though this can be extended to 24 months at the customer's request.
Replacing your carbon filter will ensure that your filter is operating correctly to remove contaminants such as odorous compounds and gases, organic chemicals and sulphides such as h2s and volatile organic compounds (VOCs).
Activated carbon filters reduce odorous emissions by up to 99.5%. Industrial carbon filters are an essential component in the process of removing harmful and odorous compounds from contaminated air streams. 
These important devices help to protect employees working near where these gases exist while minimising complaints from surrounding businesses and residents within close proximity to your facility. They're most commonly used to remove contaminants such as volatile organic compounds (VOCs), sulphides and other odorous gases.
Why should my carbon air filter cartridge be replaced?
Activated carbon filters work by absorbing contaminants and odorous compounds by trapping them in the carbon media. Once the media has reached its absorptive capacity, it will need to be exchanged. This usually will need to be performed every 12 months though extensions on media life can be achieved by making small adjustments during the design stage and units can be designed to provide up to 24 months of media life upon request.
Businesses should change their filter cartridges every 12 months or as recommended. However, we understand that this frequency might vary depending on usage and service cycles with some applications benefitting from a change every 6 months instead. For best results from CleanaWater's products, 12 months is recommended unless stated otherwise.
CleanaWater can help replace your passive vent filter cartridges
Our carbon filters have cartridges that are specially selected and have high-performance activated carbon within them. The low back pressure produced by our passive vent filters encourages airflow which can be used to treat contaminants or alternatively allow fresh air to enter back into the network when the filter is under negative pressure. 
Our carbon filters have been designed to be low maintenance with no moving parts. This robust and secure design is appropriate for harsh environments. The easy installation, high odour removal, low cost and long-term performance of our filters make it an excellent choice.
We have decades of experience in the industry and our team can advise you on the right carbon air filter for your site. Our team can also assist in the installation and maintenance of your passive vent filter cartridges. 
If the cartridge in your carbon air filter is a different size than what is needed, it will make the system useless. A smaller cartridge or an improperly fitted cartridge in your carbon air filter will allow contaminants to pass through.  
Replacing your filter on time
Filters and cartridges can get lost in the day-to-day operations of a business. We can schedule a maintenance appointment for your carbon filters every 12 months so you don't have to worry about forgetting.
Leave the maintenance of your carbon filters in our hands. Our team will assess your carbon filters, and perform pressure and flow checks to ensure your system is working properly. We can even assist you with installation and provide custom mixtures to suit your particular odour control requirements. 
How much is an activated carbon filter?
The final cost of an activated carbon filter will depend on the labour, how much activated carbon you need in weight, and the cartridge itself. Our technicians will begin by examining which size passive you will require and when to replace the supplied cartridges.  
Once everything has been installed, we will perform a final examination looking at the pressure, flow and other diagnostics to ensure the system is working. Our team is highly trained to maximise your service cycle and reduce downtime in your business. 
For more information, please give us a call and we can discuss how one of our technicians can help maintain your carbon air filter. 
How to clean an activated carbon filter?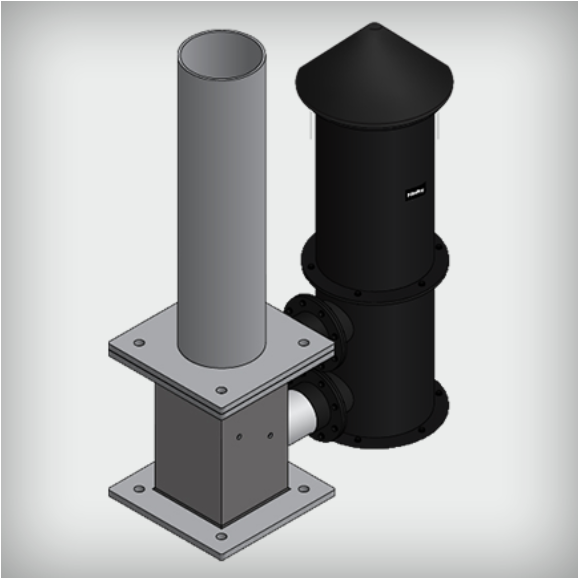 A trained professional should conduct the service and maintenance of your activated carbon filter which could help extend its lifespan. Instead of having one of your employees incorrectly clean your activated carbon filter, let our team of professionals do it for you. 
The efficiency and lifespan of an odour treatment system can be increased by regular servicing. This will result in fewer breakdowns or repairs needed in the future, due to improved performance from the system itself.
Our dedication to excellent customer experience begins with delivering high-quality products and professional servicing. We ensure that your system is working at its peak performance with regular maintenance and a log book to track everything we have done to date. 
Your business may receive odour authority audits. Failing these audits will result in fines for not servicing your carbon air filter in accordance with our manufacturing instructions. Ensure your carbon air filter is working efficiently with our servicing and maintenance program.
Industries we service
An industrial carbon filter is an excellent option for a wide range of industrial applications. Our charcoal filters are suitable for:
Food and Dairy Processing

Industrial Water Treatment and Processing

Meat and Livestock

Municipal Wastewater
Food and dairy processing
The production of raw foods and dairy creates odours. Our odour management systems address the problem on-site to eliminate odours caused by the food manufacturing processes. Our carbon filters can address odour problems depending on the source. 
We understand that this is a complex industry that requires a comprehensive strategy. Odours can be localised, widespread or come from multiple sources. The high volume of hot water, cold tap water or even wastewater in food processing means there can be volatile organic compounds creating odours. 
Industrial water treatment and processing
Waste treatment has strict agreements with municipal authorities on their wastewater quality. As such, odour units like charcoal filters need to eliminate odours effectively and efficiently. 
This industry generates discharge that causes high levels of odorous gas emissions. Our products can provide unique interventions that actively neutralise odours to help businesses maintain their Protection of the Environment Operations (POEO) Act outlines additional legal requirements.
Meat and livestock
Businesses in meat and livestock must have odour management in their facilities. There are many different options for odour management, depending on the source. Businesses with livestock must also address EPA odour limits at the boundaries of their site. 
Municipal wastewater
Wastewater businesses suffer from a wide range of odour challenges because of fast moving vertical and horizontal motion of the water. This creates air and liquid odour problems that need to be controlled. CleanaWater's range of activated carbon filters are the perfect solution to deal with odours produced by the municipal wastewater and manufacturing sector by providing peace of mind by providing an economical and comprehensive solution to your odour issues.  
Choose CleanaWater for your carbon filter maintenance and servicing 
Our team has decades of experience in servicing chemical manufacturing; food and beverage processing; municipal wastewater; pharmaceutical manufacturing; waste management; water treatment plants and many more industries.
Activated carbon remains the safest and most efficient way to remove VOCs, airborne chemicals, gaseous pollutants, and other fumes and odours in industrial, municipal or commercial applications. Let our team handle the maintenance and odour control of your business.
Must Read
Cleanawater on 26 September 2023
Control odours effectively and safely with CleanaWater's VapourGard system. Ideal for industries such as mining, landfill operations, recycling, and more, the VapourGard system uses lightweight partic ...
Read more
Cleanawater on 21 March 2023
Control odours effectively and safely with CleanaWater's VapourGard system. Ideal for industries such as mining, landfill operations, recycling, and more, the VapourGard system uses lightweight partic ...
Read more