Water Treatment Technology for the Service Station Industry
A service station forms a crucial part of the transport network. Strategically located in CBDs, suburbs, regional areas and on highways, service stations allow users to refill their vehicles when it suits them. Service stations are classed as hazardous zones due to the nature of the chemicals associated with them.
Strict regulation applies to service station wastewater management as it is important to ensure harmful substances are not discharged into stormwater. Hefty fines apply for businesses found to be non-compliant to relevant regulations, and downtime caused by non-performing equipment can be expensive.
View Cleanawater's range of water recycling and treatment products, or call us to talk to a water management expert.
Trust an industry leader with over 17 years' experience providing high quality equipment tailored for the service station industry. Cleanawater's equipment is well known to exceed water treatment performance requirements and expectations, to comply with water authority requisites, and to operate reliably throughout the busiest periods.
Features of Cleanawater Treatment Systems
Plug-and-play, skid mounted and pre-plumbed systems for easy transport and installation.
Complete packages including non-emulsifying pumps, float switches and controllers.
No expensive site preparation works.
Off the shelf packages ready to be delivered.
Alarm systems available for quick fault troubleshooting.
Benefits of Investing in Cleanawater Wastewater Technology
High quality systems approved by all major water authorities.
Same day delivery available for some equipment.
Outstanding after-sales service.
Routine maintenance services available.
Customer-based approach to ensure systems meet your business's needs.
Industry Examples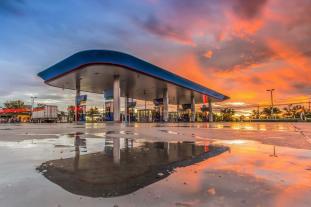 Scenario 1: Oil water separator compliance.
A service station located in metropolitan Melbourne was informed that their current oil water separator failed to comply to discharge standards. The service station urgently required an oil water separator to be delivered on the same day, and for this system to fit into the small space provided. The service station management indicated that the service station operated 24 hours a day, and was commonly staffed by a single staff member, so it was crucial that equipment was reliable during all hours of operation.
Solution: Cleanawater's hydrocyclone oil water separator.
Cleanawater delivered a pre-plumbed, pre-wired hydrocyclone oil separator on the same day of the enquiry. This water authority compliant system was installed in less than an hour, and was equipped with remote alarm systems to ensure fast and accurate troubleshooting in the event of a fault.
Scenario 2: Existing Cleanawater customer invests in an oil water separator.
A service station recently upgraded its facilities to install more refuelling machines. The service station was advised to obtain a first flush diversion system as some of the refuelling areas were exposed to rainwater. The service station already had a Cleanawater oil water separator, and having had a good experience with the system, they wished to purchase another Cleanawater product.
Solution: Cleanawater's first flush diversion system.
Cleanawater delivered a first flush diversion system suitable for use in a service station environment. This system was designed to effectively and reliably divert run-off stormwater to the pre-existing Cleanawater oil water separator, and to divert safe stormwater to the appropriate drainage.
Avoiding Stormwater Contamination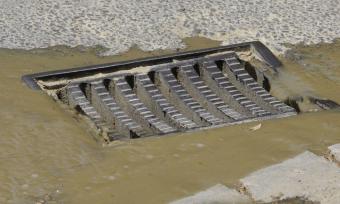 Stormwater discharge eventually joins water bodies such as rivers and lakes, many of which are used as potable water reservoirs. As such, strict regulation applies to businesses where harmful substances are likely to enter the stormwater network.
Daily operations in a service station inevitably result in spillage of dangerous substances. Spillage is easy to come by; a customer accidentally overfilling their fuel tank, an undetected small leak in a hose, or a person who spills brake fluid while refilling their car. Although the single daily discharge of one service station may not result in catastrophic consequences to the environment, combined harmful discharge from thousands of service stations across the country could seriously threaten our ecosystem.
The most dangerous section of a service station is the refuelling area, as this is where spillage is most likely to occur. Service stations are required to roof the refuelling area to avoid contaminated run-off from entering stormwater discharge. In addition to this, service stations must also have a water treatment system capable of removing contaminants from water. Once all harmful particles have been removed, water is allowed to be discharged to the sewer. These particles can be removed by using a Cleanawater oil water separator.
Oil Water Separators
Service stations play a vital role in the smooth operation of public and private transport. While some service stations are located in CBDs and suburbs, others are located in remote and isolated areas. It is critical that service station water management equipment commissioned to protect the environment operates appropriately and reliably 24/7, as faulty equipment will result in extensive and expensive downtime.
Cleanawater offers high quality above ground oil water separators capable of handling peak periods whilst maintaining the highest operational standards. Typically, above ground oil water separators are preferred over underground oil water separators, as they are easier and cheaper to install and maintain.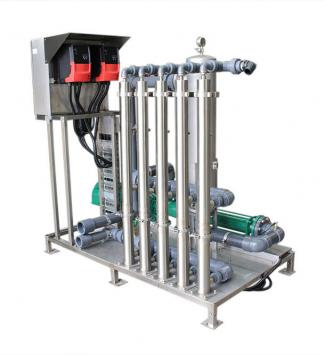 Cleanawater's hydrocyclone oil water separator operates by spinning service station wastewater under centrifugal forces up to 1000 times the force of gravity. Water particles are forced towards the wall of the cyclone, while oil particles travel inwards toward the centre of the cyclone. Oil is discharged into an oil waste drum, while treated water is discharged to the sewer.
Cleanawater's hydrocyclone oil water separators are ideal for service stations where the space to install equipment is restricted, and where large amounts of oily water need to be processed. Cleanawater's hydrocyclone oil water separators have no moving parts, which minimises the wear of components and the likelihood of failure. Additionally, these oil water separators require minimal maintenance in comparison to other oil water separators on the market, and are supplied to service station customers pre-plumbed and pre-wired for easy installation. This means that service stations can comply with water authority requirements more quickly and easily using Cleanawater's water management systems.
For service stations where space is not a constraint, Cleanawater's coalescing plate separators are an excellent fit. Coalescing media in the separator forces oil droplets to adhere to the surface area of the media, where they join to create layers that float to the top. Oil is extracted from the top of the separator and is stored in a waste oil drum. Treated water is extracted from the bottom of the oil water separator, and is subsequently discharged to sewerage.
First Flush Diversion Systems
In some scenarios, water authorities may require a first flush diversion system to be installed in service stations if forecourts are exposed to rainwater. Cleanawater's service station first flush diversion systems operate by diverting harmful water to the water treatment system, while allowing clean water to be discharged to stormwater drains. Service stations located in heavy rainfall areas will benefit from having a first flush diversion system. Being able to divert clean water to stormwater discharge will minimise the amount of service station wastewater going to the sewer, thus minimising sewerage discharge costs. A service station using first flush diversion system will also considerably lessen their effect on the environment through correct water management.
Cleanawater has a vast range water recycling and treatment products. Contact us to talk to a water management expert.
Must Read
Cleanawater on 14 December 2021
We know that most problematic odours afflicting waste handling areas are biological, using a topical odour treatment can mitigate existing odours and prevent odour generation while leaving a fresh key ...
Read more
Cleanawater on 2 September 2021
No matter what industry you're in, chances are you need odour control. VapourGard can help you eliminate odour complaints in a safe, cost-effective, and versatile way. ...
Read more