Water Recycling and Treatment Systems for Mining Sites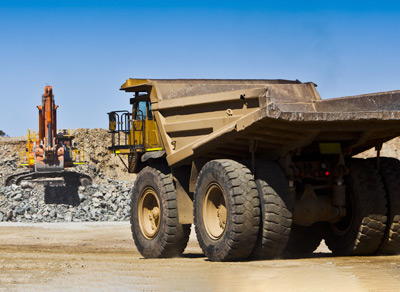 The Australian mining industry achieved a profit of 121 billion dollars in 2010 (ABS, 2012). As one of the most important contributors to the Australian economy, it is important to ensure that mining practices are sustainable and environmentally friendly. Properly filtering and recycling water at mining sites is a big part of this picture.
Like all other industries, mining operations need to remain compliant with local regulations. Cleanawater can help you achieve this by offering a range of solutions, including vehicle wash bays.
During 2004-05, mining operations accounted for 2% of the total water consumption of Australia. Consequently, the high consumption of water in these operations also leads to large amounts of mining wastewater being produced.
The poor quality mining wastewater that often results is of great concern, and must be handled with care. This means that safely filtering water by installing mining oil separators is a great opportunity for mining companies to become more environmentally aware.
Mining wastewater must be handled with care.
Mining sites are typically located in geographically isolated areas, where sewerage networks are not available, thus making sewerage discharge impossible. Mining wastewater produced by geographically isolated mines is generally discharged to pondage.
Mining wastewater is rich in heavy metals, hydrocarbons, grease and solids, and these foreign particles must be processed in mining oil separators and via pump stations accordingly, prior to their discharge into the environment. Due to the harsh environmental conditions of isolated mine sites, specialised equipment is required for filtering, treating and recycling water.
Features of Cleanawater Water Treatment and Recycling Systems
Highest quality mining oil separators for filtering water, guaranteed to be suitable for mining applications.
Specially designed systems for recycling water in harsh mining environments.
Remote alarm systems for easy operation of equipment.
Plug-and-play, skid mounted and pre-plumbed mining oil separators and other systems for easy transport and installation.
Low maintenance and consumable costs for all equipment, including mining oil separators.
Off the shelf packages for filtering and recycling water ready to be delivered.
Benefits of Investing in Cleanawater Wastewater Technology
Advertise your business as environmentally conscious, and ensure water authority compliance.
Over 17 years of expertise designing systems for filtering and recycling water in the mining industry.
Custom-based approach that ensures all your needs for filtering and recycling water onsite are met.
Industry Examples
Scenario 1: Coal mining site becomes eco-friendly by recycling water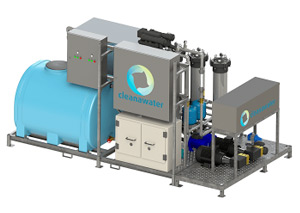 A coal mining site located in rural Western Australia contacted Cleanawater in order to commission a system for recycling water. After receiving feedback from the community indicating that environmentally friendly practices were desired, the company indicated to us that they preferred a system for recycling water that included a water conservation device.
By recycling water, they would have the option of repurposing treated water for cleaning operations at the wash bays, and for spraying the soil in order to reduce dust levels.
Solution: Cleanawater's mining-tailored recycling water system.
Cleanawater delivered a system for recycling water that was comprised of oil skimmers, hydrocyclone mining oil separators, filtering systems, chlorine dosing and pH correction controllers, and a water tank. Using mining oil separators and other equipment, water from mining operations and rainwater is filtered and sanitised to eliminate pathogens prior to pH correction.
The customer was pleasantly surprised by the comprehensive approach taken by Cleanawater, as well as our ability to surpass delivery time expectations on the project for recycling water.
Scenario 2: After a mining site expansion, a company needs a new pumping station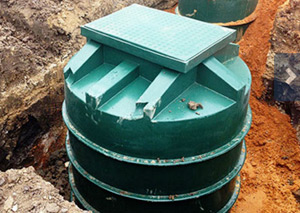 A mining site located in Queensland recently expanded its facilities. The company required a pumping station capable of handling very large amounts of mining wastewater containing medium-sized rocks. The pump station was required to transport wastewater from its production point to water treatment facilities.
Solution: Cleanawater's dual grinder pump station, heavy duty cover, and remote SMS alarm system.
Cleanawater delivered a pump station capable of reducing the size of the rocks found in the water, which also met the required flow rate requirements. The pump station was installed underground, and included a control cabinet that readily allows operators to access live information about pump activity and water levels.
By linking the advanced control cabinet to the mine site's operating system, information can easily be gained detailing any errors that may occur, so that they can be rectified as soon as possible.
Treatment equipment available for mining wastewater
The mining industry incorporates a number of disciplines and processes that result in different types of mining wastewater, which require a variety of treatments to ensure environmentally friendly practices. Heavy vehicle wash bays are commonly found in mining sites as a way to ensure equipment is kept clean, and that harmful particles adhering to vehicles do not leave the mining site.
Oil skimmers are also widely used in this industry as these are ideal in the treatment of oil-rich water. Oil skimmers are typically found in pits where mining wastewater is stored prior to further processing. Additionally, pumping stations are frequently required in mining sites because both mining wastewater and clean water are required to be transported across long distances.
Investing in water recycling systems can help mining companies reduce their environmental impact.
Lastly, a number of mining companies are moving towards responsible and environmentally friendly practices of recycling water, which include investing in water recycling systems to be installed on the premises. As well as the great benefit this represents to communities near mining sites, using water recycling systems helps the business reduce its environmental impact, and it provides the mining site with a closed loop comprehensive solution for recycling water.
Heavy vehicle wash bays in mining sites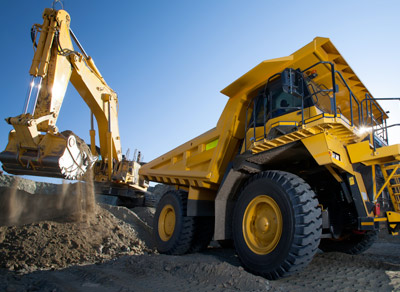 Large mining sites are often equipped with heavy vehicle wash bays where a range of vehicles, including large-scale mining earth movers, are cleaned after daily operations.
Mining oil separators can be used to filter wastewater, so that, after further treatment, it can be used again in the wash bays. While heavy vehicle wash bays in mining applications can be similar to those utilised in commercial operations, there are some key differences.
At a heavy vehicle wash bay, the mining vehicle to be cleaned is driven onto a concrete pad. A set of elevated platforms, located at either side of the vehicle, feature water cannons facing towards the wash bay. The wash bay has an embankment on three of its sides aimed at restricting undesired water drainage. Water drains through the fourth side into an adjoining sloped sump known as a beach pit.
The beach pit is divided into two sections – sludge is collected in the larger division of the tank, and water enters the second division via a small grate at the top of the divider. The sloped pit also acts like a driveway for vehicles; these drive along the ramp and collect the sludge that accumulates at the base of the first division of the pit. Water collected in the second division of the beach pit is typically transported to the next processing step using an oil skimmer.
Oil skimmers for mining applications
Oil skimmers are typically used in mining applications when large amounts of contaminated water need to be processed quickly to facilitate the process of recycling water. They often work in conjunction with mining oil separators. Cleanawater offers two types of oil skimmers capable of operating efficiently in harsh mining environments: floating skimmers and belt skimmers.
Floating Skimmers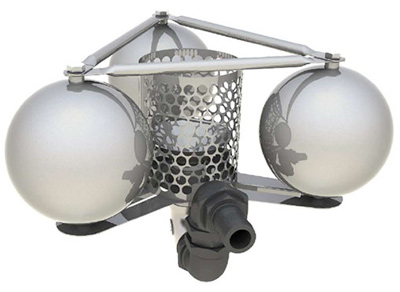 Floating skimmers are used in mining sites to transport oil, grease and fats from a pit for further processing. They are comprised of three floating bodies in a triangular arrangement, which ensures the skimmer floats evenly on the surface of the fluid.
At the centre of the triangular structure, a floating ring acts like a weir. This allows surface oil and water to enter the skimmer, where it is subsequently pumped for further processing using a progressive cavity pump.
Floating skimmers provide an optimal solution for mining applications where large amounts of sludge settle at the bottom of the pit, causing pipe clogging. Floating skimmers are ideal for the mining industry because they are economical, low-maintenance, designed for harsh environments, as well as being an efficient way of transporting oily water for further processing.
Belt Skimmers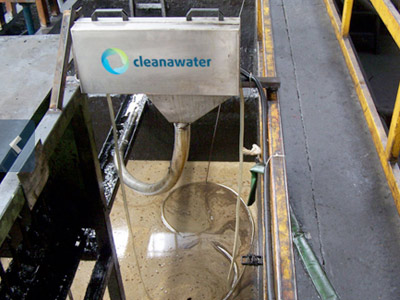 Belt skimmers and tube skimmers are highly efficient in the removal of oil from water in mining sites. These devices operate by using an oleophilic element to attract oil particles and repel water particles. Depending on the mining application, the oleophilic element may be a belt or a tube.
When using the belt configuration, a pulley is driven by an electric motor. This pulley is connected by the belt to the tail pulley, which is situated below the water surface.
Oil collected on the belt surface is removed from the belt at the main unit using a scraper. Oil removed from the water is collected into a waste oil drum.
Tube skimmers operate in a similar manner to belt skimmers, however, instead of a 2-pulley-belt system, a tube element is circulated on the water surface by a single pulley located in the main unit. Floatation of the tube element maximises the contact area between the oleophilic element and oil surface, thus increasing the skimmer's oil removal efficiency.
A great advantage of belt and tube skimmers over floating skimmers is that the former are capable of removing oil from water, which, in some mining applications, can eliminate the need for a mining oil separator.
Pumping stations for mining sites
Due to the large nature of mining sites, it is common to utilise pumping stations in the sites to transport wastewater to the correct facilities for filtering, and in some cases, recycling water. Due to the particularly poor quality of wastewater produced in mining sites, special pumps and piping networks are necessary to efficiently transport mining wastewater.
Extraction of minerals leads to high concentrations of small rocks in wastewater, which can have a detrimental effect on equipment. To manage harmful particles in mining wastewater, Cleanawater offers pumping stations equipped with grinder pumps. These grinder pumps are able to handle large concentrations of mineral particles, and crush them into smaller particles to facilitate transportation.
Pumping stations with grinder pumps can protect equipment from harmful particles in mining wastewater.
In processes where great amounts of mining wastewater are produced, dual pump arrangements are required. Dual pump stations operate by having a standby pump, and a first response pump. The dual pumping station is cleverly engineered to maximise efficiency while minimising component wear; the two pumps alternate between the standby function and the first response function.
Mining oil separators and other systems for mining water management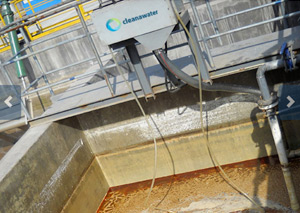 Mining companies are facing increasing environmental pressure from communities, and tougher legislation from local governments. To respond to these requirements, a great number of mining companies have developed comprehensive water management plans, many of which include using mining oil separators for filtering water and other specialised equipment for recycling water onsite.
Recycled wastewater is used for a range of purposes, some of which require higher water quality. As a general rule, recycled water can or will come into contact with humans, and is therefore required to be treated to increase its quality. Cleanawater's recycling systems for the mining industry feature sanitation systems, pH correction systems, and mining oil separators among others.
Cleanawater delivers the highest quality products for the mining industry, ensuring that all equipment is suitable for the mining environment. Systems for water recycling and filtering in mining sites usually pay for themselves within a few years, while providing great relief to the environment, and allowing the mining company to advertise its practices as environmentally friendly.
All of Cleanawater's systems are suitable for the mining environment.
Cleanawater's compatible systems for filtering, treating and recycling water
Cleanawater's mining oil separators and other associated products are easily customisable, and are compatible with existing or new systems for filtering, treating and recycling water.
Call Cleanawater to find out how our water treatment and recycling systems can benefit your mining business, and ensure that you remain compliant.
Must Read
Cleanawater on 14 December 2021
We know that most problematic odours afflicting waste handling areas are biological, using a topical odour treatment can mitigate existing odours and prevent odour generation while leaving a fresh key ...
Read more
Cleanawater on 2 September 2021
No matter what industry you're in, chances are you need odour control. VapourGard can help you eliminate odour complaints in a safe, cost-effective, and versatile way. ...
Read more