Water Treatment Systems Designed Especially for Workshop Application
Mechanic workshops are key to ensuring vehicles are kept in a safe condition. In a workshop, dangerous liquids are handled, therefore it is important to make sure that these chemicals are not discharged to stormwater or sewerage before they have been appropriately treated.
Although many people believe do-it-yourself car oil changes are a clear alternative to visiting a mechanic workshop, the reality is that a large number of people still discharge used engine oil to stormwater drains. A mechanic workshop is a purpose-designed premises where used engine oil is disposed of responsibly. As well as correctly disposing of harmful substances, a workshop is required to have water treatment systems capable of removing oil and grease from water prior to discharge. Cleanawater specialises in providing high quality and low cost equipment specifically tailored to the workshop industry.
Depending on the application, a workshop may require a basic water treatment system comprised of an oil water separator, float switches, a non-emulsifying pump, and a waste oil drum. A larger workshop, where a higher volume of oily water is produced, may require an oil skimmer in addition to a basic water treatment system. Additionally, an unroofed workshop will need a first flush diversion system to ensure that contaminated rainwater is treated appropriately, and that clean rainwater is discharged to sewerage.

To find out how our products and expert knowledge can help your workshop meet water authority requirements, call us on 1800 353 788.
Features of Cleanawater Treatment Systems
Fully automated water treatment systems.
Little maintenance and low consumable costs.
Pre-plumbed, pre-wired and skid mounted water treatment devices.
Easy installation ensuring minimum downtime.
Systems developed for the workshop industry.
Separators engineered to meet water treatment requirements.
Benefits of Investing in Cleanawater Wastewater Technology
Systems available in a range of materials to suit different budgets.
Peace of mind knowing your businesses are always water authority compliant.
Advertise your business as an environmentally friendly premises.
Dedicated sales and engineering team focused on developing the most efficient systems to save you money.
Industry Examples
Scenario 1: Urgent delivery of an oil water separator.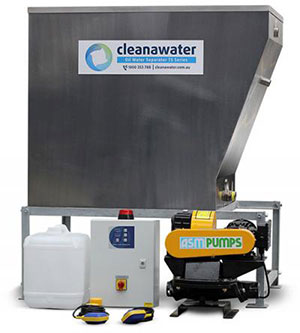 A customer contacted Cleanawater to purchase an oil water separator for their existing automotive workshop. Their previous oil water separator had high running costs, required continuous maintenance, and was found to be non-compliant. The customer required the new separator to be delivered and installed that same day.
Solution: Cleanawater's coalescing oil water separator.
Cleanawater delivered a skid mounted pre-plumbed and pre-wired coalescing oil water separator. The separator was delivered to the workshop on the same day as the order and a service plan was put into place to ensure timely and effective maintenance of the separator. The new oil water separator installed in the workshop was smaller in size than the previous device, and was able to treat larger volumes of water.
Scenario 2: New franchise automotive workshop.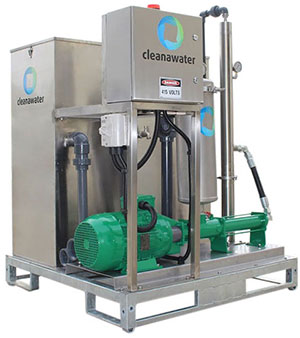 A new customer contacted Cleanawater as they were opening a new franchise of a well-known workshop business. This business would be servicing a large number of vehicles each day, so the workshop wished to provide a complimentary car wash for its customers. Therefore, the workshop was expected to produce larger amounts of wastewater than usual, and would need a high volume water treatment solution.
Solution: Cleanawater's hydrocyclone oil water separator.
Cleanawater delivered a separator capable of handling large volumes of water. Cleanawater's hydrocyclone separator requires minimum maintenance, no consumables, and has a higher water treatment processing capacity than the minimum required by the workshop.
Effects of Oil Contamination on the Natural Environment
Oil contamination in water bodies has been shown to have disastrous consequences. Although awareness regarding the effects of water pollution has increased, alarming volumes of different oils are still found in waterbodies. Oil has been found to harm wildlife through physical contact, inhalation, ingestion, and absorption. A particularly dangerous consequence of oil contamination is biomagnification.
This is a phenomena in which the number of toxins present in organisms increases, depending on how high they sit in their ecosystem's food chain. Light oils float to the top of the surface thus contaminating plankton. Fish feed from plankton, which makes them vulnerable to oil contaminated plankton. Larger fish eat contaminated fish, and eventually humans eat contaminated fish. Birds for instance, can suffer from oil poisoning from both ingestion and physical contact.

Birds such as pelicans float on the ocean's surface, thus become contaminated as oil adheres to their feathers. As pelicans attempt to clean their feathers from the oil, ingestion of oil occurs. Feather contamination jeopardises a bird's ability to fly and float. As a consequence, birds such pelicans often drown and can also die from hypothermia. Although ingestion can cause immediate death, it commonly results in liver, kidney and lung damage, which ultimately leads to death. These facts underlie the importance of correct water treatment in the workshop industry.
The Dangers of a D.I.Y. Oil Change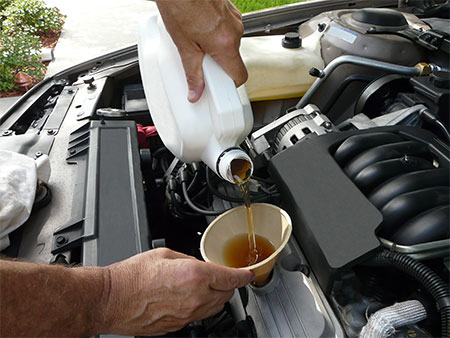 Used crankcase oil has been found to be more dangerous than new motor oil (Vazquez-Duhalt, 1988). Through car operation and fuel wear, large concentrations of potentially dangerous heavy metals such as Lead, Zinc, Calcium, Barium, and Magnesium develop. Perhaps the most dangerous compounds present in engine oil are polyromantic hydrocarbons, commonly known as PAHs.
As well as being known as highly toxic to a range of organisms, some PAHs are widely known for being highly carcinogenic. Despite this, a survey conducted by the State of California in 2002 found that up to 32% of car owners who choose to change their motor oil at home disposed of oil by pouring it down the toilet, into stormwater drains, or by burying it (California Environmental Protection Agency, 2002).
Crankcase oil joins rivers and lakes, where its detrimental effects have been noted. Several studies have tested the results of ingestion of used engine oil on animals, and the negative effects range from reduced reproductive function, significant weight loss, mutation, and death (Wasiu, Ojo & Ogundipe, 2015; Vazquez-Duhalt, 1989; Payne, Martins, Rahimtula 1978).
Workshop Water Regulations
In Australia, strict regulation and heavy fines apply to workshops regarding the disposal of oil and other harmful substances. In a workshop, waste oil, coolant, and other fluids must be collected in designated containers under strict conditions, and must only be disposed of via authorised collectors.
Although care is taken at workshops to avoid spillage, small quantities of harmful substances can be found on a workshop's concrete pad. The concrete pad is typically washed using high pressure hoses, and wastewater from the workshop drains into a central grate. This water is not safe to be discharged to sewerage, and heavy penalties apply to a workshop found guilty of illegal discharge.
Water treatment is essential in a workshop to remove oil and grease prior to release to sewerage. Removal of oil and grease from workshop wastewater is typically achieved by treating the wastewater with an oil water separator.
Cleanawater recommends use of a workshop as the responsible and environmentally friendly way to service a vehicle, and has developed a range of systems tailored to suit the workshop industry. Cleanawater offers a wide range of oil water separators to suit a range of environments, budgets, and discharge requirements. The workshop industry is typically made up of fast-paced businesses, and downtime is undesirably expensive.
Contact Cleanawater for the best advice on water recycling, treatment procedures and products.
Cleanawater works closely with workshop owners and operators, and has a great understanding of the needs of these businesses. As such, Cleanawater has developed pre-wired and pre-plumbed skid mounted packages for workshops that can be installed quickly, require little to no maintenance, and exceed legal discharge requirements. Cleanawater is often able to deliver and install oil water separators in workshops on the same day as the order. 
Call our team of specialists on 1800 353 788 to find out more about water authority compliance for workshops.
Must Read
Cleanawater on 14 December 2021
We know that most problematic odours afflicting waste handling areas are biological, using a topical odour treatment can mitigate existing odours and prevent odour generation while leaving a fresh key ...
Read more
Cleanawater on 2 September 2021
No matter what industry you're in, chances are you need odour control. VapourGard can help you eliminate odour complaints in a safe, cost-effective, and versatile way. ...
Read more