What is surface odour control?
Surface odour control. What it is. How it works.
Also known as a surface treatment, surface odour control means using an odour neutraliser concentrate to manage surfaces that generate noxious odours. Users apply the foaming applicator to problem surfaces, where the foam penetrates, allowing select micronutrients to direct the microbiology of the odour source.
At Cleanawater, we use Bektra 830F Foaming Odour Neutraliser Concentrate which works in 3 steps:
The foaming application is blanketed over the problem area surface
The 830F micronutrient blend applies to the odour-producing biological processes
A powerful contact deodoriser immediately neutralises the odours
The concentrate is typically applied using a spray device, which can be operated easily by one person.
For product information see our surface treatments page or call 1800 353 788

What is the foaming odour neutraliser concentrate made from?
The Bektra 830F foaming odour neutraliser concentrate is made of a micronutrient formulation.
This formulation is comprised of a blend of:
Essential oils
Purines
Minerals
Amino acids
Pyrimidines
Vitamins
Complex organic extracts
It provides a non-toxic and biodegradable method of neutralising odours, which assists with organic decomposition without creating odorous by-products. Additionally, it does not feature any bacteria, enzymes or hazardous chemicals.
Where is surface odour control used?
Surface odour control does not require any infrastructure to set up. One person with a spray device simply applies the foaming odour neutraliser concentrate to the problem area.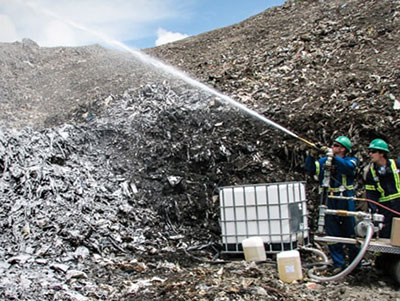 This makes this type of odour control a good choice for smaller organisations or for use in situations where a larger odour neutraliser system/infrastructure is not practical.
Common areas of application include:
Landfill and rubbish dumps
Composting operations
Wastewater treatment centres
Recycling plants
Transfer stations
It is typically applied to tip faces, driveways and loading areas, haulage vehicles, tipping floors and pits weight scales, spoil piles, as well as in rubbish and compactor rooms.
It can even be used to control leachate odours on liquid surfaces like ponds, drains, and lagoons.
How surface treatments compare to misting systems
An alternative to surface odour control systems is odour neutralising misting systems. They also provide a powerful and commonly used method of odour control.
Misting systems utilise a reactant constructed from essential oils and surfactants. Surfactants being a substance that allows molecular binding through the process of lowering the surface tension of water. They neutralise odours by releasing airborne droplets that attract and eliminate odour particles.
The benefit of surface odour control compared to misting systems is that they require a lesser investment.
Misting options require new infrastructure, power, water and continuous application. This is a suitable solution in many cases. However, in circumstances where odour control needs to be temporary, flexible or lower in cost, surface treatments are typically a more practical option.
Additional information
Surface treatments neutralise odours by reducing chemical oxygen demand (COD) levels and biochemical oxygen demand (BOD5). They provide an effective solution for managing both hydrogen sulfide (H₂S) and volatile organic compounds (VOCs).
They lower levels of sludge and solids in lagoons and other water sources, and also stop the production of noxious by-products caused by organic waste breakdown, thereby tackling odours at their source.
As with all odour management products supplied by Cleanawater, they are backed by our Workplace Health and Safety (WHS), Quality, and Environmental Management Systems accreditations.
Most recently we've used surface treatments to manage odourous soils at Barangaroo Development in Sydney and the Kooragang Island Road Duplification in Newcastle. As well as at the ANL composting facility on Sydney's Northern beaches and at various tips and waste transfer stations.
"Surface treatments provide a non-toxic and biodegradable method of neutralising odours."
Thinking surface odour control? Think Cleanawater.
At Cleanawater, we have over 25 years' experience in the control of odours. Over that time we've helped countless businesses, organisations and operations to manage their odour output.
To find out more about surface odour control and foaming odour neutraliser concentrate, or to purchase a system, speak with an Cleanawater odour specialist today.
Learn more on our surface treatments page or call 1800 353 788
Must Read
Cleanawater on 14 December 2021
We know that most problematic odours afflicting waste handling areas are biological, using a topical odour treatment can mitigate existing odours and prevent odour generation while leaving a fresh key ...
Read more
Cleanawater on 2 September 2021
No matter what industry you're in, chances are you need odour control. VapourGard can help you eliminate odour complaints in a safe, cost-effective, and versatile way. ...
Read more