Reclaim oil lost in spills
Recover spilt oil while also cleaning water of oil pollutants. Use Cleanawater drum skimmers. They're the effective and environmentally-responsible way of reclaiming oil spilt in streams, rivers, lakes and industrial applications such as cooling ponds and pits.
Whether you're collecting light or heavy oils, our drum oil skimmers deliver highly selective recovery with intake typically being 97% oil to just 3% water.
Cleanawater drum skimmers are fast and easy to deploy, thanks to a light aluminium construction. They're also made from durable, corrosion-resistant materials for long-lasting reliability.
Clean up spills in these areas
Rivers
Dams
Calm waters
Fast currents
Industrial applications
Always be prepared for oil spills
Skim oil from water when and where spills occur
Deploy your oil skimmers quickly with easy operation
Get greater efficiency than traditional skimmers
Enquire about drum skimmers
Benefits of Cleanawater drum skimmers
Fast deployment for a rapid response to spills
Saves on expensive and prolonged clean-ups
Easy to use thanks to a light construction
Provides a highly efficient solution to spills
A rapid response to oil spills
When it comes to oil spills, time is crucial. Fast deployment is key to reducing oil loss and environmental damage. That's why Cleanawater oil skimmers feature a lightweight aluminium or Polyethylene HD construction, which allows for easy transportation and quick deployment.
Recover up to 180,000 litres per hour
In independent tests, Cleanawater drum oil skimmers proved that they could recover between 5,000 and 180,000 litres per hour. So, whether it's a small or large spill, with our oil skimmers you're covered. Whatever your oil spill you'll always get an outstanding result.
Long-lasting and reliable performance
Our drum oil skimmers feature a light anodised frame, high-density polyethylene drums, and a simple yet secure construction. Combined, these components ensure the durability of our skimmers, as well as their resistance to impact and abrasions.
Reclaim 97% oil and only 3% water
Suitable for reclaiming both light and heavy oils, Cleanawater drum skimmers are market leaders in efficient recovery. They typically recover 97% oil and only 3% water. And, they can operate effectively in as little as 75mm of water.
Minimax
TDS 118
TDS 136
Magnum 100
Magnum 200
Magnum 400
Why choose Cleanawater?
Cleanawater leads the Australian market in water treatment system design, manufacture, installation and servicing.
As your one-stop water treatment provider, we're committed to supplying the right solution for your business. Our award-winning products are engineered for performance, economy and ease of use. That includes both custom-built and off-the-shelf units approved by all major water authorities.
Our comprehensive after-sales service includes support from experts in your area. So you can always speak to somebody who understands your local market.
We distribute across Australia with fast, efficient delivery for off-the-shelf systems. And we'll install, service and maintain your equipment on a schedule that suits you – ensuring minimal downtime.
It means superior results and outstanding value for your investment.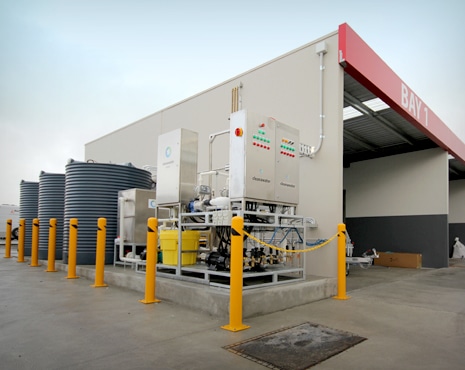 How do Cleanawater drum skimmers work?
Cleanawater drum oil skimmers are to be deployed immediately after an oil spill occurs. They should be placed at the location of the spill and on top of the water.
Once deployed, the skimmer is connected to a pneumatic or hydraulic power source. The skimmer's drums then turn over and over again on the water's surface.
Oil sticks to the drum surface as the drums rotate, and this separates the oil from the water. As this occurs, the oil is also scraped away and drained into a collection trough.
The oil is then pumped into a collection tank which is located on the shore or on board a nearby vessel.
What are some key product features?
Capacities of 5,000 to 180,000 litres per hour available
Grooved drums can be included for even greater recovery
Choice of hydraulic or pneumatic drive
Suitable for a range of situations, from small lakes to offshore
Do you offer a warranty and support?
2 year warranty against defects in material and workmanship
Our team offer full drum oil skimmer training, trials and commissioning
We can provide fast delivery to most locations, even with short notice
Control Odour with VapourGard

Control odours effectively and safely with CleanaWater's VapourGard system. Ideal for industries such as mining, landfill operations, recycling, and more, the VapourGard system uses lightweight particles to neutralise odours, requires minimal maintenance,

Everything you'll ever need to know about Oil Water Separators

This article provides a comprehensive guide to oil-water separators, and the equipment used to separate oil and water mixtures into their individual components. It explains how oil-water separators work and discusses the different types available, includi

How car wash businesses can save more water than ever

Car wash businesses can save water and money by using high-pressure, low-flow equipment, reducing and recycling water, installing water-saving devices, maintaining equipment, and educating customers. CleanaWater offers a portable wash bay that captures an
We have representatives in