Effective and cost-efficient oil skimming
Cleanawater's range of belt skimmers efficiently remove floating oil and debris from water – saving you on costly wastewater removal. In fact, we can supply skimmers with low to high oil removal rates to suit your requirements.
Ideal for temporary spillage situations or permanent installations alike, there's a plug-and-play solution to suit every operation. From small workshops to large construction sites.
Our belt skimmers' rigid construction means they're ideal for harsh outdoor environments – including hazardous areas.
Uses and applications
Wash down bays
Small to large industrial and mechanical workshops
Mining workshops
Refuelling areas
Construction sites
Transformer bunds
Food and beverage plants
Oily water ponds
Process water holding tanks
Refineries
Steel mills
Benefits of SpillPro self-launching skimmers
Reduces deployment time
High-volume oil recovery
Saves costly and time-consuming clean-ups
Requires minimal personnel
Disaster aversion
Thanks to its large capacity, the SpillPro self-launching skimmer saves on costly clean-ups. It can be deployed easily, so it can quickly start removing oil from water – a critical factor in containing a spill during the early stages.
Guaranteed high recovery rates
Our self-launching skimmer can recover 2,500 litres per minute at 95.3% efficiency. Those numbers are proven by independent tests. And thanks to our unrivalled end-to-end support, you'll get outstanding results from your recovery effort.
X150 Self-launching skimmer system
Why choose Cleanawater?
Cleanawater leads the Australian market in water treatment system design, manufacture, installation and servicing.
As your one-stop water treatment provider, we're committed to supplying the right solution for your business. Our award-winning products are engineered for performance, economy and ease of use. That includes both custom-built and off-the-shelf units approved by all major water authorities.
Our comprehensive after-sales service includes support from experts in your area. So you can always speak to somebody who understands your local market.
We distribute across Australia with fast, efficient delivery for off-the-shelf systems. And we'll install, service and maintain your equipment on a schedule that suits you – ensuring minimal downtime.
It means superior results and outstanding value for your investment.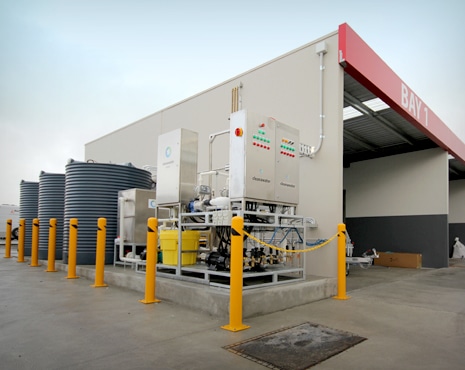 Control Odour with VapourGard

Control odours effectively and safely with CleanaWater's VapourGard system. Ideal for industries such as mining, landfill operations, recycling, and more, the VapourGard system uses lightweight particles to neutralise odours, requires minimal maintenance,

Everything you'll ever need to know about Oil Water Separators

This article provides a comprehensive guide to oil-water separators, and the equipment used to separate oil and water mixtures into their individual components. It explains how oil-water separators work and discusses the different types available, includi

How car wash businesses can save more water than ever

Car wash businesses can save water and money by using high-pressure, low-flow equipment, reducing and recycling water, installing water-saving devices, maintaining equipment, and educating customers. CleanaWater offers a portable wash bay that captures an
We have representatives in