Effective, continuous, efficient oil skimming
Reliable oil recovery. 24 hours a day. Cleanawater's efficient weir skimmers make it possible.
We offer a wide range of weir skimmers that efficiently remove floating oil and debris from water – saving you on costly wastewater removal costs. We boast one of the most diverse ranges on the market – so we can advise on the ideal system for your needs.
From small workshops to large construction sites, there's a weir skimmer to suit every type and size of operation.
Uses and applications
Wash down bays
Small to large industrial and mechanical workshops
Mining workshops
Refuelling areas
Construction sites
Transformer bunds
Food and beverage plants
Oily water ponds
Process water holding tanks
Refineries
Steel mills
Enquire about weir skimmers
Benefits of Cleanawater weir skimmers
Reduce wastewater disposal costs
Saves costly process and production changes
Inexpensive removal of oil from water
Can operate 24/7
Quick and efficient self-installation
One-off investment that lasts up to 20 years
Reduces the load on oil water separators
Reduces odours
Cleanawater weir skimmer systems are engineered to run 24 hours a day to met even the toughest oil recovery requirements. Constructed from high-quality 304 or 316 stainless steel, they facilitate ongoing reductions on your water disposal costs – a one-off investment that delivers return on investment for up to 20 years.
They're designed to suit all industries – including heavy industrial applications like mining workshops.
With no calibration required, our weir skimmers can be installed quickly and efficiently. As an inexpensive method of removing oil from water, they simultaneously reduce the load on your oil water separators. In fact, when coupled with an oil water separator, the recovered oil can be reused as fuel or lubricant – offering you further savings.
And crucially, Cleanawater skimmers help you adhere to strict discharge standards – helping you avoid costly fines and shutdowns.
Reduce operating costs
Why choose Cleanawater?
Cleanawater leads the Australian market in water treatment system design, manufacture, installation and servicing.
As your one-stop water treatment provider, we're committed to supplying the right solution for your business. Our award-winning products are engineered for performance, economy and ease of use. That includes both custom-built and off-the-shelf units approved by all major water authorities.
Our comprehensive after-sales service includes support from experts in your area. So you can always speak to somebody who understands your local market.
We distribute across Australia with fast, efficient delivery for off-the-shelf systems. And we'll install, service and maintain your equipment on a schedule that suits you – ensuring minimal downtime.
It means superior results and outstanding value for your investment.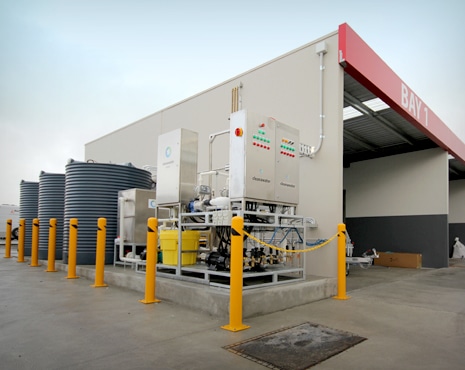 How do weir skimmers work?
Floating oil skimmers are commonly connected to a positive displacement pump and float the surface of a tank, pond or sump. When the pump activates, only the top surface is pumped away rather than a traditional dip pipe installed which is submerged well below the surface.
What is the minimum depth weir skimmers can work in?
Do I need any additional equipment?
Floating wier skimmers will require a positive displacement pump such as a diaphragm pump, double diaphragm pump or helical rotor pump.
What applications are weir skimmers used in?
Wash down bays, small to large industrial and mechanical workshops, mining workshops, refuelling areas, construction sites, transformer bunds, food and beverage plants.
Is a weir skimmer the right type of oil skimmer for me?
This depends on the type of operation you need it for. Call 1800 353 788 to discuss your needs.
Do your oil skimmers have pumps?
Floating weir skimmers can be supplied with pump and hose kits to suit.
What is the life span of your weir skimmers?
Our weir skimmers are designed to have an operating life of up to 20 years.
Three Ways Rainwater-harvesting Technology Can Benefit Your Business

No matter what industry you're in, chances are you use a lot of water. Whether you require water for wash down and irrigation purposes, dust suppression, or onsite activities, water costs are.

How Car Wash Operators Benefit from Year-Round Water Conservation Efforts

It's no secret that many industries are facing water shortage issues. For car wash operators, this is a particularly important issue as your business is reliant on water.

Five Reasons Recycling Wastewater is Necessary

The term "wastewater" doesn't have particularly appealing connotations. In areas of the world where water appears to