Recover oil efficiently from calm or open water
CleanaWater weir skimmers represent a significant step forward in recovering oil from water.
It's all thanks to their innovative self-adjusting design; our weir skimmers' large diameter floats increase the water line beam. Combined with a lightweight design, that means unparalleled responsiveness to wave movements.
And while conventional skimmers' float frames sit beneath the skimmer, ours sit above. That means reduced draft – making recovery faster and easier.
With ultra-high-capacity models available, recovery rates up to 300,000 litres per hour become a reality.
The result? A new generation of weir skimmer that makes large-spill-recovery simple.
Where this product can be applied
Lakes
Dams
Offshore
Nearshore
Calm water
Enquire about weir skimmers
Benefits of CleanaWater weir skimmers
Reduces deployment time
Saves costly and time-consuming clean-ups
Versatile
Efficient
Save time and money
CleanaWater's weir skimmers benefit from a light construction and self-adjusting technology. Compared with competitors' heavy skimmers, they are far easier to transport and deploy. Once in the water, they are quicker and more agile. That saves crucial time during the early stages of an oil spill.
High recovery rates
We offer weir skimmers capable of recovering 30,000 to 300,000 litres per hour. And those numbers are proven by independent tests. So we can provide the ideal size skimmer for any spill.
Our end-to-end support ensures you'll get outstanding results from your recovery effort.
Versatile and efficient
CleanaWater weir skimmers' shallow draft and lightweight construction make them ideal for near-shore and inland operations. A high buoyancy-to-weight ratio also means they're versatile enough to operate effectively in open water.
Fold-down design with disconnecting arms makes transport and storage easy – especially for the smaller models; at just 98kg, SeaSkater can be easily carried manually.
Ocean Skater
Sea Skater
Circus River Skimmer
NorMar Mini Weir Skimmer
Why choose Cleanawater?
Cleanawater leads the Australian market in water treatment system design, manufacture, installation and servicing.
As your one-stop water treatment provider, we're committed to supplying the right solution for your business. Our award-winning products are engineered for performance, economy and ease of use. That includes both custom-built and off-the-shelf units approved by all major water authorities.
Our comprehensive after-sales service includes support from experts in your area. So you can always speak to somebody who understands your local market.
We distribute across Australia with fast, efficient delivery for off-the-shelf systems. And we'll install, service and maintain your equipment on a schedule that suits you – ensuring minimal downtime.
It means superior results and outstanding value for your investment.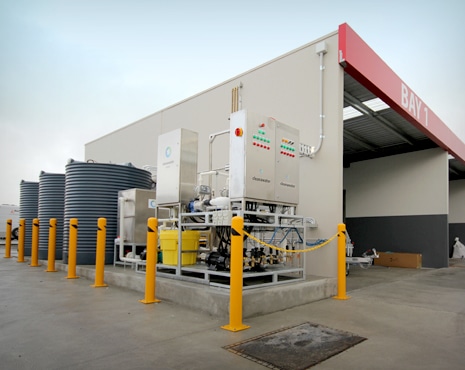 How do weir skimmers work?
Floating oil skimmers are commonly connected to a positive displacement pump and float the surface of a tank, pond or sump. When the pump activates, only the top surface is pumped away rather than a traditional dip pipe installed which is submerged well below the surface.
What is the minimum depth weir skimmers can work in?
Do I need any additional equipment?
Floating wier skimmers will require a positive displacement pump such as a diaphragm pump, double diaphragm pump or helical rotor pump.
What applications are weir skimmers used in?
Wash down bays, small to large industrial and mechanical workshops, mining workshops, refuelling areas, construction sites, transformer bunds, food and beverage plants.
Is a weir skimmer the right type of oil skimmer for me?
This depends on the type of operation you need it for. Call 1800 353 788 to discuss your needs.
Do your oil skimmers have pumps?
Floating weir skimmers can be supplied with pump and hose kits to suit.
What is the life span of your weir skimmers?
Our weir skimmers are designed to have an operating life of up to 20 years.
Control Odour with VapourGard

Control odours effectively and safely with CleanaWater's VapourGard system. Ideal for industries such as mining, landfill operations, recycling, and more, the VapourGard system uses lightweight particles to neutralise odours, requires minimal maintenance,

Everything you'll ever need to know about Oil Water Separators

This article provides a comprehensive guide to oil-water separators, and the equipment used to separate oil and water mixtures into their individual components. It explains how oil-water separators work and discusses the different types available, includi

How car wash businesses can save more water than ever

Car wash businesses can save water and money by using high-pressure, low-flow equipment, reducing and recycling water, installing water-saving devices, maintaining equipment, and educating customers. CleanaWater offers a portable wash bay that captures an
We have representatives in