Install quickly and easily in a wide range of environments
A sewerage pump station is an intermediate tank or chamber with a submersible pump that collects sewerage and pumps it out to the municipal system. Sewerage pump stations are specifically used where there is insufficient gradient for a gravity flow of waste from the facility to the discharge point, or where the gravity flow is too slow to accommodate the volume or sewerage.
Ready for a plug-and-play sewer pump station? Cleanawater units come pre-plumbed – saving on installation time.
They're constructed from durable, high-quality polyethylene or fibreglass. And they're ideal in domestic, commercial, industrial and mining settings.
Whether you require a unit with a single or three-phase pump controller, we can supply it. Our systems are available with capacity anywhere between 100L and 30,000L.
What are the different types of sewerage pump station?
The simplest sewerage pump station solutions are single pump stations with a 100 to 250 litre capacity. They are typically used for residential home projects where an extension is creating a single discharge from a new shower or toilet. These single pump stations have standard configurations, use a plug and play pump and don't have unique design features that need to be customised.
Dual pump stations are supplied with two or more pumps for redundancy and are used in commercial applications taking waste from toilet blocks or shopping complexes and so on. Pump impellers are selected based on the kind of waste material that will be processed and great care is needed in the design to ensure there are no unplanned shutdowns of the pump station.
Uses and applications
Caravan parks
Shopping centres
Residential developments
Industrial estates
Municipal applications
Commercial kitchens
Sewer transfer stations
Pressure sewer chambers
Domestic sewer discharge and/or transfer
Collection facility for multiple sewer outlets
Enquire about sewerage pump stations
Costs for stormwater pump stations differ with size and scale. Be informed before your decision.
Benefits of Cleanawater sewerage pump stations
Saves on installation time
Easy to transport
100L to 30,000L configurations
Customisable to suit your exact requirements
Remote monitoring and notification upgrades available
Full range of chamber grates and lids available to suit traffic duties of location
Collect all site sewer outlets to one chamber before discharge
Discharge to sewer outlet when gravity fall is not possible
Our sewerage pump stations are flexible enough to meet any site's requirements across a range of industries. We can supply single or dual pump systems, customisable to suit your exact requirements – from a 30,000L system to a compact under-sink unit for restaurants.
Cleanawater sewerage pump stations enable discharge to a sewer outlet when gravity fall is not possible. And they provide a facility to collect all site sewer outlets to one chamber before discharge.
Delivered pre-plumbed, Cleanawater sewerage pump stations make installation easy. And every system can be fitted with remote monitoring and notification capability – like automated SMS notifications.
Reduce installation costs
Packages ready to install
900L Sewerage Single Pump Station
900L Sewerage Dual Pump Station
1200L Sewerage Single Pump Station
1200L Sewerage Dual Pump Station
3000L Sewerage Single Pump Station
3000L Sewerage Dual Pump Station
Each available with either a cover or grate
Covers and grates available in different load ratings to suit the application
Other capacities are available
1. What size do I need?
The first factor to consider when choosing a sewerage pump station is the size of the chamber and the number of pumps required. For simple applications with a single source of waste, a single pump plug and play system is ideal.
If the sewerage capacity needed is 900 litres or more, it is recommended to select a dual pump system to mitigate against the risk of a system shutdown when a pump fails. For the pumps to be sized correctly, the pump station supplier must be provided with the difference in levels between the pump station and the discharge point for the pump head pressure to be calculated.
2. What kind of internal access to the pump station do I need?
It must also be determined what kind of internal access to the pump station is required after installation. Chamber type and the configuration of the installation are influenced by the kind of access required once the system is commissioned. All submersible pumps are removable by a pre-installed chain system so that pumps can be removed for maintenance. Guide rails are added to deep chambers to facilitate safe pump removal.
3. What waste is being processed?
The type of waste being processed will impact which material should be chosen for the chamber, as well as the float switch material and the piping material to carry the effluent. Depending on the traffic flow over the sewerage pump station, pedestrian, light or heavy covers and gratings can be specified.
4. What control systems do I want?
Instrumentation and control systems vary significantly between different sewerage pump station solutions. Smaller units (below 250 litres) are configured with optional alarms, but larger units can have fully integrated PLC (Programmable Logic Controller) systems. Remote monitoring can be configured to ensure that the relevant personnel are notified of a failure in the system.
Why choose Cleanawater?
Cleanawater leads the Australian market in water treatment system design, manufacture, installation and servicing.
As your one-stop water treatment provider, we're committed to supplying the right solution for your business. Our award-winning products are engineered for performance, economy and ease of use. That includes both custom-built and off-the-shelf units approved by all major water authorities.
Our comprehensive after-sales service includes support from experts in your area. So you can always speak to somebody who understands your local market.
We distribute across Australia with fast, efficient delivery for off-the-shelf systems. And we'll install, service and maintain your equipment on a schedule that suits you – ensuring minimal downtime.
It means superior results and outstanding value for your investment.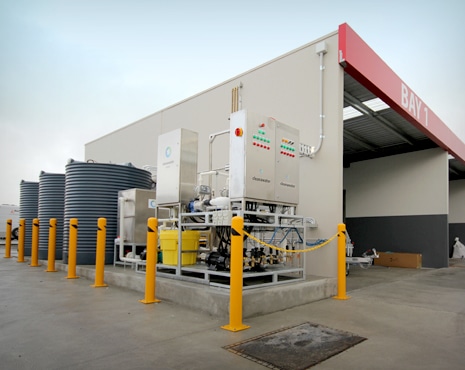 Three Ways Rainwater-harvesting Technology Can Benefit Your Business

No matter what industry you're in, chances are you use a lot of water. Whether you require water for wash down and irrigation purposes, dust suppression, or onsite activities, water costs are.

How Car Wash Operators Benefit from Year-Round Water Conservation Efforts

It's no secret that many industries are facing water shortage issues. For car wash operators, this is a particularly important issue as your business is reliant on water.

Five Reasons Recycling Wastewater is Necessary

The term "wastewater" doesn't have particularly appealing connotations. In areas of the world where water appears to
Frequently asked questions
What will I pay for a sewerage pump station?
The capacity of the system is the primary factor affecting the cost. But many other choices about design will also play a role:
Pump chamber material and piping material
Number of pumps and pump impeller selection
Whether the installation is 3-phase or single phase
Monitoring and control system selections and remote monitoring configuration
The strength of the covers and gratings (from pedestrian to heavy duty)
Based on your specific requirements and capacity, Cleanawater can generate a quote quickly and easily. Contact us for a quote.
Do sewage pumping stations smell?
How do you care for a sewage pump station?