What is a flush diversion system?
A first flush system – also called a diversion system or diversion valve – diverts water from a contaminated surface like an unroofed wash-down bay to another source of discharge.
The first pass of rainwater over a roof clears away sediment, oils, and other contaminants. Typically, after 10mm of rain falls on a contaminated surface, this surface is deemed 'flushed'.
Water that has been flushed off a roof needs to be treated before it reenters stormwater systems.
Divert rainwater to stormwater
Cleanawater's first flush diversion systems are ideal for uncovered wash down areas over 20 square metres.
First flush diverters will help ensure wash water adheres to water authority standards – so you avoid costly fines and shutdowns. Durable, compact and easily maintained, first flush diverters will help keep your operation water authority-compliant for 20+ years.
How do flush diversion systems work?
Flush diversion systems are fairly complex. Here's how they work in a nutshell:
Rain begins to fall on a facility and is measured with a rain gauge.
Rainwater is diverted to a wastewater treatment system until the limit of 10mm is reached.
The diverter is then shut off, allowing excess rainwater to overflow in stormwater systems.
If programmed, the diverter can reactivate for insufficient rainfall, or if a wash gun is activated.
Uses and applications
Wash down bays
Workshops
Re-fuelling areas
Construction sites
Transformer bunds
AQIS facilities
Hire equipment branches
I have been a plumber for over thirty years and installed many water treatment systems. CleanaWater systems are by far the best for quality and reliability. They provide excellent customer service, from sales staff right through to expert advice and technical help. Can't thank CleanaWater enough!
Iain Paterson, Multilple Trades and Maintenance
We have seen a fantastic improvement since the OdourPro VapourGard™ system was installed 3 years ago. The system mitigates the heavy odours which are released from the site, which has improved conditions for our staff and almost completely eliminated complaints from local residents and businesses
Glenn Claverie, Select Civil
The whole process was very simple, the sales and technical support was great, when needed contact was made easily for assistance during construction and the finished product works and looks fantastic, all in all working with the CleanaWater team to purchase our new Portable Wash Bay was a trouble free process
Doug Neil, Stihl Sales and Service Centre Coffs Harbour
The purchasing of our oil separator, from obtaining a quote through to delivery, was made extremely easy through CleanaWater, the staff are easy to deal with and make the whole process hassle-free, as well as supplying a quality product. I would highly recommend CleanaWater products in the future.
Bret Sheehan, Surefire Plumbing Services
The VapourGard™ system is a great alternative to the other odour suppression systems out there. The unit is easy to use and maintain, does not need a portable water source to dilute the chemical and has a low chemical usage which cuts down on cost.
Nicholas Bhugon, SITA Australia
Cleanawater have been very helpful in getting the solution ordered and out the door to us as quickly as possible. All this in the midst of supply chain issues globally. It's nice when things still, just, work!
Tom Filipcic, FUCHS Lubricants (Australasia) Pty. Ltd.
In combination with a wide range of operational controls, we have found that complaints from our neighbours have significantly reduced since the VapourGard was installed.
Rebecca Tempest - Manager, Resource Recovery & Waste Services, Blue Mountains City Council
Enquire about first flush diversion
Benefits of Cleanawater first flush diversion systems
Minimal excavation required
Totally automated
Low-cost
Eliminate need for roof over wash bay
Configurable for all sizes of wash pad
Alarm bolt-ons available
Ideal for heavy machinery wash pads
Hassle-free after-sales maintenance programs
No consumables required
Life expectancy of 20+ years
Cleanawater's first flush diversion systems are 100% automated. With minimal footprint, they're programmed in-house for wash pads of all sizes.
Ideal for heavy machinery wash pads that can't be roofed, our systems are coupled with oil water separators for complete hydrocarbon management. And we can supply them with optional hydrocarbon spillage alarms to ensure zero stormwater contamination.
Our first flush diversion systems require no consumables. And we can schedule maintenance programs to suit your calendar. It means hassle-free after-sales support. We will also ensure your first flush diverter has a product life expectancy of 20+ years.
Authority compliant
Smartdivert First Flush Diversion System
Why choose Cleanawater?
Cleanawater leads the Australian market in water treatment system design, manufacture, installation and servicing.
As your one-stop water treatment provider, we're committed to supplying the right solution for your business. Our award-winning products are engineered for performance, economy and ease of use. That includes both custom-built and off-the-shelf units approved by all major water authorities.
Our comprehensive after-sales service includes support from experts in your area. So you can always speak to somebody who understands your local market.
We distribute across Australia with fast, efficient delivery for off-the-shelf systems. And we'll install, service and maintain your equipment on a schedule that suits you – ensuring minimal downtime.
It means superior results and outstanding value for your investment.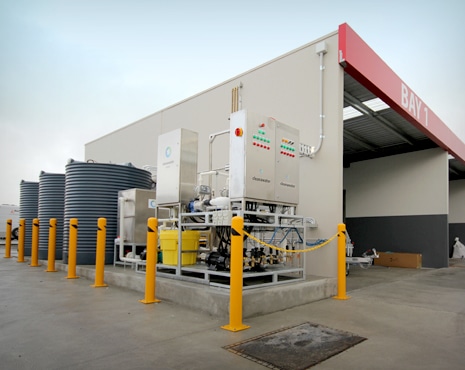 When do I need a first flush system?
When rainfall or stormwater is able to fall on a contaminated surface (eg wash bay or refuelling area) which typically contains oils, grease and/or other contaminants.
Why don't Cleanawater first flush systems have separate silt pits and valve pits?
Cleanawater diversion systems are single pit systems. Single pit systems include components other manufacturers often have in a dual pit setup: pit enclosure, diversion valve, storm water outlet, silt trap and access grate and frame.
My wash-down area is located on a mining site – do I need a first flush system?
Each mining site has different environmental rules and considerations. Generally, typical rain events falling on contaminated surfaces are built into untreated water storage sumps for treatment.
Are first flush systems allowed to be installed in all states?
No. Particular states and regions have other regulations to manage rainwater falling on a contaminated pad.
Call Cleanawater on 1800 353 788 to see if you require a first flush system.
My local authority requires me to have additional alarms and shut-off systems – do you have options available for this?
Yes. Cleanawater first flush diversion systems are flexible and can include alarms, remote notifications, shut-off valves, sensors and manual and automatic modes.
Call Cleanawater on 1800 353 788.
Control Odour with VapourGard

Control odours effectively and safely with CleanaWater's VapourGard system. Ideal for industries such as mining, landfill operations, recycling, and more, the VapourGard system uses lightweight particles to neutralise odours, requires minimal maintenance,

Everything you'll ever need to know about Oil Water Separators

This article provides a comprehensive guide to oil-water separators, and the equipment used to separate oil and water mixtures into their individual components. It explains how oil-water separators work and discusses the different types available, includi

How car wash businesses can save more water than ever

Car wash businesses can save water and money by using high-pressure, low-flow equipment, reducing and recycling water, installing water-saving devices, maintaining equipment, and educating customers. CleanaWater offers a portable wash bay that captures an
We have representatives in