Collect and store surface water
Used as part of a water collection system, Cleanawater pits are ideal for a range of applications. Like effectively removing surface water. And collecting waste water. Even providing water storage capacity where above ground space is limited.
Thanks to our wide range of water treatment equipment, we can supply pits as part of a full solution. That includes a range of covers, grates and pumps to suit the application.
Uses and applications
Wash bays
Sewarage pump stations
Storm water transfer station
Collection facility for multiple storm water outlets
Domestic storm water discharge and/or transfer
Car washes
Municipal applications
Caravan parks
Benefits of Cleanawater pits
Range of capacities to suit your exact requirements
Collect and store of surface water
Provide water storage capacity when above ground space is limited
Easy removal and disposal of sludge and silt
In-stock – ready to deliver to site
Cleanawater pits ensure effective surface water removal, or collection of waste water. They allow multiple sources to be brought together for a single discharge or transfer.
In-ground pits can provide water storage where above ground space is limited.
With sizes available from 50L to 5000L, Cleanawater can supply pits for any size or type of operation. All are available with a range of grates and covers to suit all load rating applications.
Reduce installation costs
Packages ready to install
Why choose Cleanawater?
Cleanawater leads the Australian market in water treatment system design, manufacture, installation and servicing.
As your one-stop water treatment provider, we're committed to supplying the right solution for your business. Our award-winning products are engineered for performance, economy and ease of use. That includes both custom-built and off-the-shelf units approved by all major water authorities.
Our comprehensive after-sales service includes support from experts in your area. So you can always speak to somebody who understands your local market.
We distribute across Australia with fast, efficient delivery for off-the-shelf systems. And we'll install, service and maintain your equipment on a schedule that suits you – ensuring minimal downtime.
It means superior results and outstanding value for your investment.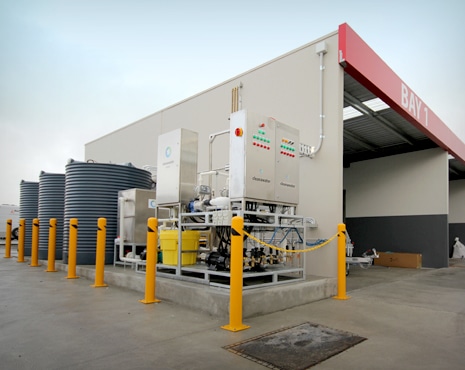 Control Odour with VapourGard

Control odours effectively and safely with CleanaWater's VapourGard system. Ideal for industries such as mining, landfill operations, recycling, and more, the VapourGard system uses lightweight particles to neutralise odours, requires minimal maintenance,

Everything you'll ever need to know about Oil Water Separators

This article provides a comprehensive guide to oil-water separators, and the equipment used to separate oil and water mixtures into their individual components. It explains how oil-water separators work and discusses the different types available, includi

How car wash businesses can save more water than ever

Car wash businesses can save water and money by using high-pressure, low-flow equipment, reducing and recycling water, installing water-saving devices, maintaining equipment, and educating customers. CleanaWater offers a portable wash bay that captures an
We have representatives in